Zoom the image with mouse
GPD WIN 4 AMD 6800U 1080P Support Windows11 Steam OS 32+2TB
customers are viewing this product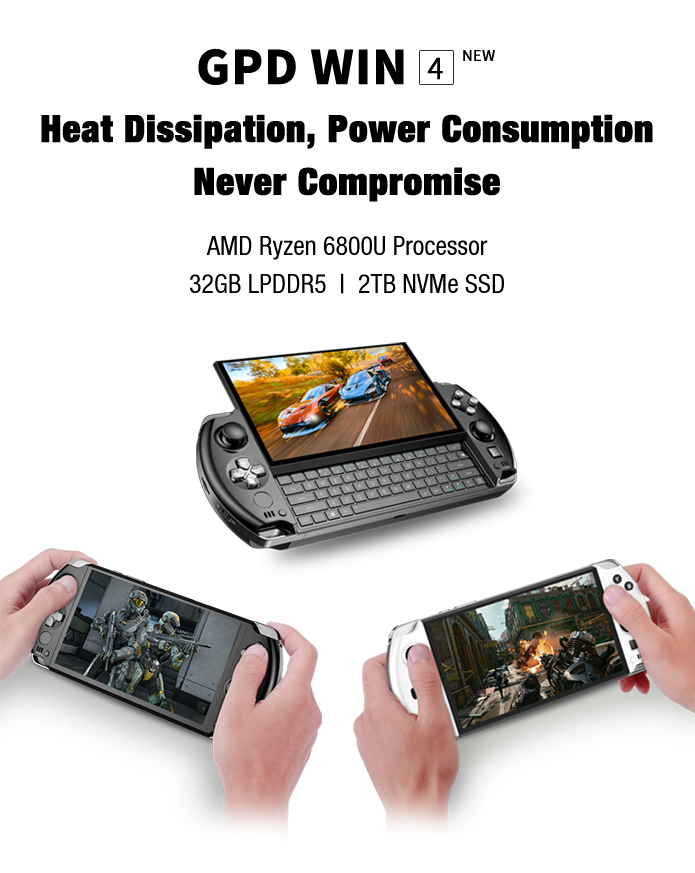 Better Than Steam Deck
The world's smallest 6800U handheld
Exclusive performance optimization tool
Support SteamOS system

WIN 4 Also Supports WIN 3's Smart Docking Station, Only The Back Needs To Be Changed In Order To Match The Back Clip Module
WIN 3' smart docking station is also supported by WIN 4. You only need to replace the back panel that is compatible with the latter's back-mount module. Besides providing charge, the docking station also provides a hub with multiple ports allowing for an all-round solution for charging and connections to other peripherals such as wired network interface or external display.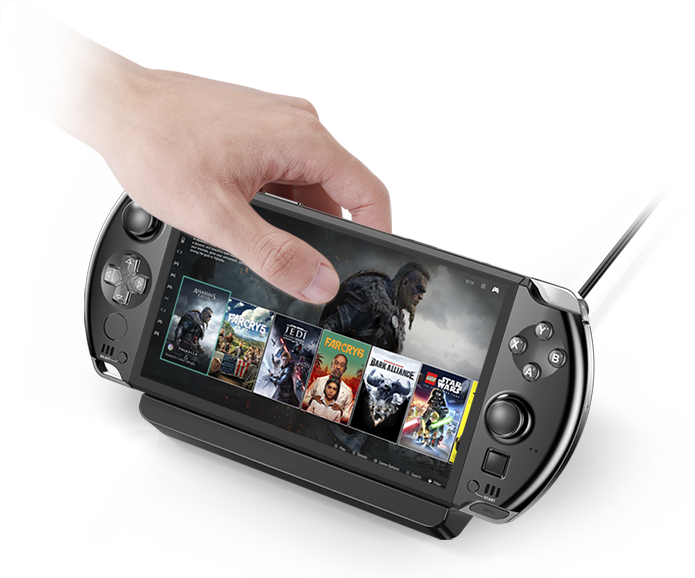 Interfaces Listing: 
3 × USB 3.2 Gen2 Type A with speeds up to 10Gbps
1 × USB 3.2 Gen2 Type C with speeds up to 10Gbps
1 × HDMI 2.1 interface supporting a 3840×2160 resolution and a refresh rate of 60Hz
1 × 10/100/1000Mbps Adaptive RJ45 port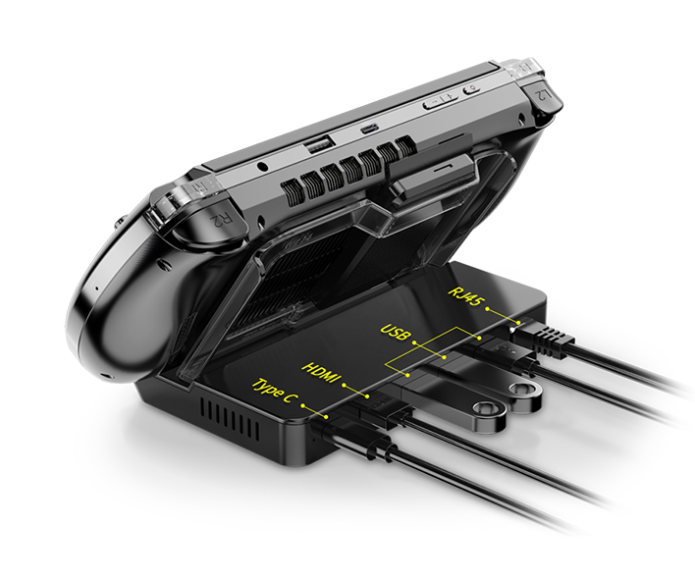 Interfaces And Keystroke Photos
Full-speed USB4, the speed rate up to 40Gbps, supports eGPU and PD fast charging; full-featured USB Type-C, 10Gbps rate, can be directly connected to the dock and PD fast charging; USB Type A, 10Gbps rate; supports A2-level microSD card slot, 160MB/s read and write.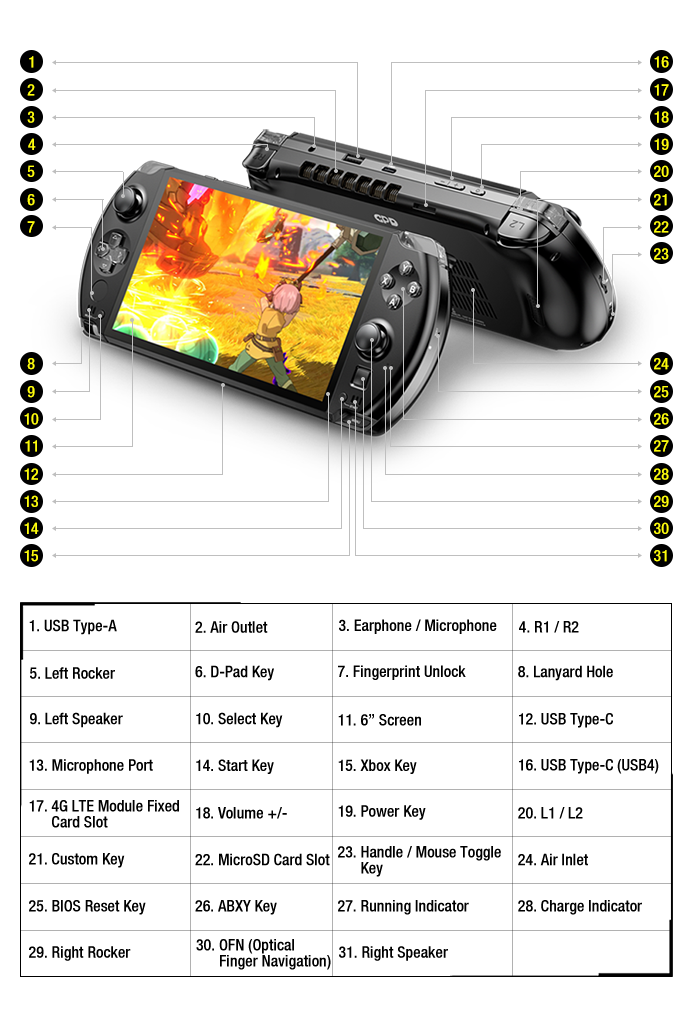 A Versatile Device With A Variety Of Use Case To Satisfy All Your Needs
It can not only play games, but also can for work. You can carry it anywhere, it's a high-performance handheld PC and productivity tool and can be comparable to the current mainstream PC.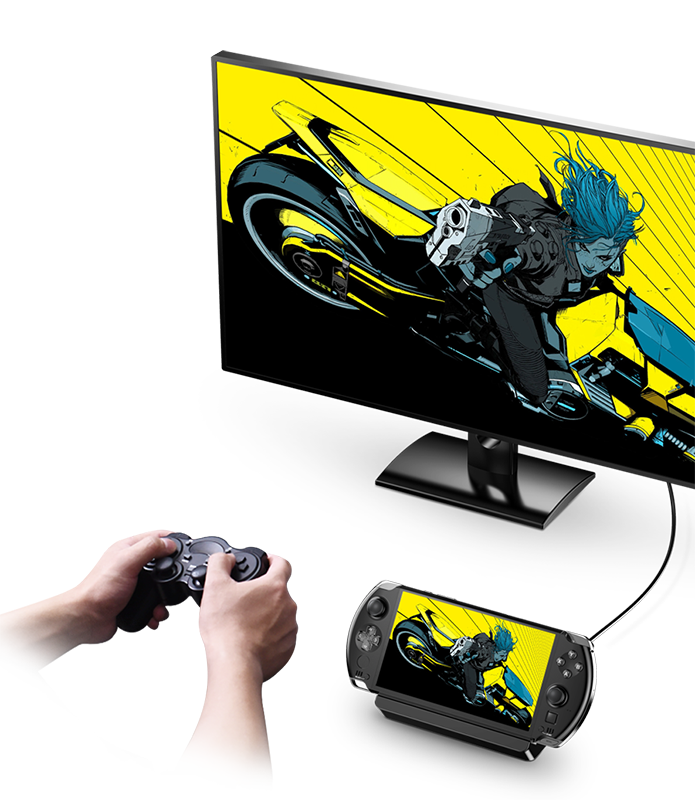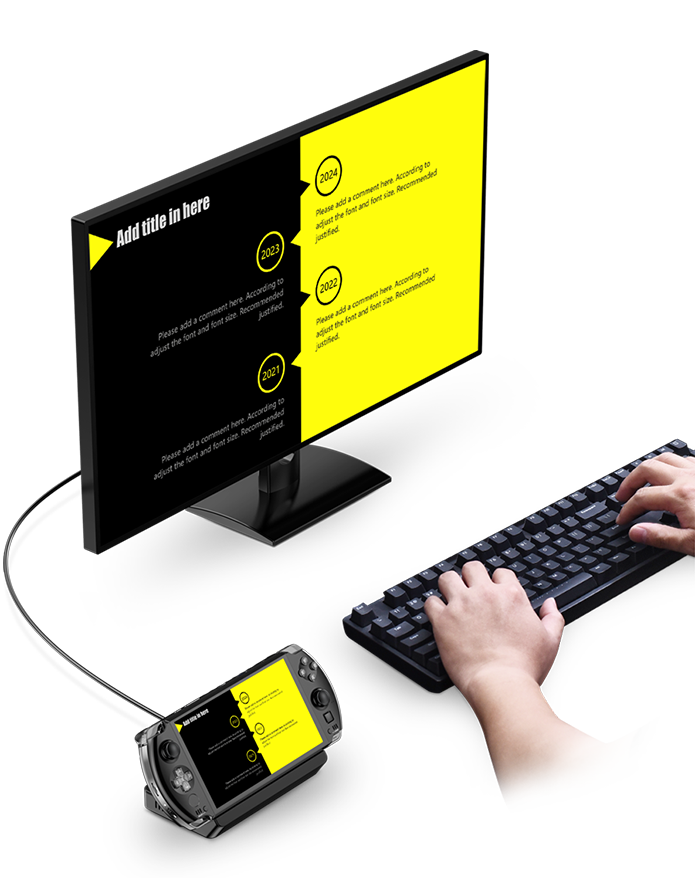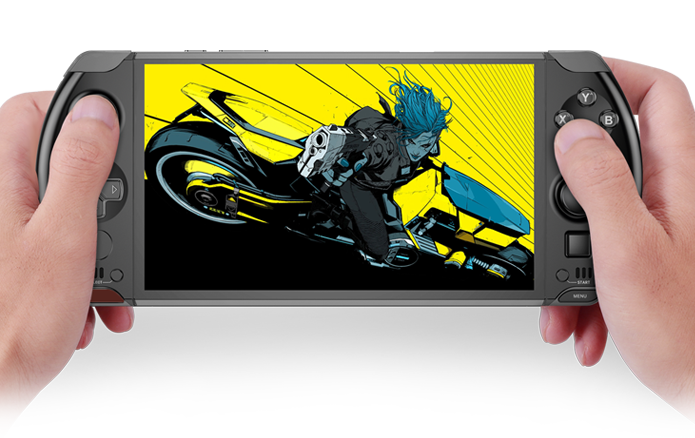 In Game Frame Rate Tests
Strong performance Graphics card
 Under 1920×1080 resolution
AAA games are guaranteed to run at 45~60fps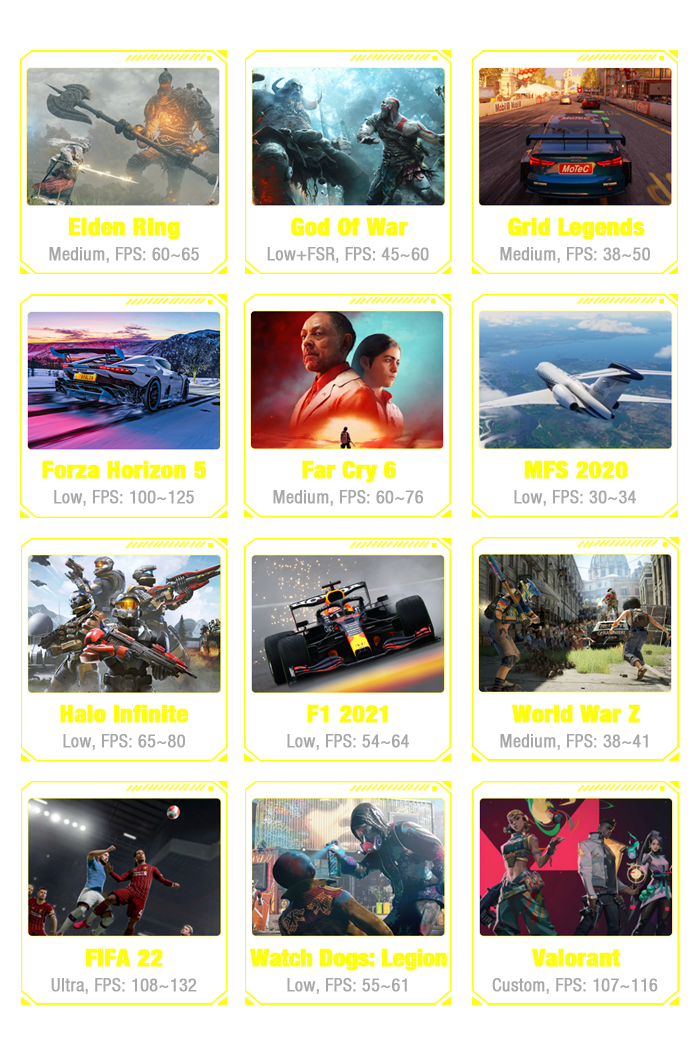 * Testing environment: AMD Ryzen 7 6800U / 16GB LPDDR5 / 1TB NVMe SSD / 1920×1080 resolution / Windows 11 Home 64bit
* FSR quality: denotes that the AMD FidelityFX Super Resolution technology is enabled when a game is running
The World's Smallest Handheld Console Powered By AMD 6800U With A Slider Design,  Running Windows 11 And Supporting SteamOS
To date, the WIN 4 is the world's smallest handheld console powered by a 6800U, with a slider design and gamepad, supporting dual systems Windows 11 and Steam OS (adaptability provided by Valve)!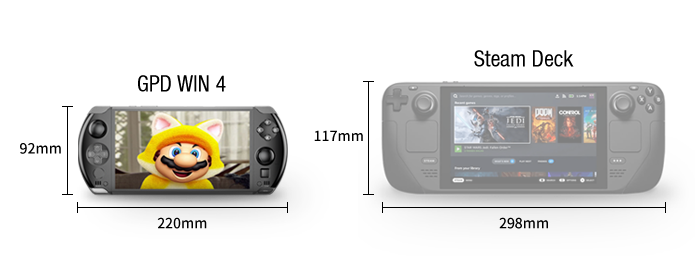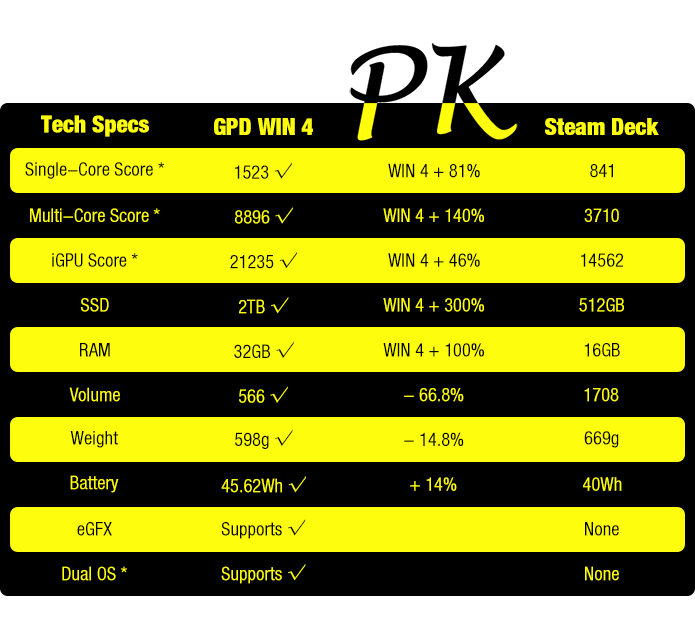 * Single-core and multi-core performance scores are Geekbench 5 Benchmark.
* The core display performance score is Vulkan benchmark of Geekbench 5.
* When connects an external eGPU, the frame rate of the game can be improved under extremely high image quality, the game will be more smoother, and even can turn on unique light tracking effect.
* Dual system means that except Windows 10 /11, it also supports SteamOS (the matched system provided by Valve). However, WIN 4 is not limited to dual systems, it can also be multi-system, some systems may lack driver support.
The Rounded Corner Design At Both Ends Ensures More Balanced Distributed Weight Between Hands. The Protruding Grip And Unique Anti-slip Design Promises A More Comfortable Gaming Experience
Drawn around the rounded corner design of PSP, the WIN4 ensures a more balanced distributed weight between hands when the device is held. The ergonomic protruding grip and unique Anti-slip design, which increases the friction and prevents the hand from slipping and falling off. The device body continues to adopt the LG-DOW 121H aviation-grade ABS composite resin that has a Rockwell hardness of up to 109R and a bending strength of up to 26000kg/cm2. Sprayed with matt finish, the entire device is black or pure white and richly textured without producing any glare.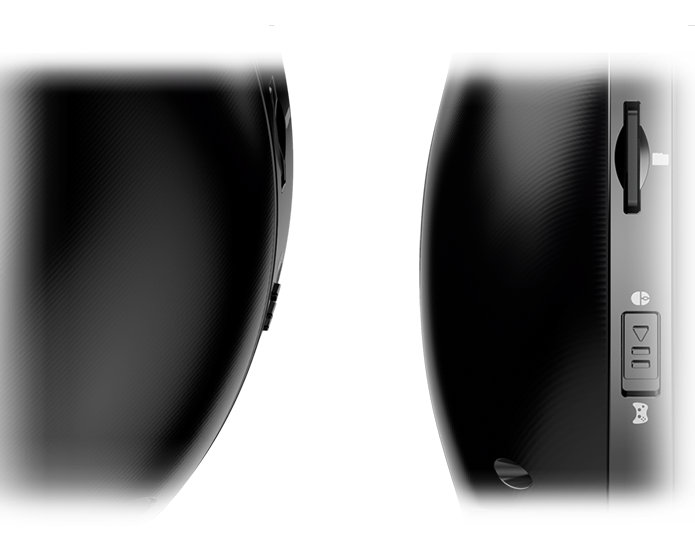 6-inch Eye Protection Screen, Native Landscape Screen, Slide Design, 1080P Resolution, 368PPI, DC Light Dimming Without Flickering Problem
WIN 4 adopts a 6-inch eye protection screen,native landscape screen design.You don't need to worry about the portrait screen problem when playing old games. with a beloved 16:9 resolution ratio of 1920×1080 downward compatible to 1280×720, 368PPI,support 60Hz and 40Hz refresh rate. Corning Gorilla Glass 5 and DC light dimmer without flickering problem; With the sliding cover design of WIN 3, but with larger screen, narrower frame and wider field of vision.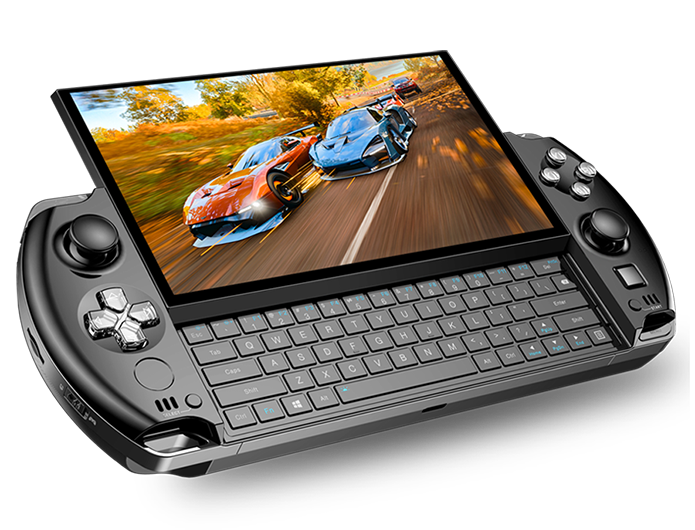 AMD Ryzen 7 6800U CPU, RDNA2 Architecture, AMD Radeon 680M Integrated Graphics
The AMD Ryzen 7 6800U is a CPU based on the 6nm process technology, offering 16MB L3 cache, 8 cores/16 threads and a max turbo frequency of 4.7GHz. The AMD Radeon 680M integrated graphics with an entirely new RDNA2 architecture is powered by 12CU and 768 shader processors. Compared with the RDNA1 architecture, it delivers a 30% more frequency boost at the same power consumption level, resulting in a performance increase up to 54% per watt.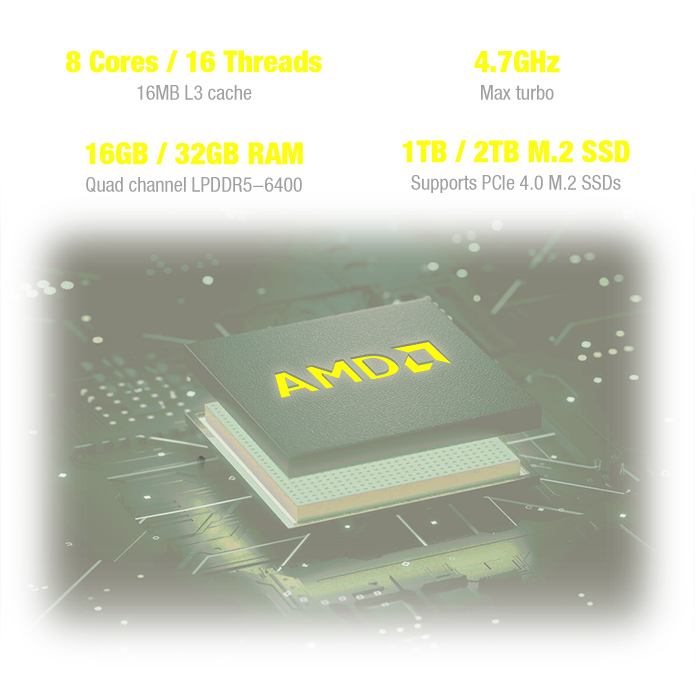 Compared To Dedicated GPUs, AMD Radeon 680M Has A Floating-point Operation Performance Approximating To NVIDIA GeForce GTX 1060
Thanks to the 4-channel LPDDR5 memory, the RAM memory bandwidth has also been increased, resulting in nearly tripled integrated graphics performance compared with the previous generation of Radeon Vega 8! It even outperforms NVIDIA GeForce GTX 1060 in terms of half-precision floating-point operations (FP16), or NVIDIA GeForce MX550 in terms of single-precision floating-point operations (FP32), and supports the DirectX 12 Ultimate. 
Graphics Card Theoretical Performance Comparison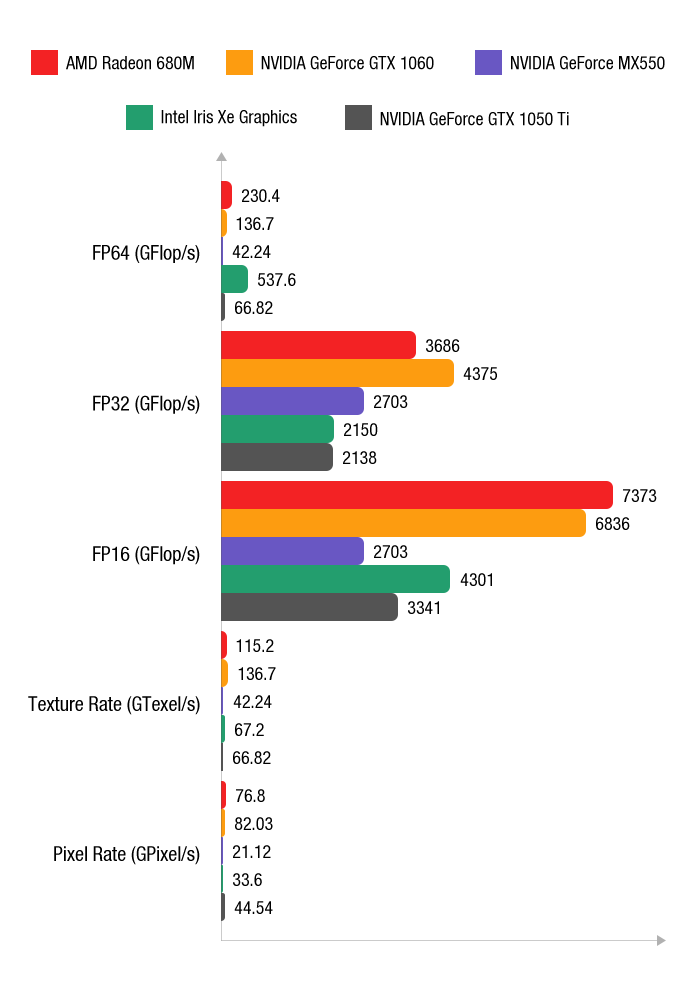 Quad Channel Memory, 16GB / 32GB Optional, Eliminating Your Worries About Memory Overload
The WIN 4 adopts 32-bit 4-channel LPDDR5 RAM memory with a theoretical memory bandwidth up to 204.8GB/s, with both 16GB / 32GB capacity to choose from. Memory can be allocated to VRam to save your worries of game RAM being overloaded , which helps in providing a smoother gaming experience.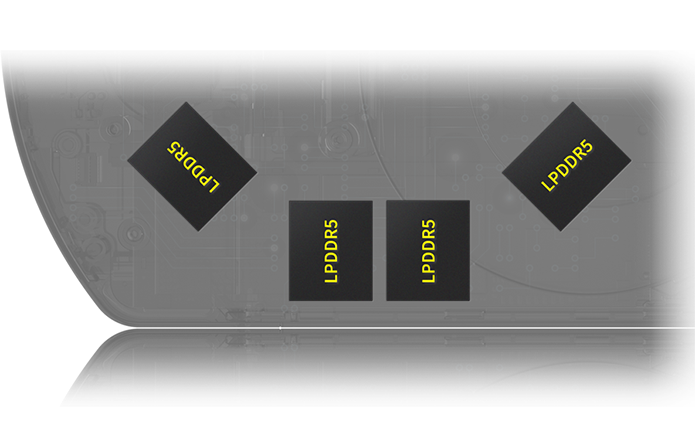 1TB / 2TB M.2 NVMe 2280 SSD optional, offering extremely large storage with unprecedented extensibility
AMD Ryzen 7 6800U supports PCIe Gen4 bus specifications that double the bandwidth. Therefore, the WIN 4 perfectly supports PCIe Gen4×4 2280 SSD with downward compatibility to PCIe Gen3×4 2280 SSD, offering a theoretical throughput up to 7.877GB/s with a faster read-write speed. The device officially comes standard with 1TB/2TB 2280 SSD (PCIe Gen3×4), with no theoretical limits regarding capacity.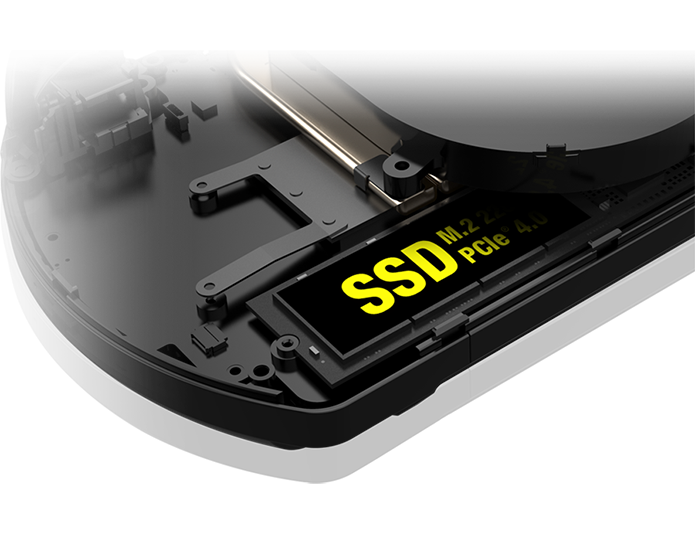 Dedicated TDP Adjusting Tool
Various Optimization Schemes, One-step Game Experience
"MotionAssistant" is specially developed for GPD series handhelds. There are many optimization tools, such as: TDP power consumption can be adjusted by pressing 1W steps, GPU lock frequency, reted TDP, switch to the foreground with one key shortcut key, superimposed on the game screen, custom back button mapping shortcut keys, and change the settings without calling out the MotionAssistant, etc. It is more versatile than SteamOS. The "Power Control Panel" tool developed by overseas users can adjust various parameters more intuitively.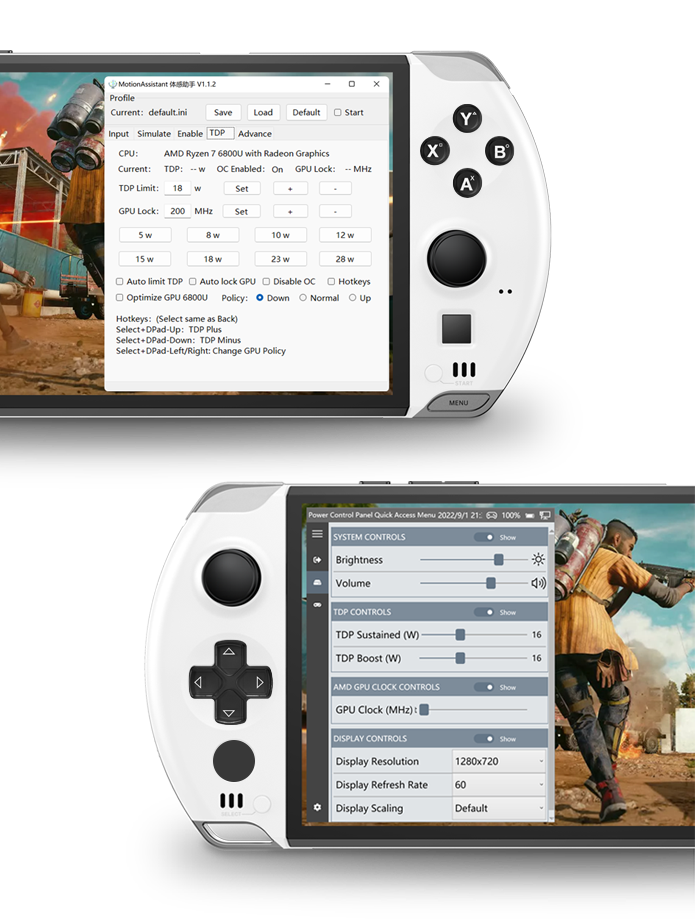 * MotionAssistant and Power Control Panel tools are developed by third-party enthusiastic users, and the copyright belongs to the original author.
* The above optimization tools, with the consent of the original author, will be selectively integrated into the official firmware, and the GPD official website will also provide downloads.
Support Playnite Open Source Front-end
23 Classic Theme Desktops, Switch Freely
Playnite is an open source game front-end, perfectly supported by WIN 4, support multi-language, Integrate 23 classic theme desktops, switch freely.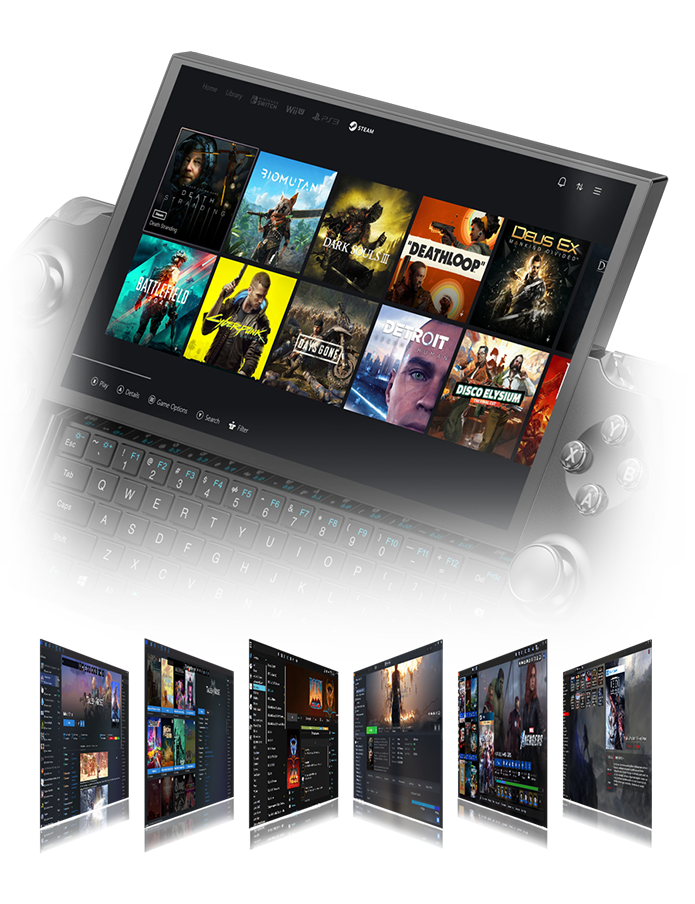 14 Mainstream Game Platform Data Sources
28 Game Library Integrations, Support Emulator Game Library
The resources of game platforms such as Steam, Epic, Uplay, etc., can be imported and managed by Playnite uniformly, supporting 14 mainstream game platform data sources,  28 game libraries integration, and supporting simulator game libraries.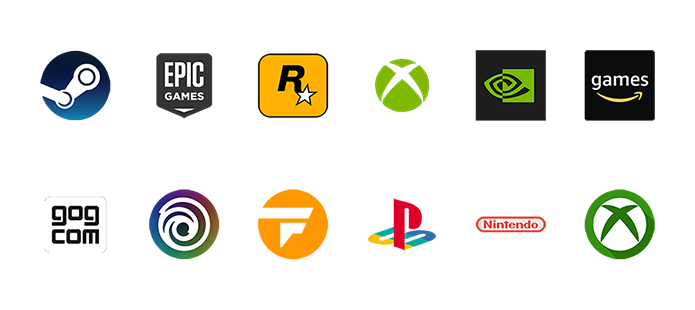 The Exclusive Back-mount 4G LTE Module (Optional) Supports Connection To All Mobile Networks Allowing You To Play Games Anytime And Anywhere You Want
In order to ensure that users can play games anytime and anywhere they want, the WIN 4 uses an extra back-mounted 4G LTE module which supports 4G TD-LTE, FDD-LTE and 3G CDMA networks, as well as Nano-SIM card. The module is not a standard but an optional feature. When needed, just attach the module to the back of the device! Similarly, WIN 4 may also provide back-mount modules supporting M.2 2230 or 2242 SSD to make it easier to extend storage.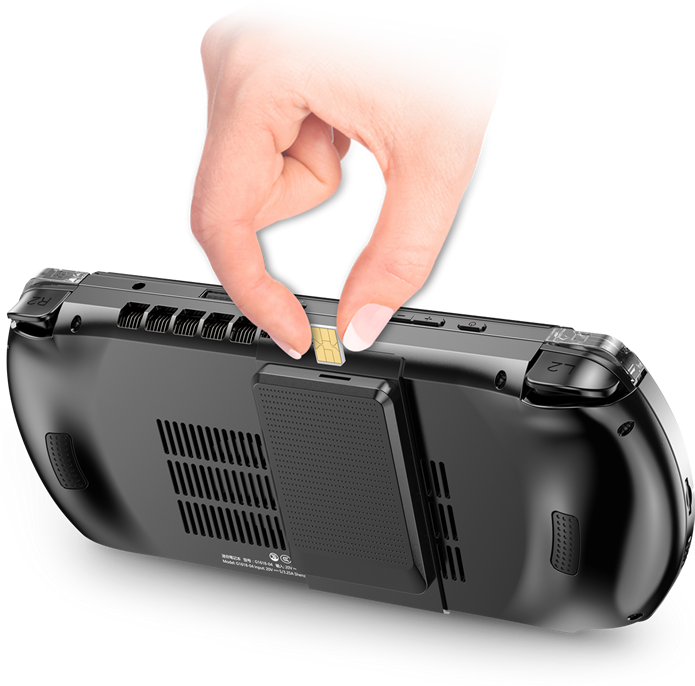 2 Physical Reprogrammable Back
Buttons That Allows Users To Remap
When playing games, the upper lid is generally not opened because the keyboard is not used. However, if you need to press any key that isn't mapped to the gamepad, it would be troublesome to slide up the lid every time you need it. In order to offer more flexibility to the device, we added 2 physical buttons on the back of the WIN 4 to allow you to customize key combinations and intervals with ease.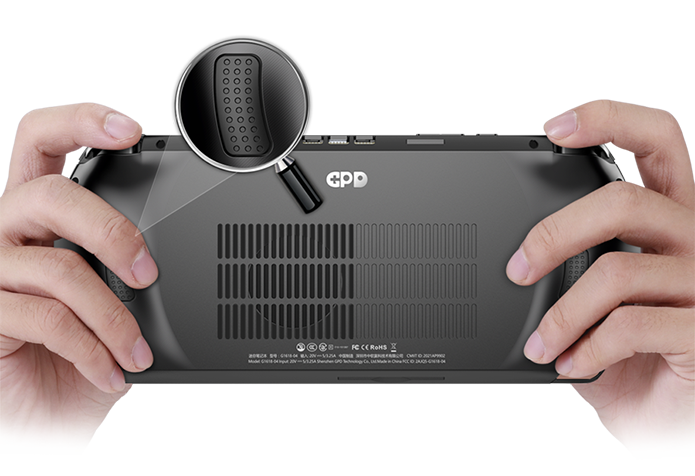 L1 / R1 Trigger Buttons Offers RGB Ambient
Lighting Effect Across Different Lighting Modes
WIN 4's L1/R1 trigger buttons featuring ambient lighting effect, lighting colors are changeable and multiple light effect modes are available.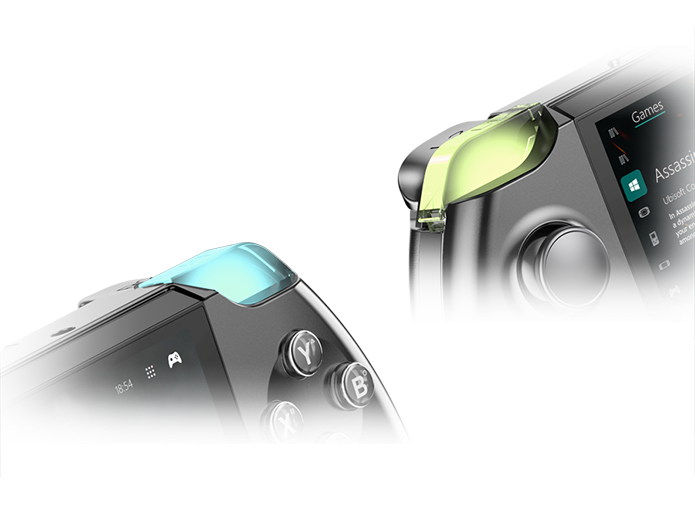 L2 / R2 Are Linear Analog Trigger Buttons Supporting Progressive Press Which Allows Subtle Acceleration In Racing Games, Weapon Trigger Sensitivity In Shooting Games
The most popular games are largely related to either cars, guns or sport. The WIN 4 represents a continuation of the linear analog trigger button found in the WIN 3. The 27-degree tilt angle can produce 256 (0~255) status variation and converts the value of acceleration into numerical instructions. If you are a veteran player of racing games, the WIN 4 will definitely be a game changer in terms of the quality of smoothness - the progressive acceleration of your racing car and the trigger press of your gun will offer you a more immersive experience.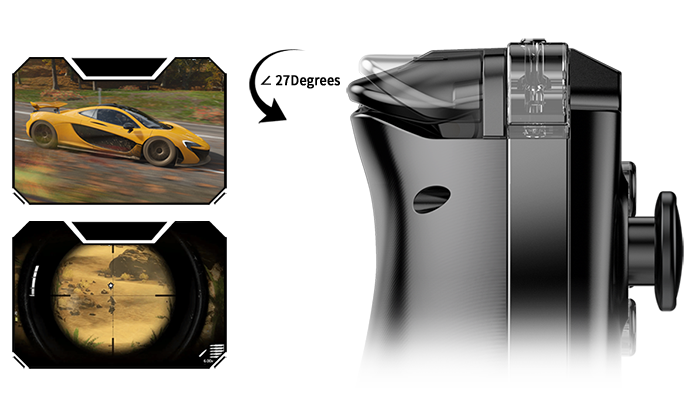 ALPS Original Double 3D large Joysticks With A Return To The Original Misaligned Arrangement, Comparable To The Top-grade Seimitsu And Sanwa Joysticks
WIN 4 resumes the traditional misaligned arrangement of an analog stick. The analog stick cap is decomposed into the hem and cover cap, with the former tightly clamped by the latter to prevent potential falling out. The ALPS original double 3D large joysticks that protrude out promise longer travel distances and smaller resistance. Despite a minor sacrifice of responsive speed, the design has significantly improved precision. When you are indulged in combat games, the joysticks deliver a performance comparable to top-grade Seimitsu and Sanwa products. L3/R3 is supported when pressed downward.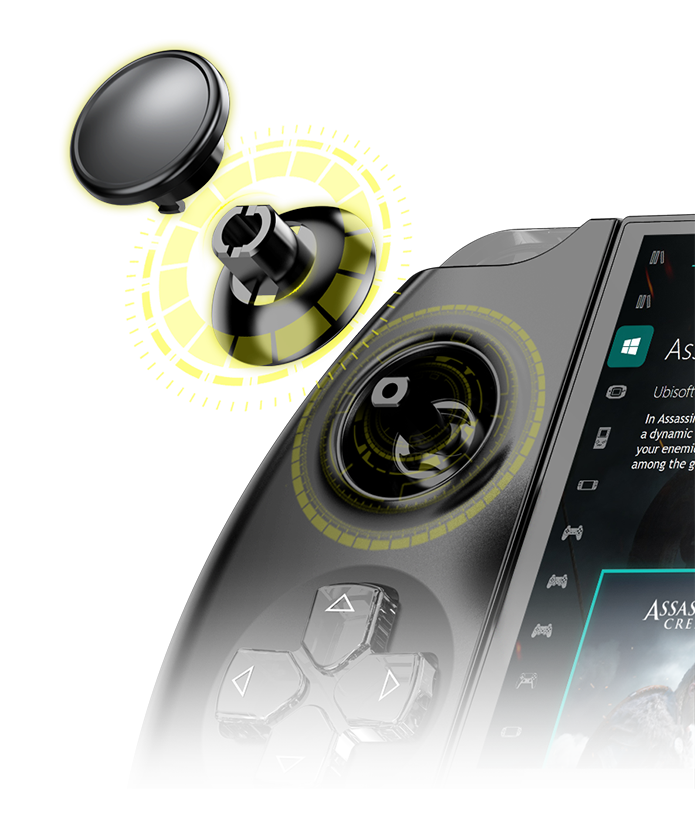 Double Large Rumble Motors With Adjustable Vibration Intensity And The Ability Of Turning It Off
WIN 4 adopts double large rumble motors with adjustable vibration intensity to boost vibration experience. When playing shooting games, you can feel the recoil of your gun; while the device will vibrate when you start the engine of your racing car. The device's refined vibration effect and much improved grip  will make you completely immersed in your game. If you do not like vibrations, simply turn it off.
6-axis Gyroscope Allowing You To Play Motion Sensing Games Whenever You Want
The built-in 6-axis gyroscope enables translation of body motions into different movement operation in games. Human movements thus can determine the direction of your racing car, your gun when aiming, offering more diversified gameplay approaches. The exclusive gyroscope setting software allows free adjustment of multi-functional parameters in order to offer you more flexible gaming experience!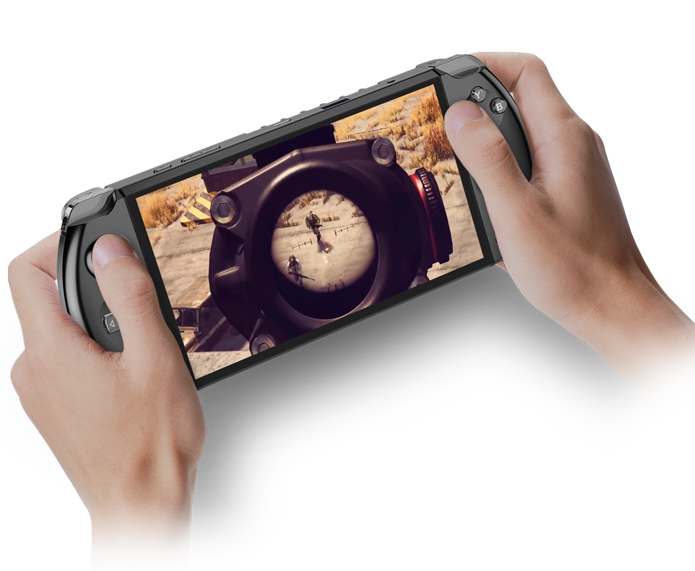 Concealed Physical Keyboard With Dome-switch Keys And Brightness Adjustable Backlight
The WIN 4's design welcomes back the traditional physical keyboard with dome-switch keys. When the "QWERTY" full layout keyboard reveales, the white back light will lit up the keys. Backlight brightness has 3 levels: strong, weak and off.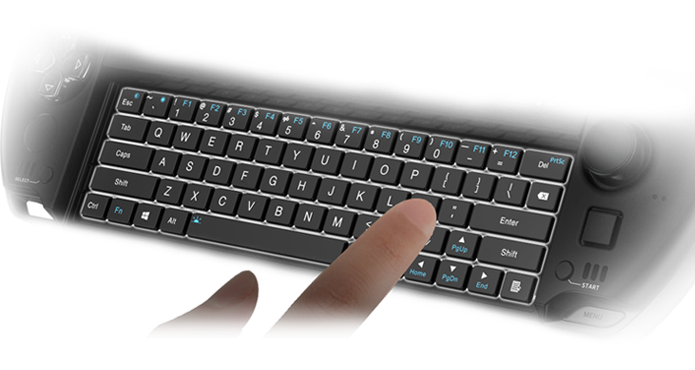 PC-grade Large Turbine Fan And Thick Heat Pipes That Increase Heat Dissipation Efficiency By 35% Compared To The WIN 3
Despite its small size, the WIN 4 never compromises on power capacity and cooling solution. The cooling solution is using a larger fan than the one in the WIN3, which produces 34% more air volume, the heatpipes are 50% thicker, increasing the heat transfer by 50%, improving the overall heat dissipation efficiency by 35% .
PWM fan rotation speed is adjustable in the BIOS setting, meaning that when the internal temperature is lower than 40℃, the fan works only at 20% of its full rotation speed, when the temperature is higher than 40%, the rotation of the fan will accelerate at a rate of 2% PWM up to 100%.
Combined with the high-speed ventilation channel on the top, the heat can be rapidly vented out, translating during real tests by the device being totally silent when working at an 18W TDP. Ultimately, its noise is lower than the WIN 3 when it is running at a 28W TDP.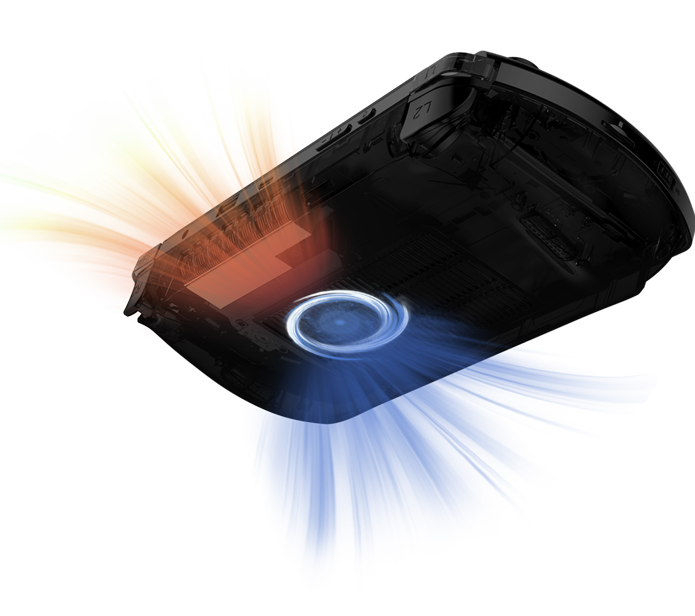 AAC Super Linear Dual Stereo Speakers With High Power Efficiency, High PSRR, Low Noise And Smart PA Offering Double Amplitude Enhancement, Loud And Clear Sound
In terms of sound, the WIN 4 inherits the outstanding design of WIN 3 and WIN Max 2 by adopting high-PSRR smart PA to deliver better energy efficiency and lower noise. In the meantime, it features the German AAC super linear stereo speakers with the speakerbox complemented by Bass materials, making it equivalent to a 0.9cc large speakerbox design. The dual-coil-driven diaphragm can not only balance forces imposed on it but it also enhances and doubles the amplitude , resulting in exceptionally loud and clear sound!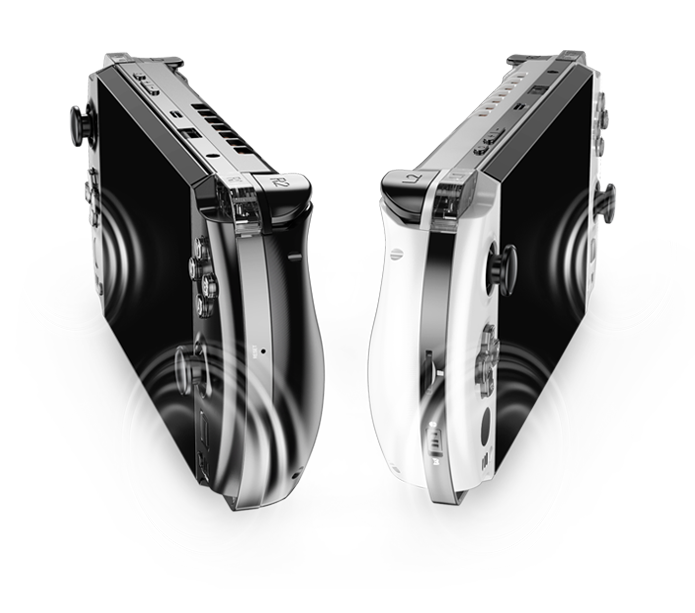 Extra Optical Finger Navigation Offers Ease Of Gaming And Working
To avoid repeated switches between "joystick/mouse", Pocket 2's optical mouse sensor is added to the lower right corner of the device. Now, you are able to use the mouse to control the desktop in gaming and working even under the gamepad mode. The advantages can be summarized as follows:
The WIN 4 integrates 4 types of navigation inputs including the keyboard, right analog stick, the optical mouse sensor and the touch screen.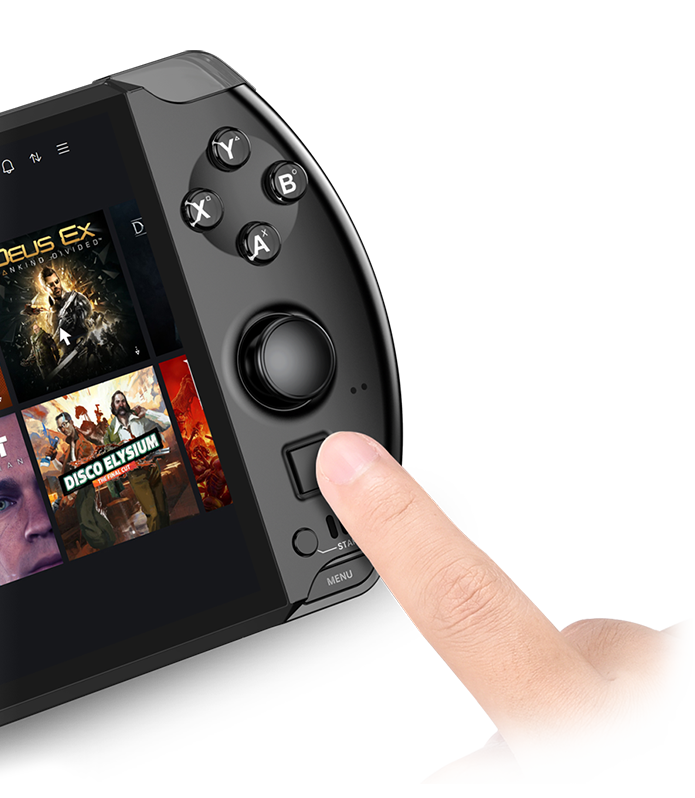 Retain Fingerprint Unlock Avoid Entering Password Every Time
If you leave temporarily, the screen is locked, and you have to slide the cover to enter the password every time, which is very troublesome. WIN 4 retains the fingerprint unlock function in the lower left place, and the system can be unlocked with one finger and one key!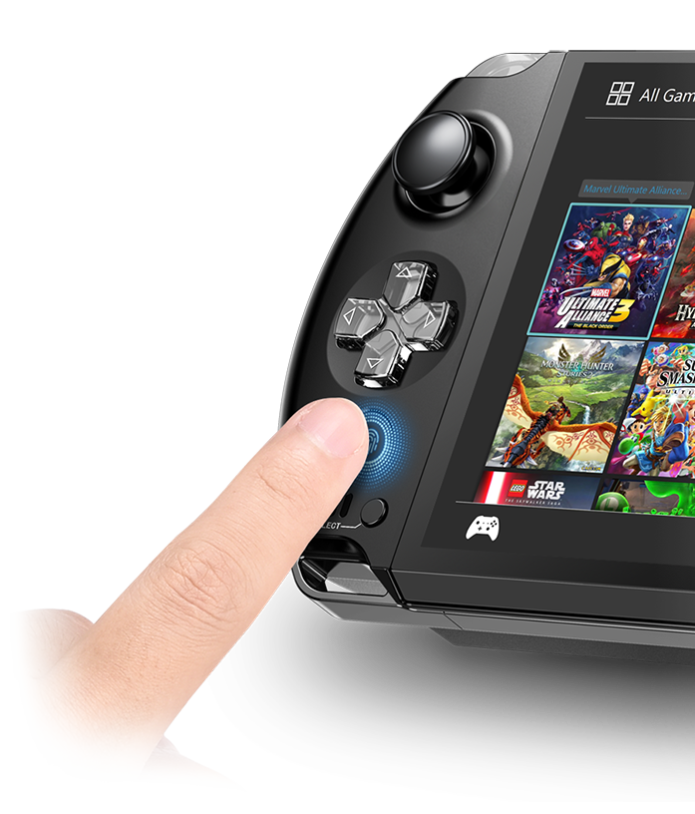 Entirely New USB4 Port With A Data Transfer Speed Up To 40Gbps, Supporting Thunderbolt 3 Protocol And Connectivity To External Graphics Enclosure (eGPU) To Play AAA Games
The USB4 supports Thunderbolt 3 protocol, increasing the data transmission speed of each connected device up to 32Gbps (4GB/s). With connectivity to an external graphics enclosure (eGPU), you will get a wonderful experience, even latest AAA games will get significantly improved FPS and smoother graphics.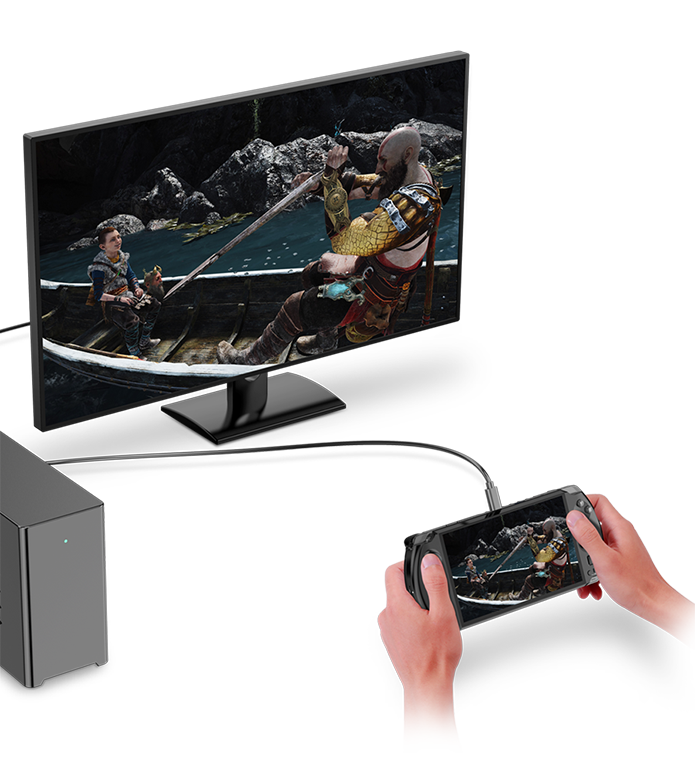 * Nvidia RTX10, 20 and 30 built-in graphics amplifiers are recommended, instead of the AMD Radeon RX 6XXX series and the Intel ARC Axxx series.
Double Type-C Ports Design (One is USB4) Ensures Both Connections To External Display And Charging
The WIN 3 has long been criticized by users for providing only one Type C port. The WIN4 adopts a dual Type-C ports design (one is USB4) supporting  connections to an external display as well as charging!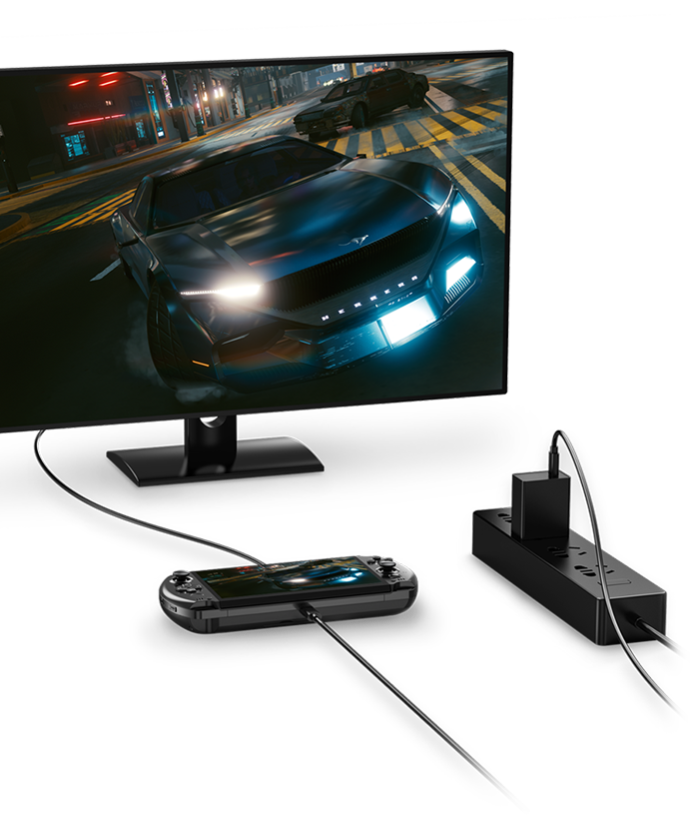 Kindly note that the shipping guide below is for reference only. The below shipping time are calculated by using business days and delays maybe caused by force majeure, natural disasters, inclement weather, public holidays, and factors out of our control.
Customers will be notified about the shipping staus via Email after the package shipped out.
The Estimated shipping time is general guide and doesn't apply to the certain remote areas.
If you suddenly don't like your bag after place an order, please email us within 12 hours to cancel your order. If more than 24 hours, we will not be able to cancel for you. Because this is an international parcel, once the parcel is processed by the logistics company, it cannot be returned.
Note:
The shipping time mentioned in the guide does not include the processing time of the order. Order processing time usually takes 3-5 business days.
The delivery guide does not apply to certain selected remote locations as well.
Customers will be notified about the shipping staus via Email after the package shipped out.
The Estimated shipping time is general guide and doesn't apply to the certain remote areas.
About Tax & Customes Duty
Zinmark.com is not responsible for the collection or refund of any extra fees for customs or payment processes. Zinmark.com cannot be held responsible for any package that does not make it through the local customs and is destroyed due to the item being illegal in the destination country.
Customers are solely responsible for complying with their local laws. We can also not be held responsible for any import tax that may occur and it is the customers' sole responsibility to pay this fee, if any.
Shipping Time
Note:we are delighted to announce that customers now enjoy Free Standard Shipping on orders over $30 USD.
For some remote areas, there may be an additional surcharge of US$ 35 when you choose Express
If you are unsure whether your location is considered a remote area, we recommend contacting us to confirm.
We have two SHIPPING METHOD
Free Shipping : 10-20 days (Cover all mainstream countries)Express: 5-8 days
America : 7-20 Days
Europe Shpping Time: 7-14 Days
France, Germany, United Kingdom, Italy, Netherlands, Spain,Austria, Ukraine, Belgium, Croatia, Czech Republic, Denmark, Greece, Hungary, Ireland, Luxembourg, Poland, Portugal, Romania, Slovakia, Sweden, Bulgaria
Russia: 15-25 Days
Asia : Japan: 5-10 Days
Oceania:
Australia: 10-15 Days