Chuwi MiniBook X: The First Laptop Comes with Punch-Hole Display
The punch-holes on smartphones, we have known for a long time. This makes it easy to integrate a front camera and an edge-to-edge screen without notching or adding too much of a front. Until now, this fashion had stopped at smartphones and tablets, but it can apply to any device with a screen and a camera. This is what Chuwi has chosen to do to launch its new ultra-compact laptop. The Chinese brand has made a name for itself in previous years with devices at low prices and easy to import, a bit like Xiaomi in the field of smart phones.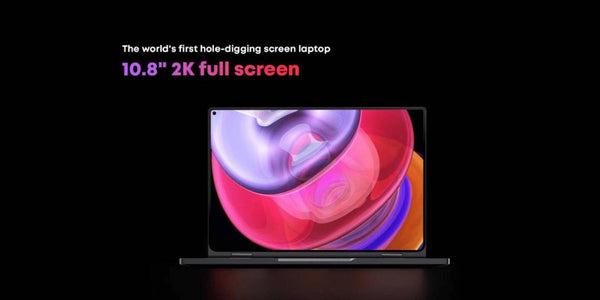 The Chinese manufacturer Chuwi unveils the MiniBook X, a very small laptop with a borderless screen. To the point of integrating a punch for the first time on a portable PC.
CHUWI MiniBook X is the successor of the Chinese UMPC from 2019, i.e. the CHUWI MiniBook. We are dealing here with an aluminum housing, which is 11 millimeters in the thinnest point, and the laptop weighs 899 grams. The heart of the device is a 4-core and 4-thread Intel Celeron N5100 processor made in 10 nm lithography, which works with a base clock of 1.1 GHz and turbo mode up to 2.8 GHz and is equipped with an integrated Intel UHD Graphics (350 - 800 MHz). The total TDP is only 6 W. We have 12 GB of LPDDR4X RAM and 512 GB of internal memory thanks to the SSD carrier.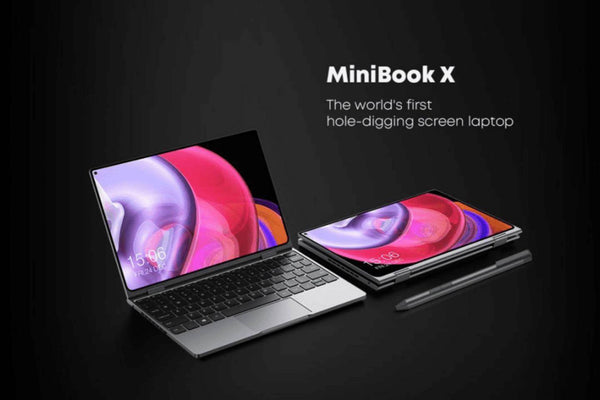 CHUWI MiniBook X is equipped with a 10.8-inch matrix with a resolution of 2560 x 1600 pixels, which offers 100% sRGB coverage. We deal here with thin frames and a camera hidden under the screen, thanks to which the screen-to-body ratio reaches 90%. The screen is touch-sensitive, supports up to 4096 pressure points and a dedicated stylus. The Chinese UMPC offers a 360 ° mode, also called YOGA, i.e. a total tilt of the screen and the use of the device like a tablet. The exact set of connectors has not been revealed, but we are talking, among others, about the USB type C that supports fast charging up to 45 W and data and audio / video signal transmission.
The Chuwi MiniBook X is very attractive on paper. The brand seems to have done everything to create the most compact PC possible with still great features.
8-inch 2560 x 1600 pixel 16:10 display
Intel Celeron N5100
12 GB RAM LPDDR4
512 GB SSD storage
USB-C with Power Delivery 2.0 charging at 45W
5 megapixel camera
Standard size borderless keyboard
The manufacturer also announces that its small laptop can be transformed into a tablet thanks to the two hinges, like the Yoga range from Lenovo.