OneMix 5 The Ultimate 2-in-1 Laptop Unveiled by One-Netbook, Featuring Intel i7-1250U CPU and USB 4 Interface
One Netbook, a Chinese PC maker, has gained popularity in recent times for its handheld gaming computers. However, the company's origins lie in the production of mini-laptops, and it has continued to innovate in this space. Presently, One Netbook is introducing its latest model, which represents the next generation of their mini-laptops. Notably, this new notebook computer offers support for tablet mode, allowing users to simply pull the screen towards themselves and lay it flat on the keyboard to transform it into a tablet-like device. This versatile feature enhances the usability and flexibility of the device, catering to the needs of a wide range of users.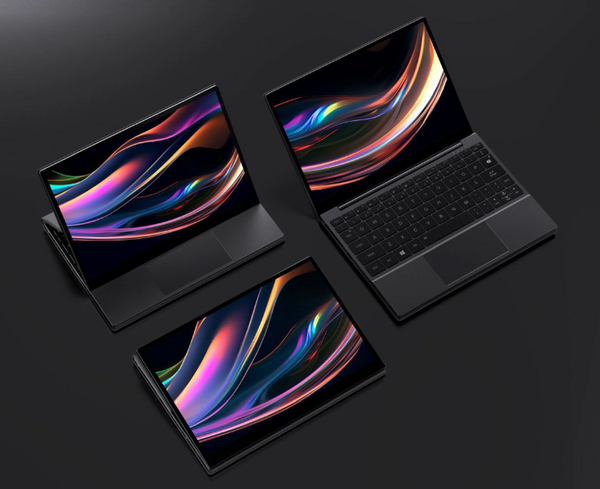 Based on the specifications provided in a spec sheet, the OneMix 5 is expected to have dimensions of 173 x 136.5 x 17.8mm (6.8″ x 5.4″ x 0.7″) and a weight of 680 grams (1.5 pounds). However, it seems unlikely that these measurements are accurate, considering that it would be impossible to accommodate a 10.1-inch display within such compact dimensions. It appears that the dimensions were likely copied and pasted from a smaller device. Nevertheless, even with a 10.1-inch screen, the OneMix 5 is expected to be smaller than most laptops currently available in the market.
The laptop features a remarkable 10.1-inch LTPS display, providing users with an immersive visual experience. With a resolution of 2560 x 1600, the screen delivers stunning clarity and sharpness, bringing content to life with vibrant colors and precise details. The display also offers touch functionality, allowing for effortless navigation and intuitive interactions. Additionally, the laptop supports a 4096-level pressure-sensitive stylus, enabling users to unleash their creativity and take advantage of precise and fluid input for digital art or note-taking.
The OneMix 5 boasts an impressive hardware configuration that ensures exceptional performance. Powered by the Intel i7-1250U processor, this compact device features a formidable 10-core 12-thread setup, allowing for smooth multitasking and efficient processing of demanding tasks. To further enhance its capabilities, the OneMix 5 is equipped with either 16GB or 32GB LPDDR5-5200 memory, ensuring speedy and efficient data handling. Additionally, users have the option to expand their storage capacity with the support for up to a massive 4TB PCIe 4.0 solid-state drive, providing ample space for storing files, applications, and multimedia content. With such a robust hardware configuration, the OneMix 5 is geared towards delivering a seamless and powerful computing experience.
The One Mix 5 mini-laptop boasts several impressive features. Equipped with a powerful 41.8 Wh battery, it ensures extended usage without the need for frequent charging. The laptop comes with a 65W USB-C charger, providing quick and convenient power replenishment. Typing in dimly lit environments is made effortless with the inclusion of a backlit keyboard. To enhance the audio experience, the laptop features stereo speakers that have been finely tuned by Harman Kardon.
In terms of connectivity, the One Mix 5 offers an array of ports, including USB 4 Type-C, USB 3.2 Type-C, and USB 3.2 Type-A, ensuring seamless compatibility with various devices. Additionally, users can connect their headphones through the 3.5mm headphone jack or utilize the Micro SD interface for expanded storage options. The laptop supports WiFi 6E for high-speed wireless connectivity and Bluetooth 5.2 for effortless pairing with compatible devices.
While the pricing details of the One Mix 5 mini-laptop have not been officially disclosed by One Netbook, the company recently showcased the device at an event in Japan. It has been announced that the laptop will be available for purchase in the summer, promising an exciting addition to the market for portable computing solutions.