OneXPlayer 2 Pro 3-in-1 Gaming Handheld Console - Comes with R7 7840U Processor
One-book hosted an exciting new product tasting meeting today, unveiling the highly anticipated OneXPlayer 2 Pro EVA co-branded limited edition. The event was marked by a palpable sense of anticipation and curiosity as attendees eagerly awaited the unveiling of this cutting-edge device. With its sleek design and advanced features, the OneXPlayer 2 Pro EVA edition promises to push the boundaries of gaming and entertainment. The room was filled with awe and excitement as the curtains were drawn back, revealing the stunning limited edition model. Attendees were treated to a hands-on experience, immersing themselves in the device's powerful performance and impressive capabilities. One-book's commitment to innovation was evident, and the event left everyone in attendance eagerly anticipating the official release of the OneXPlayer 2 Pro EVA co-branded limited edition.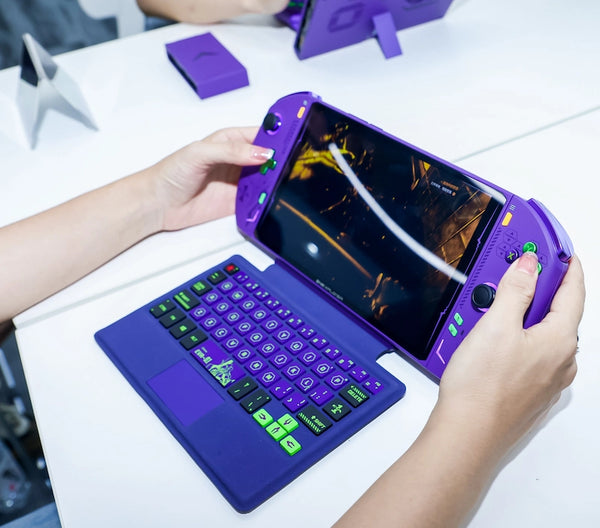 The OneXPlayer 2 Pro 3-in-1 handheld boasts an impressive configuration. The limited edition OneXPlayer 2 Pro EVA comes equipped with the cutting-edge AMD Ryzen 7 7840U processor, which utilizes the advanced Zen 4 architecture. With 8 cores and 16 threads, this processor offers exceptional performance, and it can reach a maximum acceleration frequency of 5.1GHz. The handheld also features a Radeon 780M core display based on the RDNA3 architecture, delivering stunning visuals with a frequency that can reach 2.7GHz. In terms of memory, the OneXPlayer 2 Pro offers LPDDR5X high-frequency memory, with the option to upgrade to an impressive 64GB. Additionally, the SSD is a PCIe4.0x4 NVMe model, and users can choose to have up to 4TB of storage capacity, providing ample space for games and other content.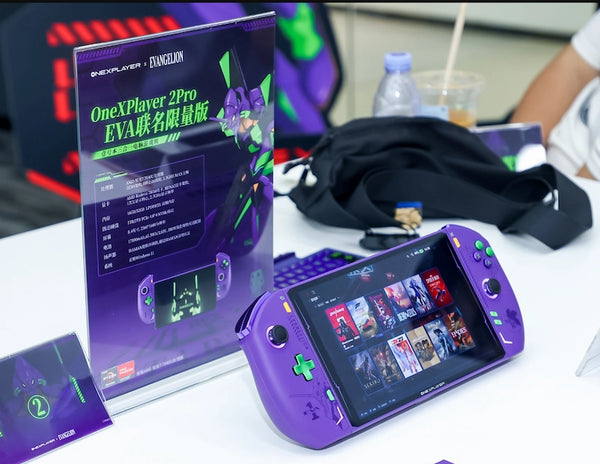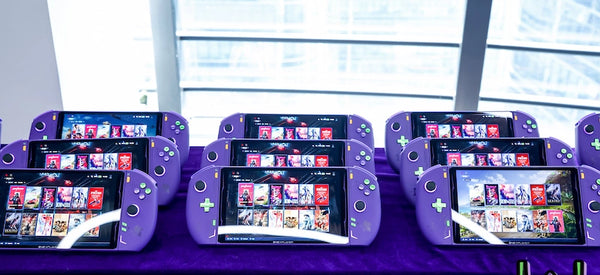 The OneXPlayer 2 Pro EVA boasts an impressive 8.4-inch screen that delivers stunning visuals with its 2.5K ultra-high-definition resolution. With a remarkable 118% sRGB high color gamut volume, the device offers vibrant and accurate colors that bring content to life. The screen also supports ten-point touch, allowing for precise and intuitive interactions. Additionally, the OneXPlayer 2 Pro EVA incorporates a 4096-level pressure-sensitive original handwriting feature, enabling users to unleash their creativity and make the most out of the device's versatile touchscreen capabilities.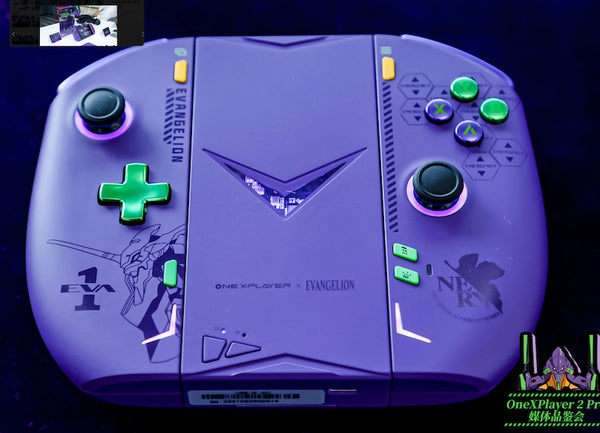 The OneXPlayer 2 Pro EVA retains the detachable handle design introduced in the OneXPlayer 2. The handle is designed with an ergonomic curve radian, ensuring a comfortable grip that allows players to hold and play for extended periods without experiencing fatigue. The button layout follows the traditional Xbox configuration, providing a familiar and intuitive interface. The ALPS e-sports joystick incorporated in the device features a height of 7.5mm and an inclination angle of 18 degrees. Leveraging the OneXPlayer team's self-developed algorithm, the joystick boasts a seamless inner circle without any dead zones, and it also supports calibration functions to optimize performance.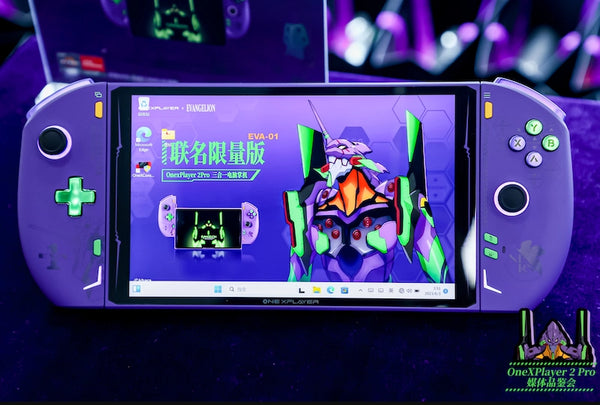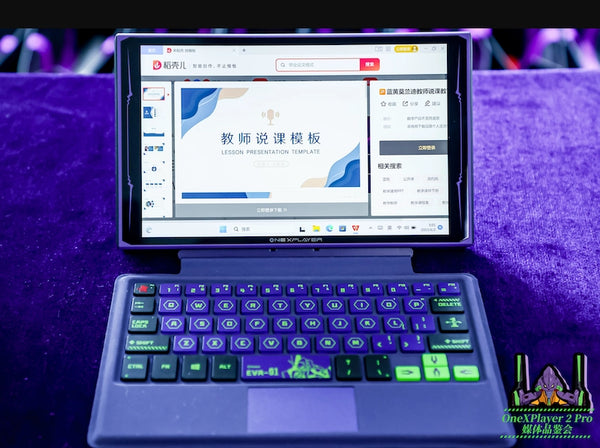 The machine boasts several impressive features. Firstly, it comes with built-in dual stereo speakers provided by Harman and certified by the renowned audio brand. This ensures a high-quality audio experience. Additionally, the device is equipped with a large-capacity 65.5Wh fast-charge battery, allowing for extended usage without worrying about running out of power. The included 100W gallium nitride charger ensures quick charging times. On the top of the machine, users will find a USB-C 4.0 interface, a Micro SD 4.0 expansion port, a USB-A 3.0 interface, and a 3.5mm audio interface, providing versatile connectivity options. The bottom of the machine features a pogo Pin interface, which is used to connect the magnetic keyboard, and a USB-C 3.1 interface for additional connectivity needs.