AOKZOE Unveils New Handheld Device Powered by AMD Ryzen™ 7 7735U Processor
AOKZOE, a technology company, is soon launching a new handheld device that is sure to impress technology enthusiasts. The device boasts an impressive AMD Ryzen™ 7 7735U processor, which is an upgrade from the AMD Ryzen™ 7 6800U processor. This new processor has a higher frequency, which is evident in the Geekbench data results. The AMD Ryzen™ 7 7735U is known for its high performance, making it a top choice for power-hungry applications and heavy workloads. This new handheld device from AOKZOE will undoubtedly provide users with a powerful and efficient computing experience. With this advanced processor, users can expect faster processing speeds, smoother multitasking, and improved performance across a wide range of applications. The launch of this new handheld device marks an exciting milestone for AOKZOE and their commitment to providing cutting-edge technology to consumers.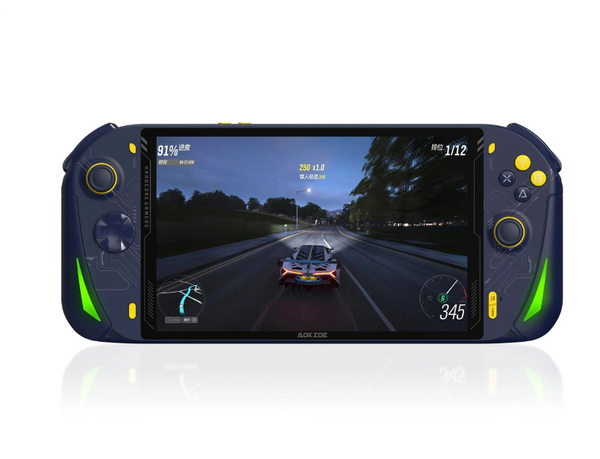 The AOKZOE A1 AR07 handheld device is an impressive piece of technology that boasts powerful performance capabilities. It is equipped with the AMD Ryzen™ 7 7735U Processor, which features 8 cores and 16 threads, allowing for efficient multitasking and processing of complex tasks. The processor has a maximum frequency of 4.79GHz, which is incredibly fast and ideal for demanding applications such as gaming, video editing, and rendering.
The Ryzen™ 7 7735U Processor also comes with 16MB L3 cache, which provides speedy access to frequently used data and helps improve overall system performance. This cache size is larger than that of many other processors in its class, making it an ideal choice for users who require high performance from their computing devices.
It is worth noting that the maximum frequency of the Ryzen™ 7 7735U Processor, as per AMD official data, is 4.75GHz, which is only 0.05GHz higher than the Ryzen™ 7 6800U. However, the AOKZOE A1 AR07 handheld device manages to achieve a higher frequency due to its optimized design and advanced cooling system. This impressive performance makes the AOKZOE A1 AR07 handheld device a great choice for users who need a portable device that can handle demanding tasks without compromise.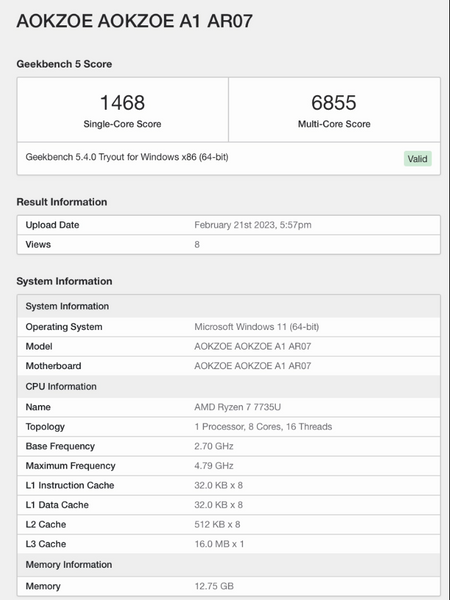 Advanced Micro Devices (AMD) has recently announced its latest processor, the Ryzen™ 7 7840HS, which is yet to hit the markets. Additionally, the Ryzen™ 7 7840U, designed for handheld devices, has not been released yet. The company's latest announcement has generated a lot of buzz in the tech world, as it is expected to offer significant improvements in processing power and efficiency over its predecessors. However, consumers will have to wait for some time before they can get their hands on these cutting-edge processors.
The new handheld products expected to launch in the first half of this year are likely to be equipped with the Ryzen™ 7 7735U, while the Ryzen™ 7 7840U for handheld devices may not hit the markets until the second half of the year. This delay may be due to the ongoing global chip shortage, which has impacted the production and availability of various electronic components. Nonetheless, AMD's Ryzen™ processors have gained a reputation for delivering top-notch performance and power efficiency, and the upcoming Ryzen™ 7 7840HS and Ryzen™ 7 7840U are expected to continue this tradition, once they become available to the public.
The AOKZOE A1 Handheld is a new device that was launched in July of last year. It is a handheld device that comes with a host of features and capabilities, making it an attractive option for those looking for a high-quality portable device. The AOKZOE A1 Handheld is priced at $750, which is relatively affordable when compared to other similar devices on the market. Despite its relatively low price, the AOKZOE A1 Handheld still manages to pack a punch, offering users a powerful and reliable device that can handle a variety of tasks and applications. Overall, the AOKZOE A1 Handheld is a solid choice for anyone in need of a portable device that can keep up with their busy lifestyle.