MINISFORUM HX99G with a Powerful AMD Ryzen 9 Processor
Introducing the latest addition to the MinixPC family - the MINISFORUM HX99G Gaming Desktop Mini PC. With a powerful AMD Ryzen 9 processor and an RX 6600M GPU, this compact gaming desktop packs a punch. Its impressive specs include up to 64GB DDR5 RAM and up to 1TB SSD, providing ample storage and speedy performance. The MINISFORUM HX99G comes pre-installed with Windows 11 Pro, ensuring seamless gaming and productivity experiences. Now available for purchase on MinixPC, this gaming desktop starts at just $949.00. Get ready to elevate your gaming experience with the MINISFORUM HX99G Gaming Desktop Mini PC.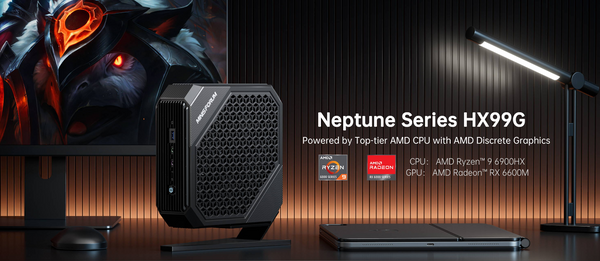 The Minisforum HX99G Mini PC is an impressive device that offers a compact and powerful computing experience for users. Despite its small size, it is equipped with impressive features that make it ideal for gaming and other demanding tasks. The device measures only 8 x 7.9 x 3.9 inches (20.5 x 20.3 x 9.93 cm) and weighs 1.21kg, making it highly portable and easy to carry around.
One of the unique features of the HX99G Mini PC is the carbon-fiber armor that covers the diagonal corners and base of the case. The armor is made of 70% carbon fiber material and 30% resin, which improves the case's strength and thermal conductivity. The optimized design also keeps the case smooth and classy with its excellent abrasion and corrosion resistance. The HX99G Mini PC can be used horizontally on your desk, or vertically with the included stand to reduce the desktop footprint. This makes it highly versatile, and users can choose the option that best suits their needs. Additionally, the stand helps to save space and improve heat dissipation when the device is used vertically.
The MINISFORUM HX99G Mini PC is a powerful and compact computing device that boasts impressive performance features to help you work, play, and entertain like never before. At the heart of this mini PC is the top-tier superfast AMD Ryzen™ 9 6900HX processor, which is equipped with 8 cores and 16 threads, and a clock speed of 3.3 GHz to 4.9 GHz.
One of the key features of this processor is its support for DDR5 memory and PCIe 4.0 SSD, which ensures that you can work with large data sets and run demanding applications with ease. This powerful CPU enables the HX99G to achieve impressive benchmark scores such as 7017 in 3DMARK CPU Score, 21123 in 3DMARK Fire Strike Score, and 8416 in 3DMARK Time Spy Score. Additionally, it achieved a CINEBENCH R23 score of 13328/1615 (Multi Core/Single Core).
To further enhance the gaming experience, the HX99G comes with AMD discrete graphics in the form of the Radeon™ RX 6600M graphics card, which is based on the RDNA 2 architecture and features 1,792 cores and 8 GB of fast GDDR6 graphics memory. With this graphics card, you can enjoy ultra-fast response times thanks to AMD Radeon™ Anti-Lag and AMD Radeon™ Boost.
The HX99G is also designed with efficient heat dissipation in mind, featuring 7 heat pipes (3 for the CPU and 4 for the GPU), liquid metal for both the CPU and GPU, and dual fans inside the case for effective heat dissipation. This ensures that the mini PC can run at low noise levels even under a full load.
The SO-DIMM memory and the M.2 PCIe SSD are both easily upgradeable, which means that users can increase the performance of the machine by adding more RAM or a faster SSD. This is a great feature for users who want to future-proof their system and ensure that it can handle the latest applications and software.
The HX99G Mini PC also features advanced firmware, including DDR5-4800MHz memory and PCIe 4.0 SSD. DDR5-4800MHz memory is the latest generation of memory technology and provides faster data transfer rates than previous generations. PCIe 4.0 SSD is also a significant upgrade over PCIe 3.0 SSD, with double the bandwidth and faster read and write speeds.
The MINISFORUM HX99G Mini PC is a powerful and compact computer that offers a range of connectivity options to meet a variety of needs. It comes equipped with Wi-Fi 6 and Bluetooth 5.2 for fast and reliable wireless connectivity. The HX99G also features four USB 3.2 Type-A ports, one USB 3.2 Type-C port, and two USB4 Type-C ports, making it easy to transfer data quickly and efficiently.
The HX99G is designed to support up to four displays with a maximum resolution of 4k@60Hz. This is made possible by the two USB4 Type-C ports, which can be used to connect two monitors simultaneously. Additionally, the Mini PC is equipped with two HDMI ports, which provide an additional option for display output.
For wired data transfer, the HX99G features an RJ45 2.5 Gigabit Ethernet port. This port delivers fast and reliable connectivity, making it ideal for gaming and other bandwidth-intensive activities.
In terms of audio output, the HX99G features two HDMI ports and a headphone jack, allowing users to connect to a range of audio devices. The Mini PC also features a microphone jack, making it easy to record audio.
The HX99G Mini PC features a range of ports and buttons, including an RJ45 2.5 Gigabit Ethernet port, a USB3.2 Gen1 Type-A port, and a USB3.2 Gen1 Type-C port on the front. On the rear, it has two USB3.2 Gen1 Type-A ports and one USB3.2 Gen2 Type-A port. The Mini PC also features two USB4 Type-C ports, which can be used for high-speed data transfer and charging. It also includes two HDMI ports, a clear CMOS button, and a microphone jack and headphone jack.
The MINISFORUM HX99G Mini PC runs on a DC 19V power adapter that is included with the device. It is compatible with a range of operating systems, including Windows 11 Pro, Linux, and Ubuntu.
In conclusion, the MINISFORUM HX99G Mini PC is an excellent choice for those looking for a powerful and compact computer. Available in various configurations, including barebone, 16GB RAM+512GB SSD, 32GB RAM+512GB SSD, 32GB RAM+1TB SSD, and 64GB RAM+1TB SSD, the HX99G can meet the demands of a wide range of users. Its compact size and portability make it ideal for both personal and professional use. Purchasing from MiniXPC.com also ensures high-quality customer service and support. With prices starting from $949.00, the HX99G Mini PC offers great value for its powerful performance and features.