AYA NEO AIR Series Launcheed on Indiegogo From $499 with AMD Ryzen 5/7 APU
Aya launched Indiegogo campaign for Neo Air and Air Pro handhelds. They are said to compete with the Steam Deck for less than $500. The two devices should be based on the price of Valve's Steam Deck, but use a Ryzen 5000 chip and Windows as the operating system. Apparently, Aya also wants to stick to the previously advertised price. The Aya Neo is available from $499.99, the Neo Pro from $599.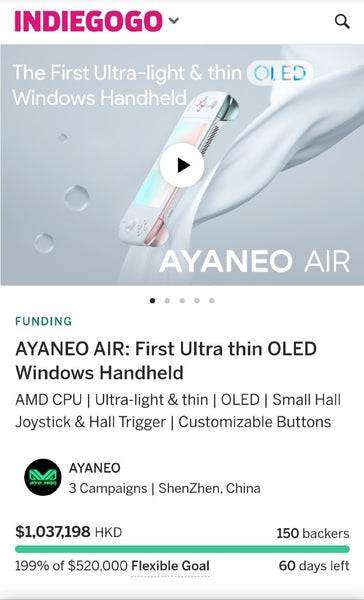 The difference between the Air and the Air Pro is largely the battery. While the Air manages with 28 watt hours, the Air Pro has 38 watt hours. The device is correspondingly thicker and measures 21.6 mm instead of 18 mm. It also weighs 450 and not 410 grams. With a 5.5-inch OLED display (350 cd/m² brightness), both devices are equipped like a Nintendo Switch OLED. However, the resolution of 1,920 x 1,080 pixels is higher.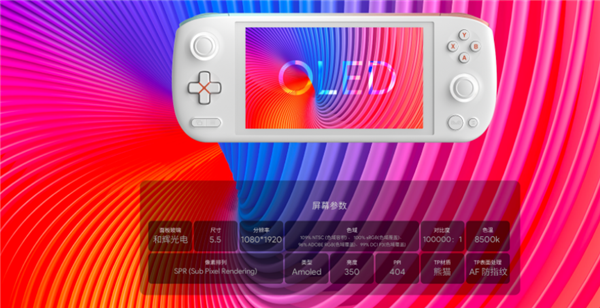 In games it hardly makes a difference. According to the manufacturer, the resolution has to be set to 720p in many games so that more than 30 fps are possible. This applies to titles like Witcher 3, Elden Ring and Forza Horizon 5. Less demanding titles like Cuphead, Katana Zero and Blazing Chrome can be played in 1080p.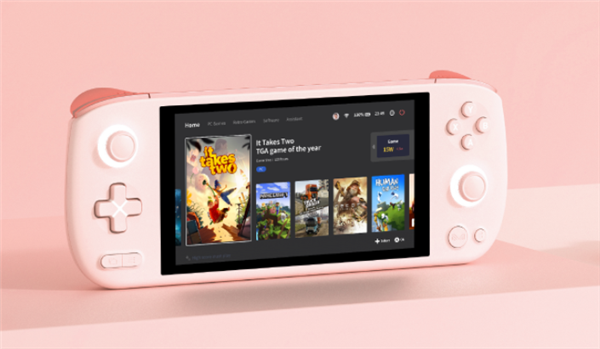 The two handhelds are equipped with Ryzen 5000 . The Ryzen 5 5560 U starts with a preconfigured TDP of 8 watts. However, the SoCs should be adjustable to a maximum of 15 watts. The Neo Air Pro is also available with Ryzen 7 5825U. The two SoCs are Cezanne refreshes with six and eight cores. The Ryzen 7 5825U also has a slightly faster Vega8 graphics unit. With the Ryzen 5 5560U it is a Vega7.
Externally, the two Air handhelds are similar. They are equipped with integrated controls, i.e. joysticks, directional pad, shoulder triggers and action buttons. There are two USB ports: USB-A 3.2 Gen1 and USB-C. An NVMe SSD with an operating system is in the M.2 slot. Several sizes can already be pre-ordered here, such as 128, 256, 512 or 1,024 GB of memory. The RAM is 8 or 16 GB in size.
Customers can reserve the Aya Neo Air on Indiegogo. The system starts at 480 euros with a 128 GB SSD and 8 GB RAM. For 16 GB of RAM and a 256 GB SSD, 540 euros are due. The Pro starts directly with 16 GB of RAM and a 512 GB SSD for 570 euros. A processor upgrade is available from 860 euros. Shipping is worldwide. The campaign runs for 60 days.
As with all crowdfunding campaigns, a finished product is not guaranteed. However, Aya uses Indiegogo primarily as a pre-sale platform and has already offered many of its own products through it. The residual risk is correspondingly low here.