AYANEO Launches Preorders for Pocket AIR: Android Handheld Shipping in Late August
AYANEO, a company known for its passion for gaming and handheld devices, has surprised the gaming community with the launch of their first Android handheld, the Pocket AIR. With an official launch scheduled for late August and pre-orders starting today, the Pocket AIR aims to be a superior Android handheld device tailored to retro gaming aficionados.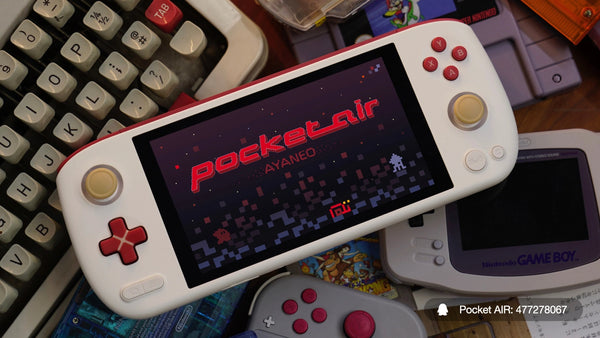 One of the standout features of the AYANEO Pocket AIR is its adoption of advanced technologies typically found in Windows handhelds, promising top-notch quality and exceptional gaming experiences for players. The device continues the tradition of AYANEO's AIR series with its lightweight and stylish design, boasting a slim body thickness of just 17mm and a weight of approximately 380g. This portability makes it as convenient to carry around as a mobile phone, allowing gamers to take their retro gaming adventures wherever they go.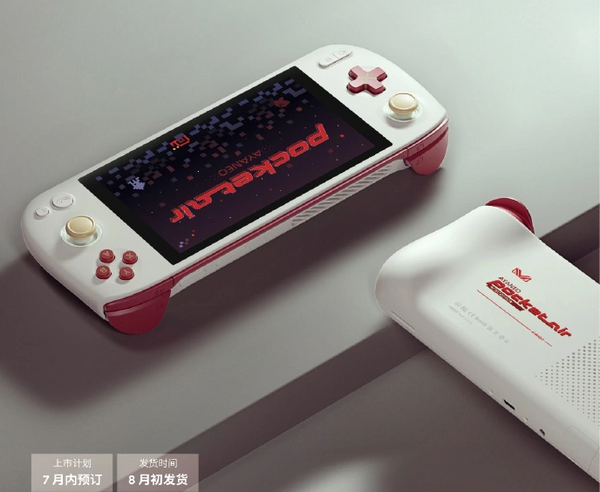 AYANEO has paid meticulous attention to the exterior design of the Pocket AIR. The device flaunts a color scheme that pays tribute to the classics, featuring the iconic red-and-white combination familiar to many players. Additionally, AYANEO has creatively incorporated a vintage yellow color for the joystick, creating an immersive atmosphere full of retro charm. This unique combination adds to the nostalgic appeal and heightens the overall gaming experience.
Grip comfort is often overlooked in the Android handheld gaming market, but AYANEO has taken it seriously by equipping the Pocket AIR with the acclaimed "AIRTouch" ergonomic grip. The design perfectly fits the natural contours of the hand, providing an unparalleled level of comfort. This ergonomic grip sets the Pocket AIR apart from most traditional flat-design Android handhelds, offering an unprecedented and enjoyable grip experience for Android gaming enthusiasts.
The display of the AYANEO Pocket AIR is equally impressive. It features a 5.5" 1080P AMOLED screen with vibrant colors and a 16:9 aspect ratio, ensuring excellent compatibility and outstanding color representation. The screen's close to a 180° viewing angle, faster response times, and minimal light leakage further enhance the gaming visuals. Retro gaming enthusiasts will appreciate the device's superior screen color performance, which breathes new life into their favorite classics and offers a refreshing and enhanced gaming experience.
Under the hood, the AYANEO Pocket AIR is powered by the MTK Dimensity 1200 processor, surpassing the performance of the majority of Android handheld gaming devices on the market. The flagship-level processor allows the Pocket AIR to effortlessly run numerous retro games at higher resolutions and deliver smooth performance in daily usage. To ensure even better performance, AYANEO has equipped the device with an X86-level powerful active cooling system for efficient heat dissipation. This powerful cooling capability ensures a comfortable gaming experience even during extended gameplay sessions.
The control experience is another area where AYANEO has excelled with the Pocket AIR. The device features Hall sensing joysticks and hall triggers, offering drift-free and dead zone-free controls for an unmatched responsiveness. With the long-stroke Hall trigger, the retro gaming experience reaches new heights.
AYANEO has also ported its SoundTapMagic audio vibration system to the Pocket AIR, allowing players to experience synchronized "beat-tapping" haptic feedback along with the game's sound effects. The Pocket AIR is equipped with X-axis linear motors and dual six-axis gyroscopes, offering a multi-dimensional haptic and dynamic gaming experience that engages all the senses.
Battery life is a crucial consideration for handheld devices, and AYANEO addresses this with the Pocket AIR's large 7350mAh battery, providing extended gaming endurance. The combination of ARM architecture, a Windows handheld-level large battery, and a power-efficient OLED screen ensures that players can fully immerse themselves in the world of classic games without worrying about battery life.
AYANEO understands the importance of a well-established software ecosystem, and they have successfully ported their mature AYANEO software system from their Windows handheld gaming devices to the Android platform. The Pocket AIR comes with the AYAHome desktop launcher, featuring a simple and elegant UI design for a seamless user experience. AYASpace, the iconic management software from AYANEO, is also available on the Pocket AIR, providing unparalleled convenience compared to other Android handheld devices.
Thanks to AYANEO's extensive cloud-based retro game database and proprietary algorithms, the AYASpace App offers a user-friendly game library with a beautifully designed UI interface that is compatible with both touch and controller inputs. Players can easily find games, access game details, and enjoy comprehensive and convenient management features, further enhancing the overall gaming experience.
Overall, the AYANEO Pocket AIR is a true retro gaming masterpiece, combining innovative hardware configurations and software experiences to create a handheld gaming device like no other. With its advanced technologies, ergonomic design, and extensive software ecosystem, the Pocket AIR promises to be a game-changer in the Android handheld gaming market. Gaming enthusiasts eagerly await its official launch in late August to embark on a journey back to the golden age of gaming.