AYANEO Pocket AIR Your Ultimate Retro Game Android Console, Now Open for Pre-Order at MiniXPC!
In the ever-evolving landscape of gaming technology, a new contender has emerged to captivate the hearts of gaming enthusiasts and retro aficionados alike. The AYANEO Pocket AIR Retro Game Android Console is now up for pre-order exclusively at MiniXPC, promising a fusion of nostalgia and modern gaming prowess in a sleek and portable package.
Design and Dimensions
The AYANEO Pocket Air stands as a testament to the marriage of aesthetics and functionality. With dimensions measuring 224 x 89.5 x 17mm and a weight of around 380g, this pocketable marvel ensures that gaming excitement can be carried in your pocket, ready to be unleashed at any time.
Performance Powered by MediaTek Dimensity 1200 CPU
At the core of the AYANEO Pocket Air lies the formidable MediaTek Dimensity 1200 CPU. This processing powerhouse promises seamless performance and lightning-fast responsiveness, ensuring that every gaming session is a fluid and immersive experience.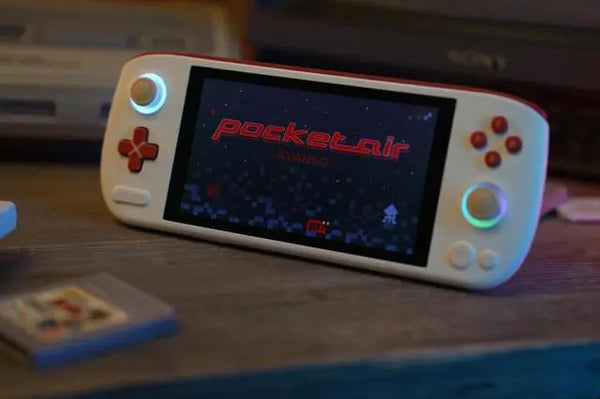 Visual Splendor on a 5.5″ AMOLED Screen
Gaming visuals are brought to life on the console's 5.5″ AMOLED screen. While the resolution is a detail yet to be unveiled, the display's vibrant colors and deep contrasts are sure to transport players into the heart of their gaming worlds.
Precise Control with Master Controller Android Edition
One of the console's standout features is its Master controller Android edition. This controller boasts a hall-sensing joystick and hall trigger, offering a level of precision and control that avid gamers crave. The integration of an X-axis linear motor takes immersion a step further by providing tactile feedback through vibration, enhancing the tactile connection between players and their games.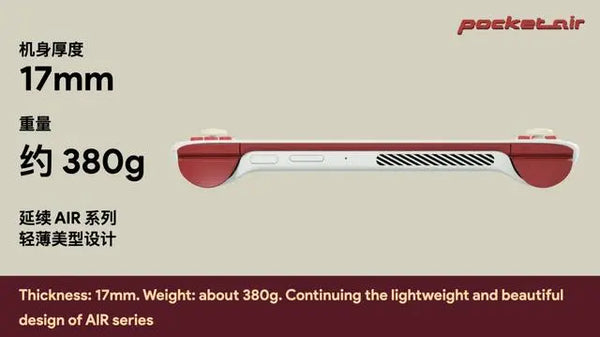 Security Meets Convenience with Fingerprint Recognition and SoundTapMagic
In the realm of gaming consoles, security and convenience are paramount. The AYANEO Pocket Air addresses this by incorporating a power button with a built-in fingerprint recognition module, ensuring that only authorized users can access the console.
On the audio front, the console introduces the SoundTapMagic audio vibration system. This innovative technology enhances audio quality and immersion, making every gaming moment richer and more captivating. Dual microphones play a dual role: they facilitate in-game communication and audio recording, all the while minimizing background noise for clearer and more precise audio.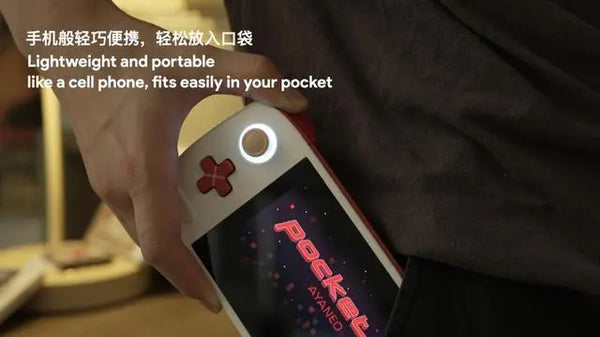 Uninterrupted Gameplay with Long-Lasting Battery
Gaming sessions can often stretch into the wee hours of the night, and the AYANEO Pocket Air is prepared to keep up. Its robust 7350mAh battery ensures that players can delve into their favorite games without worrying about untimely interruptions. This battery capacity is designed to handle extended gameplay, making it an ideal companion for both short bursts of play and marathon sessions.
Android 12 and AYAHome Launcher
Running on the latest Android 12 operating system, the AYANEO Pocket Air offers a familiar and customizable interface. The default Android launcher, AYAHome, provides an intuitive gateway to the console's features, while the AYASpace APP acts as a dedicated game management hub, ensuring that players can effortlessly organize their gaming library.
Pre-Order Details
For enthusiasts eager to secure their very own AYANEO Pocket Air, the pre-order phase is now underway exclusively at MiniXPC. The price displayed, $149.99, represents the deposit required to initiate the pre-order. It is important to note that this console is a pre-sale item, with shipping set to commence on September 10th. Once shipping begins, customers will be informed of the final price, allowing them to settle any remaining balance.
In a world where gaming consoles have become an integral part of modern entertainment, the AYANEO Pocket Air arrives as a testament to innovation, convenience, and a celebration of gaming heritage. With its compact design, powerful hardware, and intuitive features, it stands poised to carve its own niche in the hearts of gamers worldwide.