OneXPlayer OnxFly F1 Handheld Console with AMD Ryzen 7 7840U CPU- Pre-order Now at MiniXPC!
The gaming world is abuzz with excitement as MiniXPC announces the availability of the much-anticipated OneXPlayer OnxFly F1 Handheld Console for pre-order. This cutting-edge gaming device boasts an AMD Ryzen 7 7840U CPU, setting a new benchmark for portable gaming performance. With its exceptional hardware specifications and thoughtful design, the OnxFly F1 promises an exhilarating gaming experience that truly stands out in the handheld gaming console market.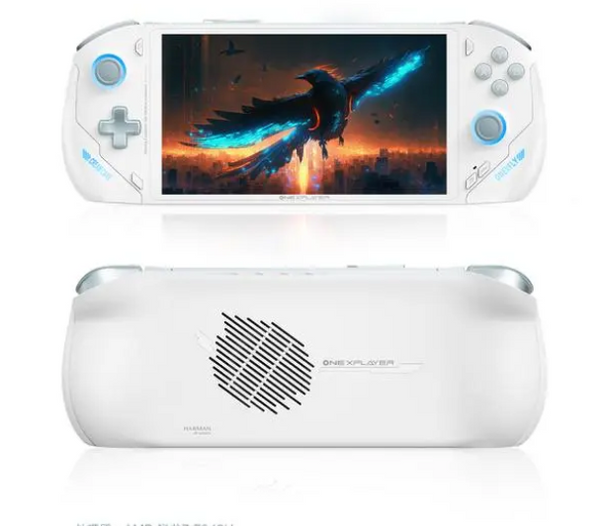 The Powerhouse Performance of AMD Ryzen 7 7840U
At the heart of the OneXPlayer OnxFly F1 lies the formidable AMD Ryzen 7 7840U processor, built on the Zen 4 architecture. This 8-core, 16-thread processor is a force to be reckoned with, capable of achieving a maximum acceleration frequency of an astounding 5.1GHz. The processor's raw power is harnessed for both computing and graphics tasks, making it a true multitasking marvel. In terms of graphical prowess, the device is equipped with a Radeon 780M core display featuring the RDNA3 architecture, boasting a frequency that can reach an impressive 2.7GHz. These advancements translate into significant improvements over the previous 6000 series processors, enhancing both computational and graphics processing capabilities.
Revolutionary Memory and Storage
OneXFly F1 doesn't just rely on its potent CPU and GPU combination; it also brings revolutionary memory and storage solutions to the table. The device features LPDDR5X 7500MHz high-frequency memory, ensuring lightning-fast data access and seamless multitasking. The inclusion of a PCIe4.0*4 NVMe solid-state hard drive further elevates the overall performance, providing ample storage capacity along with exceptional data transfer speeds. This results in an incredible user experience marked by remarkable response times and efficient overall performance.
Sleek Design and Immersive Features
The OneXFly F1 is not just a powerhouse in terms of performance but also a delight to look at and use. Weighing approximately 580g, it strikes an excellent balance between portability and power. The device features a 7-inch screen with a resolution of 1920x1080 and a 16:9 aspect ratio, providing immersive visuals. The narrow frame of the screen ensures maximum screen real estate, enhancing the gaming experience.
OneXPlayer has also invested in audio quality, partnering with Harman for a superior tuning design. The handheld console boasts dual speakers that have earned the prestigious Harman certification, promising an immersive and crystal-clear audio experience.
A well-thought-out gaming device wouldn't be complete without addressing battery life and controls. The OnxFly F1 is equipped with a 48Wh fast-charge battery, ensuring extended gaming sessions without interruptions. The package also includes a gallium nitride fast charger for rapid and efficient charging.
Gaming controls are equally impressive, with a responsive joystick featuring RGB light rings that enhance the gaming atmosphere. Additionally, customizable RGB light plates are positioned beneath the handles, adding a personal touch to the device. Users can opt for exclusive personalized nameplates, allowing for unique expressions of individuality.
Pre-order Details and Availability
Excitement is building as the OnxFly F1 enters the pre-order phase, with shipping scheduled for September 15th. Gaming enthusiasts who value top-tier performance, cutting-edge technology, and a design that doesn't compromise on style will find the OnxFly F1 a worthy addition to their gaming arsenal.
In conclusion, the OneXPlayer OnxFly F1 Handheld Console is poised to revolutionize portable gaming, offering an unparalleled blend of performance, design, and features. With the powerful AMD Ryzen 7 7840U CPU, state-of-the-art memory and storage solutions, immersive audio, and customizable design elements, the OnxFly F1 is set to take the gaming world by storm. Pre-order yours today and prepare to embark on a new era of gaming excellence.