AYANEO Slide is an updated design of a portable console with a retractable RGB keyboard
AYANEO recently released a front appearance of the AYANEO SLIDE, and also released information about a new gaming console with a slide-out RGB backlit keyboard called the AYANEO Slide. The product, which has the same specifications as the previously released AYANEO 2, allows users to use the keyboard not only for typing in games, but also for chatting and more. As can be seen from the picture, the handheld uses a horizontal screen sliding design, the overall orange and white color matching, has a full keyboard layout of Windows, in addition to playing games, it is also more practical to have a full keyboard in the office.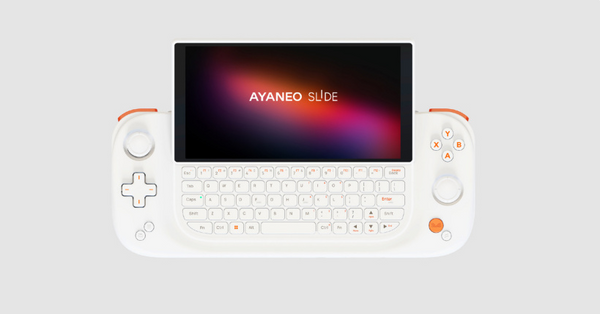 The new Slide portable gaming console will offer an AMD Ryzen 7 6800U processor with the company's Radeon 680M GPU. Compared to the Steam Deck, the AYANEO Slide is expected to deliver twice the FLOPS of Valve's laptop. As for the system's design, the Slide retains the smooth curved design we've seen in the company's previous iterations over the past few months, a move towards a hexagon shape reminiscent of Win3's GPD system.
The new AYANEO system offers an additional category of the company's portable systems, placing the original design and the AYANEO 2 in the company's core product category. For entry-level systems, AYANEO offers the 720p Air and the premium Next system, which is considered a higher-end model than the rest of AYANEO's current products.
Along with the announcement, the company is also releasing a game launcher for systems other than AYANEO, dubbed AYA Space, but has yet to announce a release date for the program. Also, the Slide has not received a release date, but the new system is expected to hit the market in 2023, where we will also see the prices of the new system. Current prices for handheld game consoles have crossed the $1,000 range, well above the $399 price tag for an entry-level Steam deck.