Morefine S600 Mini PC Equipped with i9-12900HK Processor Launches Soon
Morefine, a Chinese Mini PC manufacturer, is about to release a Mini PC model S600, which will be equipped with a super-powerful Intel Core i9-12900H/HK processor with a standard TDP of 45W. The body size of the Morefine S600 is 150*145*65mm and the volume is 1.44L, which is slightly larger than the Intel NUC 12 Pro Mini PC, but the processor it carries is compared to the latter's i5-1240P or i7-1260P Also much stronger.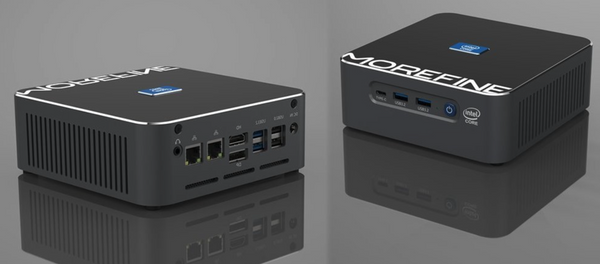 There are 2 DDR4-3200 memory slots inside the fuselage, supporting up to 64GB dual-channel memory; 1 PCIe4.0*4 specification M.2 2280 hard disk interface, PCIe3.0*4 specification M.2 2280 hard disk interface, and a 2.5-inch SATA3 hard disk interface, which can support up to 6TB of built-in storage. In order to ensure stable operation, the Mini PC has a built-in cooling fan with a speed of 3000RPM+, a heat dissipation combination of double copper pipes and aluminum plates. And Morefine claims that even under high load, the noise of the fan will be less than 30 decibels, which can be said to be quite quiet.
The interfaces of the fuselage include: 4 USB 3.2 Gen2, 2 USB 2.0, 1 USB Type-C, 1 HDMI 2.0, 1 DisplayPort, 1 3.5mm audio interface, 1 2.5G network port and 1 thousand Mega network port. HDMI, TYPE-C, DP all support 4K/60Hz output, so it will be able to connect 3 4K monitors at the same time. In terms of wireless network, the S600 will support WiFi 6E and Bluetooth 5.2.
It is currently not known how much money the manufacturer charges for the S600. Customers can sign up for the newsletter and will be informed as soon as pre-sale starts via a crowdfunding campaign. A comparable system is the Morefine S500+ , which uses an AMD APU (Ryzen 9 5900HX) instead of an Intel SoC. The S500+ costs $600.
In addition, Morefine S600 comes standard with a 120W power adapter. Other information has not been officially announced yet. We will share it with you as soon as there is new information. If you are interested in Mini PCs and other niche digital products, don't forget to follow us on Facebook & Twitter, thank you for your support.
2 comments