Beelink SER7 7840HS Now available on Sale at MinixPC Starting Price at $549.99
Upgrade your computing experience with the latest innovation from Beelink - the SER7 7840HS Mini PC. After the successful launch of the GTR7 Series earlier this year, Beelink continues to push the boundaries of performance and design with the introduction of the SER7 model. Packed with cutting-edge features and powered by the AMD R7 7840HS processor, the Beelink SER7 is now available for purchase at a starting price of $549.99, exclusively at MinixPC.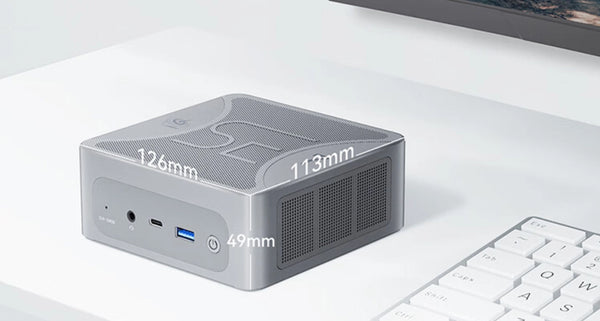 At the core of the Beelink SER7 Mini PC, the focal point of its impressive capabilities, resides the formidable AMD R7 7840HS processor. This processor stands as a technological powerhouse, revered within the computing realm for its exceptional blend of performance and efficiency. Designed with a keen focus on meeting the demands of modern computing, the AMD R7 7840HS processor possesses the innate ability to effortlessly tackle a wide spectrum of tasks, ranging from the intricacies of multitasking to the intricacies of content creation, all the while ensuring that entertainment endeavors unfold as seamless and immersive experiences.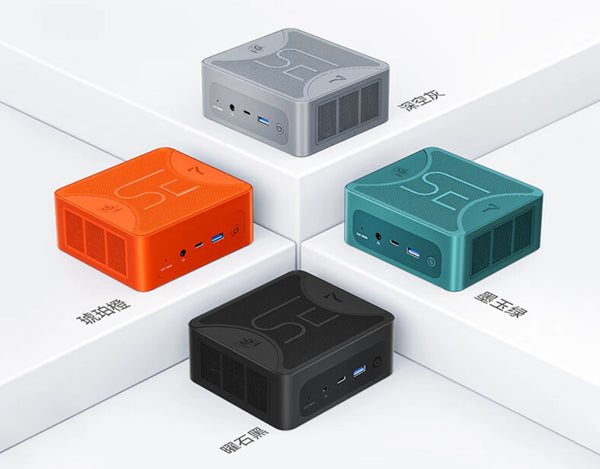 The Beelink SER7 Mini PC takes thermal management seriously. Equipped with a VC vapor chamber, heat dissipation is optimized to ensure the processor operates at peak performance without overheating. This innovation allows the SER7 to unleash the full potential of the AMD R7 7840HS processor, providing you with the power you need when you need it.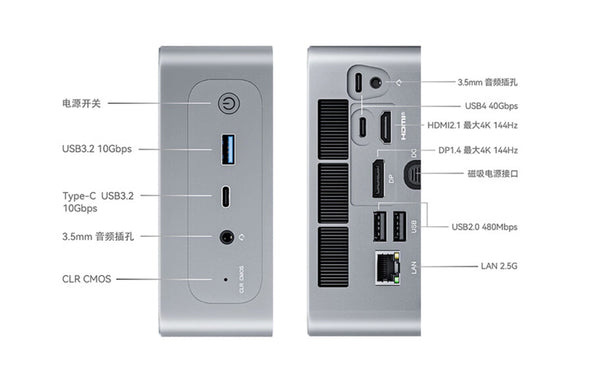 Experience the benefits of lightning-fast memory with the Beelink SER7. Boasting dual notebook memory slots, this Mini PC supports DDR5-5600 memory, ensuring that your applications run smoothly and efficiently. Additionally, the SER7 offers two M.2 SSD slots, enabling you to configure your storage setup to suit your needs. Need more storage? No problem. The Mini PC includes the capability to add a 2.5-inch hard drive via a SATA small board, providing ample space for all your files and media.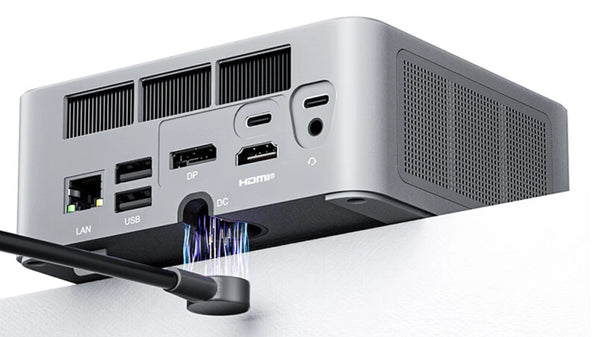 The Beelink SER7 Mini PC stands as a remarkable testament to space-efficient design, with its remarkably compact volume of merely 0.68L. Despite its diminutive size, this Mini PC does not compromise on functionality or style. One of its standout features is the ingeniously crafted magnetic power supply design, which not only serves as a functional element but also contributes to the overall aesthetics of the device. This fusion of practicality and visual appeal ensures that the Beelink SER7 is not just a computing powerhouse but also an eye-catching addition to any workspace or setup.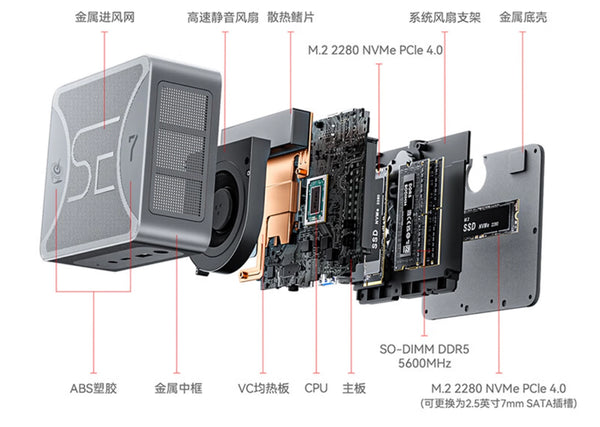 At the rear of this Mini PC, a well-thought-out array of connectivity options awaits. Two USB4 ports take the spotlight, offering advanced connectivity capabilities that go beyond the norm. These USB4 ports not only facilitate high-speed data transfers but also support 100W Power Delivery (PD) power supply operation. This notable feature underscores the Beelink SER7's commitment to offering utmost convenience and flexibility for all your connectivity needs. Whether you're looking to effortlessly connect external devices or seeking a reliable power supply for your compatible gadgets, these USB4 ports stand ready to provide seamless solutions. In a world where connectivity and efficient use of space are paramount, the Beelink SER7 Mini PC emerges as a standout choice, merging innovative design with versatile functionality.
Affordable Innovation
Beelink continues its tradition of delivering high-quality, innovative technology at affordable prices. The Beelink SER7 7840HS Mini PC starts at just $549.99 for the barebone version, giving you access to exceptional computing power without breaking the bank.
Get Yours Today
Elevate your computing experience with the Beelink SER7 7840HS Mini PC, featuring the AMD R7 7840HS processor, efficient heat dissipation, versatile memory and storage options, and a sleek, compact design. Don't miss out on the opportunity to own this technological marvel. Visit MinixPC now to place your order and experience the future of computing.