Chatreey Tank: A High-Performance Gaming PC with Nvidia RTX 3080 GPU Now Sale on MinixPC
Technology enthusiasts and gaming aficionados are in for a treat as Chatreey, the innovative PC manufacturer, has unveiled its latest powerhouse model, the Tank. Boasting a blazing Intel processor and a cutting-edge Nvidia graphics card, the Tank promises an immersive gaming experience coupled with high-speed performance. With its Thunderbolt 4 capability and flexible upgrade options, the Tank is set to make a splash in the gaming PC market.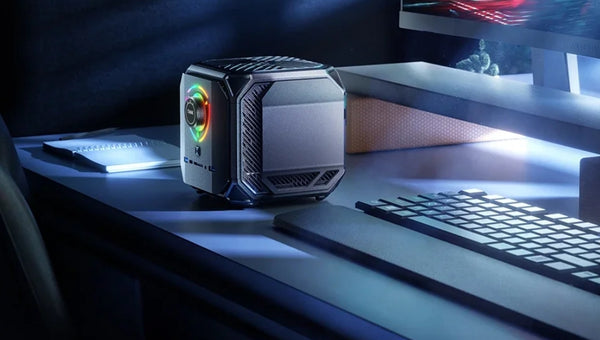 The distinguishing feature of the Tank lies in its customizable components, with options including the robust Intel Core i7-12700H and the formidable Intel Core i9-12900H processors. Paired with these processors, gamers have the option to select from a range of Nvidia graphics cards, including the Nvidia GeForce RTX 3060, RTX 3070, and the powerhouse RTX 3080. Notably, the RTX 3080 variant comes with an impressive 16 gigabytes of video memory and is exclusively available with the Intel Core i9 processor, catering to the demands of high-end gaming and content creation.
The Chatreey Tank model sets an impressive standard in the realm of memory and storage, catering to diverse user needs with its customizable configurations. Offering a broad spectrum of options, the Tank's memory specifications can be tailored to accommodate various requirements, ranging from a modest 16 gigabytes to a robust 64 gigabytes of RAM. This diverse range ensures that users can select an optimal configuration that aligns with their specific usage demands, be it for casual computing or resource-intensive tasks. Equally notable is the substantial SSD capacity, which can be expanded up to an impressive two terabytes.
Facilitating a seamless and responsive computing experience, the Tank incorporates cutting-edge technology, featuring two DDR5 modules designed to operate at a peak clock frequency of 4,800 MHz. This high clock speed not only ensures smooth multitasking but also enhances the overall system responsiveness and performance. Additionally, the Tank's provision for two M.2 2280 SSDs, with one linked via PCIe 4.0 and the other through PCIe 3.0, underscores the device's dedication to delivering uncompromising speed and efficiency. This emphasis on both memory and storage aspects solidifies the Tank's position as a reliable and high-performance computing solution for a wide range of users.
A notable feature of the Tank is its multi-screen capability, supporting up to four 4K screens simultaneously. With a combination of two HDMI ports, DisplayPort, and USB Type C, users have the flexibility to connect various peripherals for an immersive gaming experience. Additionally, the inclusion of a front and rear jack port, along with the options for network connectivity via WiFi 6 or dual Ethernet ports with a maximum data transfer rate of 2.5 Gbit/s each, ensures seamless connectivity and high-speed data transmission.
Interested buyers can now purchase the Chatreey Tank from Minixpc, with prices starting at a competitive $899.99. However, potential customers are advised to acquaint themselves with the shipping modalities and import regulations to facilitate a smooth purchasing process.
With the Tank, Chatreey has once again demonstrated its commitment to delivering top-of-the-line gaming PCs equipped with powerful components, promising a seamless and immersive gaming experience for enthusiasts and professionals alike.