Cube Smile X 10.1 inch Tablet is Coming Soon
Smile X a high-quality 10.1 inch tablet from Cube with good specs and an affordable price tag . A great choice for work, study and entertainment. Pre-installed Google Play. This tablet pc was officially announced in China, but there it is, however, is not yet visible on sale. But you can see it in Singapore and Thailand via Lazada Store. However, I am sure that "Smile X" will reach in other online store in the very near future. It will be released on December 17, so stay tuned.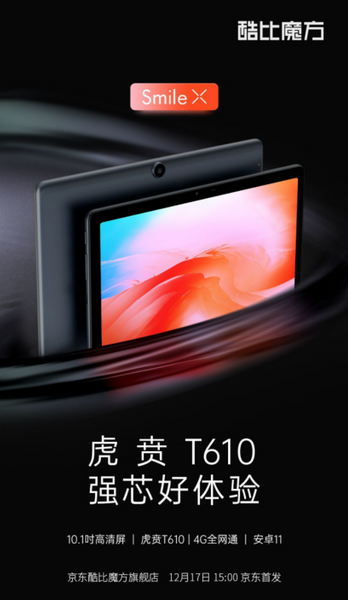 Cube Smile X is equipped with a 10.1-inch IPS Touch Screen, Its 1920x1200px resolution is clear and sharp, so the details come out on your screen. Smile X uses an ergonomic design on the metal back, making it more comfortable to hold. 5MP rear and 2MP front camera for video calls and photo taking. 2MP front camera for video calls with friends or ZOOM, Google meetings with colleagues. Alldocube Smile X has 6000mAh battery for Meet your daily needs, long battery life. Versatile USB port for charging and data transfer.
 Smile X uses 8-core UNISOC Tiger T610 chipset and Mali G52 GPU. The super-fast 12nm processor uses two high-performance A-75 cores and six high-performance A-55 cores, maximizing power and battery life. Make videos, games and movies run smoothly. Thanks to the 850Mhz graphics processor, thousands of apps and tools on the Google Play Store are at your fingertips. Powerful Mail G52 game-grade graphics chip. Enjoy mainstream mobile games Gaming-grade graphics Bifrost Mail G523EE with multi-core design and frequency up to 614MHz, support for advanced graphics technologies such as Vulkan and OpenGL ES 3.0, delivering the ability Powerful graphics processing, smoother video decoding performance, gaming experience. It can run mainstream mobile games with ease.
Smile X Support for 4GB Ram and 64GB Storage, there's plenty of space for your files, photos and videos. It also supports SD card expansion up to 2TB. Cube Smile X supports TD-LTE and FDD-LTE dual 4G network, uses a three-choice dual-card tray, supports dual-cards in standby mode, allowing you to be online anytime, anywhere and enjoy fun of mobile Internet. Smile X features powerful dual BOX speakers with SMART power amplifier chips for an immersive audio experience. Also supports 802.11b/g/n/ac (2.4GHz + 5GHz), Bluetooth 5.0 and Beidou, Galileo, GPS. You can Enjoy Android 11 updates and new features on Smile X.