GMK Launches K4 K4 Mini PC Powered by AMD Ryzen™ 9 7940HS Processor
GMK, the renowned mini PC manufacturer, made waves in the tech world today by unveiling its latest creation, the K4 mini PC. This impressive device is fueled by the mighty AMD Ryzen™ 9 7940HS Processor, ensuring exceptional performance and power. With a starting price of just $430, the K4 mini PC offers an incredible value for tech enthusiasts and professionals alike. Anticipation is already mounting as GMK has announced that the much-anticipated device will hit the shelves tomorrow, promising to revolutionize the mini PC market with its cutting-edge features and affordability.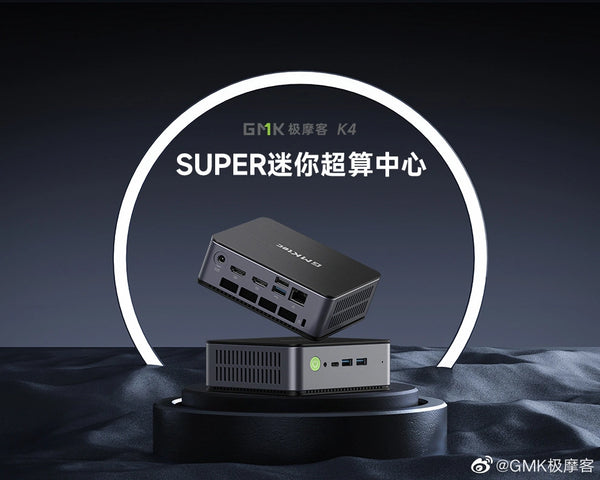 The GMK K4 mini PC is a compact and powerful device that offers impressive features. It is capable of supporting two DDR5-5600 notebook memory sticks, allowing for efficient and high-speed performance. Additionally, the mini PC is equipped with a built-in dual turbo cooling system, ensuring that the device remains cool even during intensive tasks. Despite its small size, measuring just 123x112x43.2mm, the GMK K4 mini PC packs a punch in terms of functionality and versatility.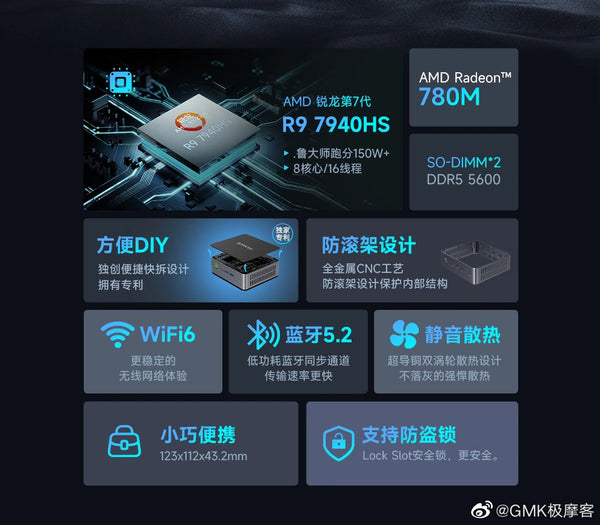 The cutting-edge AMD Ryzen™ 9 7940HS processor represents a remarkable leap in performance with its advanced features. Built on a state-of-the-art 4nm process, this processor incorporates the highly efficient Zen4 CPU architecture, delivering unparalleled processing power. With 8 cores and 16 threads, it effortlessly handles multitasking and demanding applications. The inclusion of a generous 16MB L3 cache ensures swift data access and retrieval, further enhancing overall system responsiveness. The processor's impressive 5.2GHz acceleration frequency ensures speedy execution of tasks, providing a seamless user experience. To complement its exceptional processing capabilities, the Ryzen™ 9 7940HS features the groundbreaking RDNA3 GPU architecture.
Equipped with the Radeon 780M 12-unit core display, it delivers stunning visuals and outstanding graphics performance. According to the official statement, the Radeon 780M exhibits a performance level that is comparable to the NVIDIA GTX 1650 Ti. This suggests that both graphics cards offer similar capabilities and efficiency in their respective tasks.
The system is equipped with two SODIMM slots, allowing for a maximum of 64GB DDR5-5600 memory to be installed. Additionally, it features a PCIe Gen 4×4 connector, which supports high-speed NVMe solid-state drives.
In terms of ports, the system offers convenient connectivity options:
Two HDMI ports for connecting external displays or monitors.
One USB4 Type-C port with a data transfer rate of 40 Gbps and support for DisplayPort 1.4 Alt Mode, enabling versatile connectivity and high-speed data transfer.
Three USB 3.2 Type-A ports for connecting various peripherals such as external hard drives, keyboards, or mice.
One USB 2.0 Type-A port for additional peripheral connections.
A 2.5 GbE Ethernet port for fast and reliable wired network connections.
A 3.5mm audio combo port for connecting headphones or speakers for audio output and input.
These ports provide a wide range of options for connecting external devices and peripherals, ensuring flexibility and convenience in data transfer and multimedia usage.
The GMK K4 Mini PC stands out with its impressive features and convenient design. Equipped with a wireless card that supports WiFi 6 and Bluetooth 5.2, it ensures seamless connectivity and high-speed data transfer. To maintain optimal performance, the Mini PC incorporates a cooling system comprising an active fan and dual copper heat pipes, effectively dissipating heat and preventing overheating. Furthermore, the quick-release panel adds a layer of convenience, making it a breeze to upgrade or replace memory and storage components. With the GMK K4 Mini PC, users can expect a powerful and easily customizable computing experience.
The GMK K4, available at a starting price of $570, offers a barebones model equipped with a powerful Ryzen 9 processor. However, this base model does not include any memory, storage, or operating system. For those seeking a more comprehensive package, GMK also provides models with impressive specifications, such as up to 32GB of RAM and 1TB of storage. At the pinnacle of their offerings, a top-of-the-line GMK K4 model is available for $800, which can be further discounted to $780 if you utilize a provided coupon.