GMKTec Launches NucBox M3 Mini PC: A Powerful, Compact Workstation
In the ever-evolving world of technology, GMKTec has once again asserted its dominance by introducing the NucBox M3 mini PC. Packed with cutting-edge features and sporting an entirely new design, this miniature powerhouse is set to redefine the way we perceive compact computing solutions. With a starting price of just $339.99 for the 16+512GB version, the NucBox M3 offers an incredible value proposition for tech enthusiasts and professionals alike.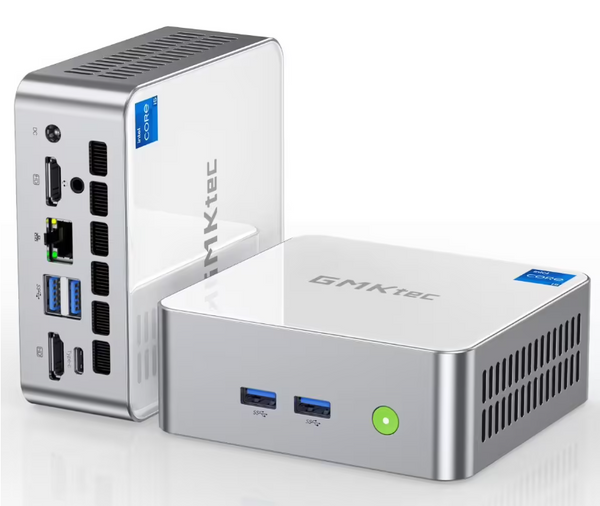 Intel Core i5-12450H: The Heart of the NucBox M3
At the core of the NucBox M3 lies the formidable 45-watt Intel 12th generation Core i5-12450H processor. This processor is a testament to the relentless innovation in the field of computing, boasting a powerful architecture that combines 4 large cores with 4 small cores. The CPU's turbo frequency reaches an impressive 4.4GHz, ensuring rapid and responsive performance in a variety of tasks. With a generous 12MB L3 cache, the NucBox M3 ensures smooth multitasking and seamless application execution.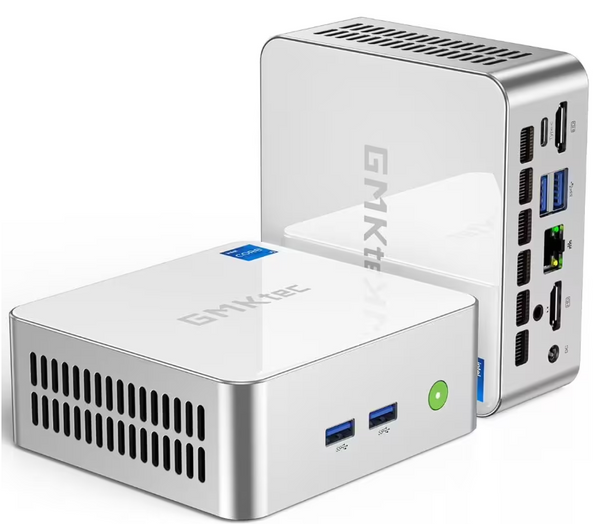 Memory and Connectivity: Versatility at Its Best
To complement its robust processor, the NucBox M3 supports up to 64GB of dual-channel memory. This ensures that you have ample resources at your disposal, whether you're running complex software applications, engaging in creative content creation, or simply multitasking between everyday tasks.
One of the standout features of the NucBox M3 is its connectivity options. This mini PC is well-equipped to handle modern networking demands with its 2.5 GbE Ethernet port, offering lightning-fast data transfer speeds for online gaming, streaming, and content downloads. Additionally, it supports the latest wireless standards, featuring Wi-Fi 6 and Bluetooth 5.2 for seamless connectivity with a wide range of devices.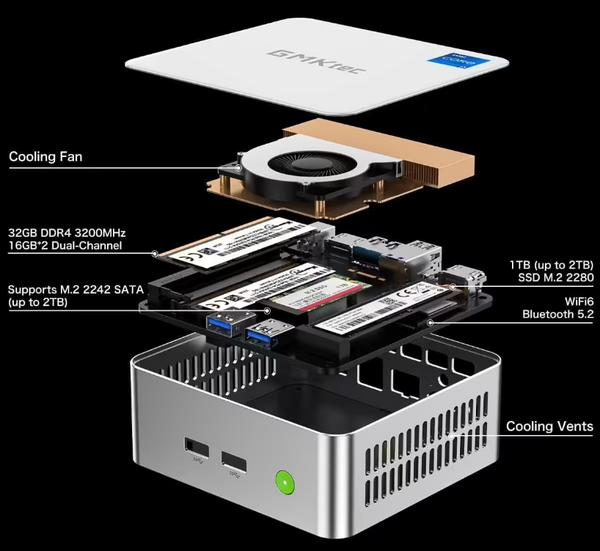 Multitasking Made Easy: Triple-Screen Display 
The NucBox M3 isn't just a powerhouse under the hood; it also provides a versatile display setup. Users can take advantage of the mini PC's support for a three-screen display, allowing for enhanced productivity and an immersive computing experience. Whether you're working on multiple projects simultaneously or enjoying a thrilling gaming session, the triple-screen display capabilities provide an extra layer of convenience.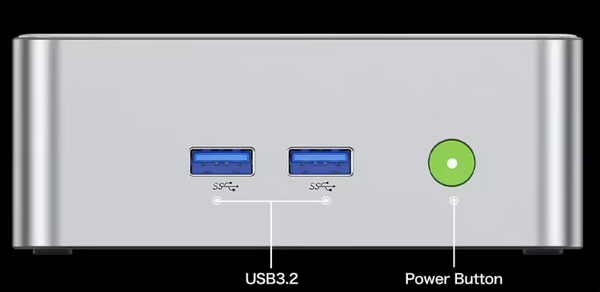 A Plethora of Ports: Versatile Connectivity
The NucBox M3 doesn't compromise on connectivity, offering a comprehensive array of ports to meet your diverse needs. The mini PC comes with the following ports:
2x HDMI
1x USB Type-C (DP1.4 Alt)
1x 2.5G network port
3x USB 3.2 Gen1-A
1x USB 2.0
1x 3.5mm headphone jack
DC power input (20V/5A)
This extensive selection of ports ensures that you can connect your NucBox M3 to various peripherals, displays, and storage devices without hassle.
Intel 7 Process and Core Display: The Future of Computing
The i5-12450H processor, found within the NucBox M3, boasts the Intel 7 process technology. This not only ensures energy efficiency but also contributes to the mini PC's overall performance. With its 4 large cores and 4 small cores, it strikes a balance between power and efficiency, making it suitable for both demanding tasks and everyday computing.
The integrated core display features 48 execution units (EU) clocked at 1.2GHz. This ensures that the NucBox M3 is not just a workhorse but also a capable multimedia machine, handling graphics-intensive applications and tasks with ease.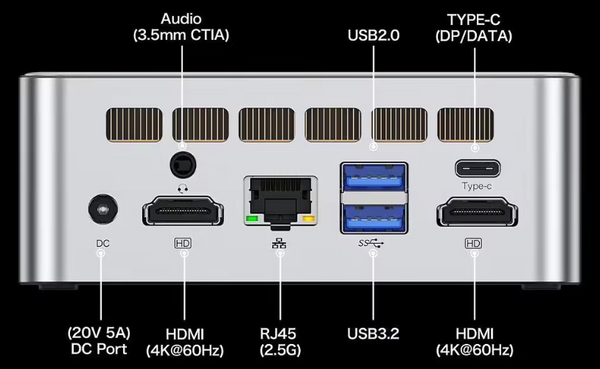 Overall: A Game-Changer in Miniature Computing
In summary, the GMKTec NucBox M3 mini PC is a game-changer in the world of compact computing. With its powerful Intel Core i5 processor, generous memory capacity, versatile connectivity options, and triple-screen display support, it's a versatile workstation that caters to a wide range of users. Whether you're a professional seeking a capable desktop replacement or a tech enthusiast looking for a compact and powerful PC, the NucBox M3 is poised to exceed your expectations. With a starting price of $339.99 for the 16+512GB version, it offers exceptional value in a sleek and modern package. GMKTec's NucBox M3 is a testament to the company's commitment to innovation, and it's set to make a significant impact in the world of miniature computing.