GPD Announces WIN Max 2 - World's First R7 6800U Handheld Gaming Laptop
GPD is about to launch the new WIN Max 2 full-screen handheld gaming notebook. Recently, the official Weibo has also stepped up efforts to warm up this product. From the content of the exposure, the screen size of the WIN Max 2 full-screen handheld gaming notebook has reached 10.1 Inches, the processors are available in Intel's 12th-generation i7-1260P and AMD's Ryzen 7 6800U. GPD officially stated that "the 6800U handheld game book will be released in the world, and the WIN Max 2 will be ready for internal testing."
In terms of appearance design, the WIN Max 2 full-screen handheld game notebook is made of aluminum-magnesium alloy material, providing a standard full keyboard layout. The keyboard area is designed with backlight and supports 2-level brightness adjustment. The screen is a native horizontal screen with an ultra-narrow bezel design. The default resolution is 1920×1200, and the maximum can be set to 2560×1600. It also supports 10-point touch, Surface Pen, etc.
In the keyboard part, the GPD WIN Max 2 handheld adopts a standard keyboard layout, the handle part introduces a hall rocker for the first time, the shoulder key adopts a linear trigger key, dual vibration motors, three-axis gravity sensor + three-axis gyroscope, six-axis design.
In terms of core configuration, the WIN Max 2 full-screen handheld game book can be selected in two versions: i7-1260P and Ryzen 7 6800U. Among them, the i7-1260P processor has 12 cores and 16 threads, and the core display is Intel Iris Xe Graphics graphics card, providing 16GB/32GB RAM. The Ryzen 7 6800U processor uses 8 cores and 16 threads, the core display is AMD Radeon 680M, uses the RDNA2 architecture, and also provides 16GB/32GB of memory.
It is worth mentioning that the WIN Max 2 full-screen handheld notebook also provides an innovatively designed Hall joystick. Officials say that the remote sensing has the characteristics of super linearity, no pole, no dead zone, support for down pressure, etc., and refuses joystick drift. In other respects, the WIN Max 2 full-screen handheld gaming notebook is also equipped with Thunderbolt 4, SD, microSD card slot, 4 speakers, dual M.2 interfaces, 1TB/2TB M.2 SSD, 67Wh large-capacity battery and other configurations.
However, the GPD official website has not yet announced the debut time and price of the WIN Max 2 full-screen handheld notebook, which is expected to be launched soon.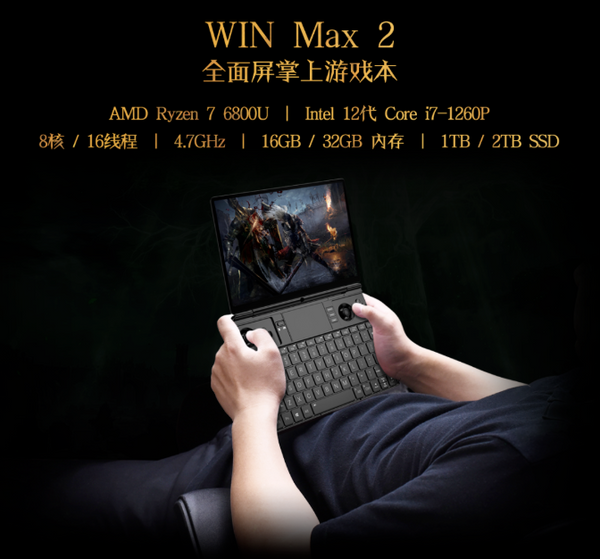 GPD XP Plus will start overseas Crowdfunding at 10 am on May 30
The internal testing of GPD XP Plus is basically over, and some bugs reported are being processed. At 10:00 am Beijing time on May 30th, overseas crowdfunding will be launched. It is planned to crowdfunding for 60 days, and the goods will be shipped after the crowdfunding is over!
This overseas crowdfunding, XP Plus will be divided into two versions:
6GB+128GB
Crowdfunding price: $339
Retail price: $559
6GB+256GB
Crowdfunding price: $374
Retail price: $659
The domestic pre-sale time of XP Plus is planned to be 30 days. Compared with foreign crowdfunding, the domestic pre-sale start time will be later. JD.com and Tmall pre-sale simultaneously, but guarantee domestic delivery first. The specific pre-sale time will be announced later, the domestic price:
6GB+128GB
Pre-sale price: $300
Retail price: $430
6GB+256GB
Pre-sale price: $326
Retail price: $504