Machenike Launches Machcreator Mini PC with Intel i7-12650H Processor & 16G + 1T at $350
In the ever-evolving world of technology, the demand for compact yet powerful computing solutions continues to surge. Recognizing this, Machenike, the renowned tech company, is set to launch its latest innovation – the Machcreator Mini PC, featuring the Intel Core i7-12650H Processor. What's even more enticing? The new Machcreator Mini PC is priced at just $350, making it an attractive option for tech enthusiasts and professionals alike.
Machenike initially introduced the Machcreator Mini PC back in April of this year, with the base model sporting an Intel i7-12650H barebone system. At that time, the introductory price was set at $350. However, the new configuration not only brings enhancements but also boasts a reduced price point, making it even more accessible to users seeking top-tier performance in a compact form factor.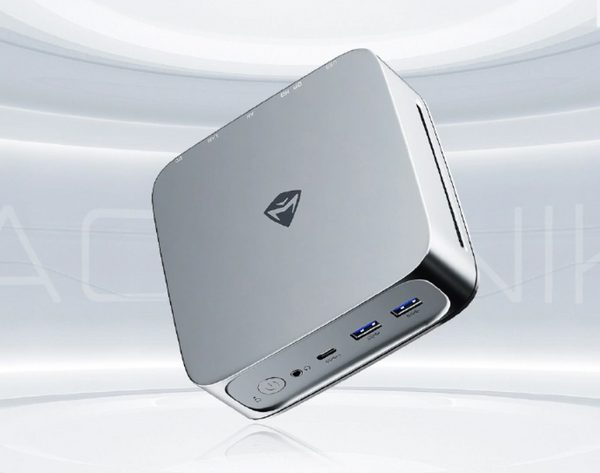 The Machcreator Mini PC measures a mere 131x131x43 millimeters and tips the scales at just 398 grams, ensuring it fits seamlessly into any workspace or setup. Its design language is characterized by sleek, rounded edges and smooth lines, available in two classic color options: gray and silver.
Under the hood, the Machcreator Mini PC packs a powerful punch. The Intel i7-12650H processor at its core boasts an impressive 10-core and 16-thread design. This configuration comprises 6 large cores and 4 smaller cores, accompanied by a core display featuring 64 Execution Units (EU). Such robust processing capabilities ensure that this mini PC can handle a wide range of tasks, from heavy-duty computing to multimedia editing and gaming.
Moreover, the Machcreator Mini PC offers users the flexibility of dual SO-DIMM memory slots and high-speed M.2 2280 solid-state drive installation. This means you can customize your system to suit your specific needs, whether you prioritize multitasking, speed, or storage capacity. Connectivity is also well thought out in this mini marvel. The Machcreator Mini PC is equipped with a comprehensive array of ports and interfaces, including a 3.5mm headphone jack, USB-C interface, USB-A ports, HDMI for seamless display connectivity, and dual network ports. This diversity of options ensures that you can connect your favorite peripherals and accessories without any hassle.
Overall, the forthcoming launch of the Machcreator Mini PC with the Intel Core i7-12650H Processor at the remarkable price point of $350 on September 11, 2023, is sure to turn heads in the tech world. Its combination of compact design, powerful performance, and affordability makes it a compelling choice for both professionals and enthusiasts looking to elevate their computing experience. The Machcreator Mini PC is yet another testament to Machenike's commitment to delivering cutting-edge technology to its discerning customers. Be prepared to witness a new era of computing on September 11, 2023, with the arrival of the Machcreator Mini PC.