MACHENIKE Unveils the Machcreator MINI II Mini PC with AMD Ryzen™ 7 7840H - Starting at Just $500
In the ever-evolving landscape of personal computing, the quest for compact yet potent machines remains relentless. MACHENIKE, a renowned name in the world of tech innovation, has just raised the bar with the launch of their latest creation, the Machcreator MINI II Mini PC. Sporting an AMD Ryzen™ 7 7840H processor, this diminutive powerhouse is set to redefine what we expect from a mini PC, all while maintaining an enticing starting price of just $500.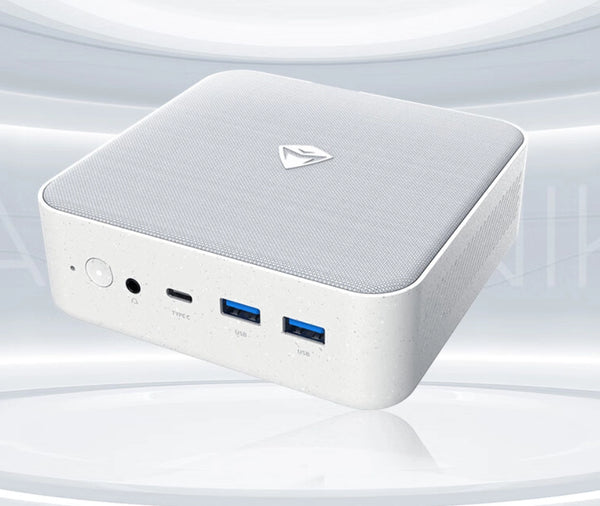 One of the first things that catch the eye about the Machcreator MINI II Mini PC is its unique design. With a sleek and compact form factor, this PC fits snugly into the palm of your hand. Its modest 0.7L volume and environmentally friendly material choice make it not only stylish but also an eco-conscious choice for the modern consumer. Moreover, the top cover of the MINI II is replaceable, giving users the flexibility to customize their mini PC to their liking.
Underneath its unassuming exterior lies the heart of the machine – the AMD Ryzen™ 7 7840H processor. This CPU boasts 8 cores and 16 threads, ensuring a seamless and responsive computing experience. The inclusion of a 12CU 780M core display adds a visual punch to this mini marvel. What's more, it supports a 65W performance release, making it capable of handling a wide range of tasks, from everyday computing to more demanding applications.
To ensure efficient heat dissipation, MACHENIKE has incorporated an innovative upper and lower double fan design within the MINI II's chassis. This design not only keeps the processor cool but also ensures optimal performance for the hard disk memory, guaranteeing that your machine runs at its best, even during resource-intensive tasks.
The Machcreator MINI II Mini PC is not just about power; it's also about versatility. Users will appreciate the scalability options it offers. This mini PC supports the installation of dual notebook DDR5 memory, allowing for smooth multitasking and speedy data processing. Additionally, it accommodates a 2280 PCIe 4.0 SSD, ensuring rapid data access and storage capabilities that outpace traditional hard drives.
When it comes to connectivity, the MINI II is no slouch. It boasts a variety of video output interfaces, including HDMI, DP, and USB4, ensuring compatibility with a range of displays and peripherals. Whether you're working on a creative project, binge-watching your favorite shows, or tackling a mountain of office tasks, this mini PC provides the connectivity you need.
In a world where portability, power, and affordability are all key considerations, the MACHENIKE Machcreator MINI II Mini PC shines as a compelling option. With its compact design, potent AMD Ryzen™ 7 7840H processor, efficient heat management, and expandable memory and storage options, it offers an attractive package at a starting price of just $350. Whether you're a creative professional, a business user, or a tech enthusiast, the MINI II's blend of style and substance is poised to make a significant impact in the world of mini PCs. Experience the future of computing in the palm of your hand with the MACHENIKE Machcreator MINI II Mini PC.