MINISFORUM Launches HX77G Mini Gaming PC with Ryzen 7 7735HS and Radeon RX 6600M
Minisforum, a well-known name in the Mini-PC industry, has once again raised the bar for compact gaming systems with the release of the HX77G. This latest addition to their lineup is a budget-friendly gaming PC that packs a punch, featuring the Ryzen 7 7735HS CPU and Radeon RX 6600M GPU. What sets this Mini-PC apart is not just its powerful components but also its impressive cooling system, making it a compelling option for gamers seeking performance without compromise.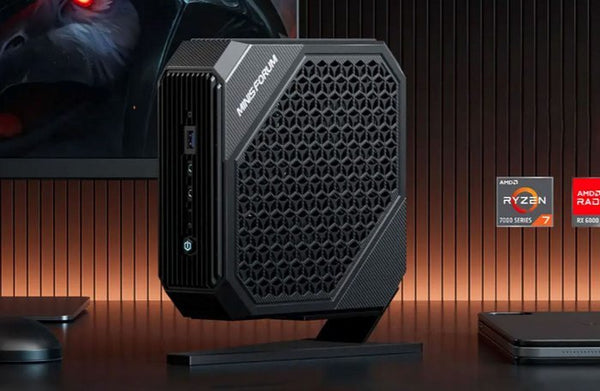 Despite its diminutive 200mm square footprint, the HX77G surprises with its advanced cooling solution. It incorporates seven heat pipes and dual fans to keep temperatures in check during intense gaming sessions. The CPU benefits from three heat pipes, while the GPU enjoys the added thermal performance of four. This cooling prowess is further enhanced by a sizeable heat sink, two cooling fans, and liquid metal grease, ensuring not only excellent thermal management but also quiet operation.
The HX77G comes equipped with the Ryzen 7 7735HS CPU, which may have slightly lower clock speeds compared to its premium counterpart, the 6900HX. However, with a maximum boost clock of 4.75 GHz and a base clock of 3.2 GHz, the 7735HS still packs a punch for gaming and everyday tasks. Both processors utilize the Zen3+ architecture, ensuring responsive and efficient performance.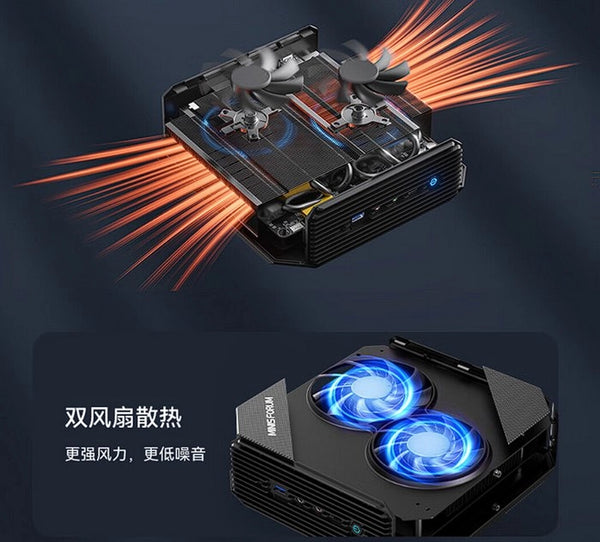 Where the HX77G truly shines is in its gaming capabilities. Featuring a discrete Radeon RX 6600M graphics card, this Mini-PC is designed with gamers in mind. While it may not be optimized for high-fidelity 4K gaming, it's more than capable of running most AAA titles at lower resolutions, delivering smooth and enjoyable gaming experiences.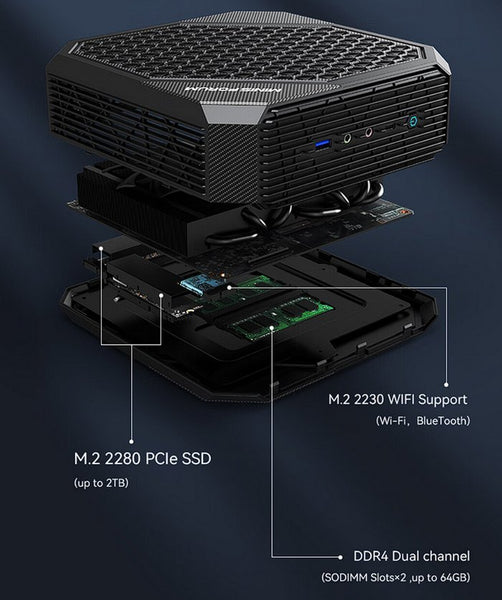 The HX77G doesn't skimp on connectivity options. It offers two USB4 ports and two HDMI 2.1 display outputs, allowing for simultaneous display on up to four screens and supporting 8K high-resolution output. Whether you're gaming, streaming, or multitasking, this Mini-PC has you covered.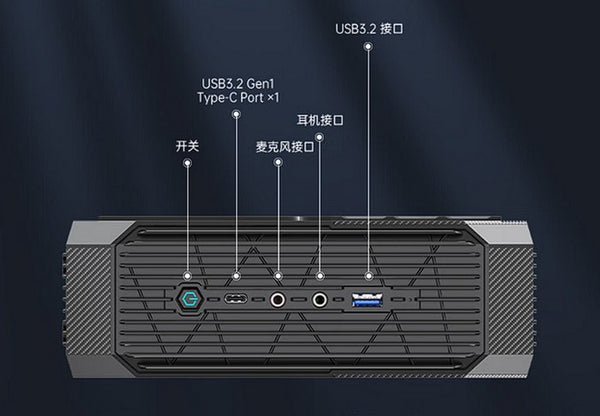 Minisforum offers a range of configurations for the HX77G, ensuring there's a model to suit your needs. The product lineup includes not only the barebone kit but also four complete models preinstalled with Windows 11 Pro, offering different memory and storage configurations. Here's a quick overview of the available configurations, with early bird prices and MSRP:
Barebone: $639 (Early Bird) / $799 (MSRP)

32GB RAM / 512GB SSD: $779 (Early Bird) / $969 (MSRP)

32GB RAM / 1TB SSD: $799 (Early Bird) / $999 (MSRP)

64GB RAM / 1TB SSD: $879 (Early Bird) / $1,099 (MSRP)
With these competitive pricing options, the HX77G is not only a gaming powerhouse but also an excellent value proposition for those looking to elevate their gaming experience without breaking the bank.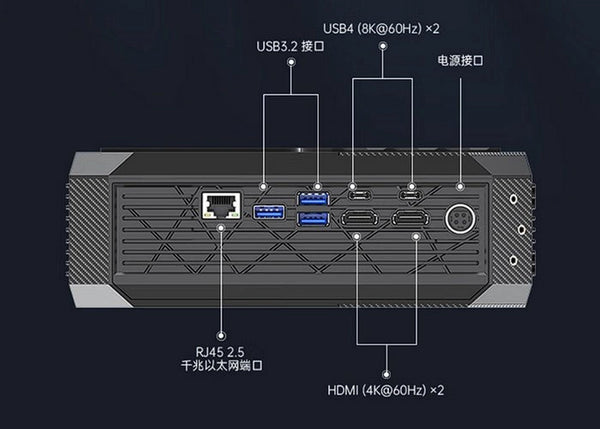 Overall, MINISFORUM's HX77G Mini Gaming PC combines powerful components, an efficient cooling system, and an attractive price point, making it a compelling choice for gamers and power users seeking a compact yet high-performance solution. Whether you're gaming, streaming, or tackling productivity tasks, the HX77G has the potential to become your go-to Mini-PC.