MINISFORUM NAD9 Mini PC on Sale at MiniXPC - Starting at $679.00
The MINISFORUM NAD9 is a compact and powerful Mini PC that belongs to the Neptune series of MINISFORUM, which focuses on delivering strong productivity performance. With its 12th Generation Intel Core i9-12900H Alder Lake processor, it provides exceptional computing power in a small form factor. The mini PC also features a high-performance fan that operates quietly, allowing for smooth and efficient operation. Additionally, it supports a maximum of 64GB RAM, 4K@60Hz quad display, and an easy upgrade process, making it a versatile and user-friendly device. Currently, the NAD9 Mini PC is available for pre-order on MiniXPC for $679.00 (barebones) and up.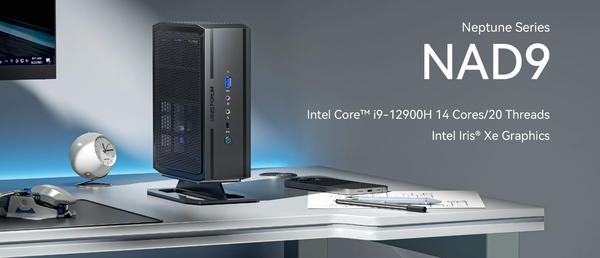 MINISFORUM HX90G Mini PC has a small and sturdy housing that measures 180x67x208cm, excluding the base. The case is designed with several holes and a mesh net on the sides to provide excellent air circulation and keep the device cool even during heavy use. The installed fan operates quietly and efficiently, preventing thermal throttling and allowing the device to perform at its best. Overall, the NAD9 Mini PC offers a perfect combination of compact design, reliable performance, and effective cooling, making it an ideal choice for both personal and professional use.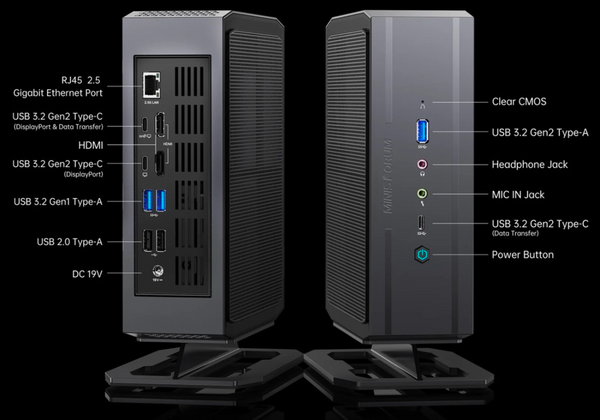 The Minisforum NAD9 is equipped with the latest and powerful Intel Core™ i9-12900H processor. This high-end mobile CPU is based on the cutting-edge Alder Lake architecture and offers a unique combination of 6 performance cores and 8 efficient cores, ensuring a smooth and efficient performance. The clock rate ranges from 2.5 to 5.0 GHz on the performance cores and 1.8 to 3.8 GHz on the efficient cores, providing users with the necessary power to handle demanding tasks. With the ability to use up to 24MB L3 cache, the i9-12900H is a highly capable processor for users looking for top-notch performance. The base power for this processor is 45W, making it a great option for users who need a high-performance device that is both powerful and energy-efficient.
The integrated graphics, Intel® Iris® Xe Graphics, is based on the Xe architecture and offers 96 EUs operating at up to 1.45 GHz, providing users with the necessary graphical power to handle demanding graphics-intensive applications. Additionally, the NAD9 versions equipped with SSD storage come with Windows 11 Pro pre-installed, making it an even more convenient option for users looking for a high-performance device right out of the box. Furthermore, Morefine S600 Mini PC also features an Intel Core i9-12900H processor, making it an alternative option for those interested in this high-performance processor.
The MINISFORUM NAD9 is a high-performance mini PC that supports up to 64GB of DDR4 dual channel memory and various storage options. It features a 1xM.2 2280 NVMe PCIe4.0 SSD slot that can hold up to 2TB and 2x2.5 inches SATA HDD Slot with SATA 3.0 6.0Gb/s connectivity. The NAD9 also comes with an M.2 2230 WIFI card for wireless connectivity. The mini PC supports 4K@60Hz quad display with 2x HDMI and 2x USB-C ports. In terms of interfaces, the NAD9 offers a RJ45 2.5 Gigabit Ethernet Port, USB3.2 Gen2 Type-C ports for data and display, 2x USB2.0 Type-A, USB3.2 Gen1 Type-A, and a MIC IN jack and headphone jack for audio. Additionally, the NAD9 has a Clear CMOS button for resetting the system.
The MINISFORUM NAD9 barebone kit is available for purchase from MiniXPC, with a price tag of $679.00. The basic version, which includes 16GB of RAM and 512GB of storage, is priced at $799.00. This offers consumers the option to either build their own system using the barebone kit or purchase a ready-to-use system at a slightly higher cost. Both options provide the opportunity to own a MiniSforum NAD9, a compact and powerful device designed for demanding workloads and applications.