Minisforum will be Released MC560 Mini PC with built-in 2.5K 30Hz Camera and Stereo Speakers
Minisforum would like to launch new mini PC which adopts an innovative design with a built-in 2.5K 30Hz camera, stereo speakers, and a dual-microphone array, and integrates a webcam and audio on the PC to make the desktop more tidy. With the MC560, Minisforum would like to launch what it says is the first mini PC with a built-in Camera and Speakers. The MC560 should start with an AMD Ryzen™ 5 5600U Processor and a AMD Radeon RX Vega 6 GPU.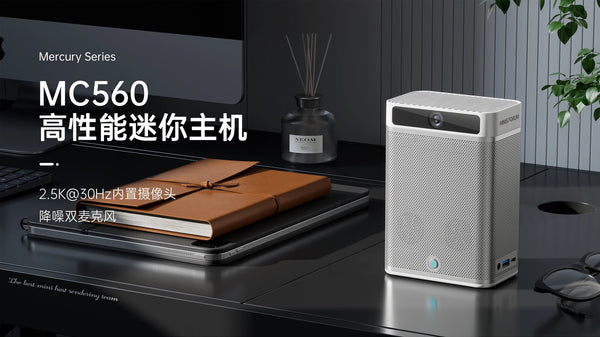 Minisforum MC560 is based on the AMD Ryzen™ 5 5600U Processor. This processor has 6 cores and 12 threads with a base frequency of 2.3 GHz and reaches 4.2 GHz in Boost mode. This processor includes an AMD Radeon graphics card with 6 Vega architecture Compute Units with a working frequency of 1.8 GHz.
The graphics card that integrates this processor has an approximate power of 2 TFLOPS. We will be able to play great games in 1080p resolution very smoothly. Games like GTA V offer around 55 FPS on average, Apex Legends around 60 FPS on average, Fornite around 52 FPS and CS:GO around 77 FPS.
On the other hand, this system allows up to 64 GB of DDR4 @ 3200 MHz RAM . Regarding storage, we have an PCIe 3.0 specifications M.2 2280 slot and a SATA port.
About connectivity, this system has a 2.5G Ethernet port, an HDMI interface, a USB-C interface that supports video transmission, as well as USB-A and 3.5 headphone jacks. It has a cooling system based on a rather interesting blower-type heatsink . What it does is take in the cold air from the side and expel it from the rear. This cooling system is more than enough, since the processor has a TDP of 10-25W, which is not very high.
MINISFORUM MC560 Mini PC is expected to be launched in the near future, and the price has not yet been announced.