One-Netbook Introduces the One Notebook 5 Mini A Powerful 2-in-1 Laptop Featuring Intel Core i7-1250U
In a tech world brimming with innovation, One-Notebook has once again captured the spotlight with the imminent release of their latest creation, the One Notebook 5 Mini. Set to hit the shelves by the end of August, this mini marvel is poised to redefine what compact computing can achieve. From its cutting-edge processor to its luxurious design, the One Notebook 5 Mini is a testament to the brand's commitment to excellence.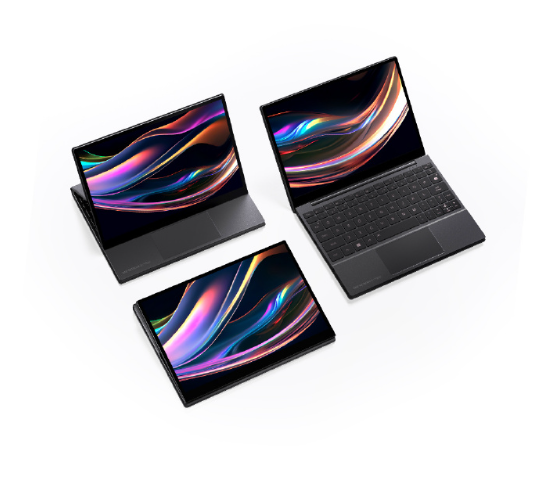 At the heart of the One Notebook 5 Mini lies the formidable Intel Core i7-1250U processor. With its blend of 2 large cores and 8 small cores, this processing powerhouse offers a symphony of performance. This processor's capabilities are further accentuated by a 96EU core display, providing a seamless bridge between computing tasks and vibrant visuals. Whether you're tackling complex projects or indulging in immersive multimedia experiences, the Intel Core i7-1250U ensures that the notebook delivers on all fronts.
Despite its compact size, the One Notebook 5 Mini does not compromise on visual excellence. The 10.1-inch screen boasts a remarkable 2.5K resolution, providing vivid and crisp imagery that elevates the viewing experience to new heights. The narrow border LTPS polysilicon material screen not only enhances picture quality but also maximizes screen real estate, ensuring that your work and entertainment are displayed with breathtaking clarity.
Additionally, the One Notebook 5 Mini has been engineered to cater to the creative spirit within us. With support for 4096 levels of pressure sensitivity, the notebook transforms into a canvas waiting to be adorned with your ideas. Whether you're an artist, designer, or simply someone who appreciates the art of expression, this feature promises an unparalleled level of precision and creativity.
Design That Dazzles
One-Notebook understands that a product's aesthetics can be as impactful as its performance. The One Notebook 5 Mini's design reflects this understanding, as it introduces a foldable mechanism that offers versatility in viewing angles. This means you can seamlessly transition from a traditional laptop setup to a tablet-like experience, adapting to your needs effortlessly.
To add a touch of luxury, the notebook's shell is encased in a layer of leather, exuding sophistication and elegance. This fusion of high-performance technology and opulent design results in a device that doesn't just serve as a tool but also makes a statement.
Connectivity and Comfort
Modern computing demands seamless connectivity, and the One Notebook 5 Mini is well-prepared to meet these demands. The inclusion of M.2 2280 PCIe4.0 solid-state storage ensures that data transfer speeds are nothing short of lightning-fast, enabling you to work efficiently and access your files without delay.
Furthermore, the notebook is equipped with two USB4.0 ports, which not only expand your connectivity options but also accommodate the evolving landscape of peripherals and accessories.
Typing becomes a pleasure thanks to the backlit chocolate keyboard, which combines aesthetics and functionality for a delightful typing experience. The multi-finger touchpad further enhances navigation and control, ensuring that every interaction with the notebook is intuitive and smooth.
With the impending launch of the One Notebook 5 Mini, One-Notebook continues to push the boundaries of what's possible in the realm of compact computing. From its robust processor and captivating display to its versatile design and luxurious aesthetics, this notebook stands as a testament to the brand's dedication to providing users with an unparalleled experience. Whether you're a professional seeking cutting-edge performance or an enthusiast craving elegance in technology, the One Notebook 5 Mini promises to be a worthy companion that redefines your computing journey.