Retroid Pocket 2S - A Next-Level Retro Gaming Handheld with Android 11 and Hall Effect, Starting at Just $100!
In recent years, the gaming industry has seen a resurgence of interest in handheld gaming consoles. The allure of gaming on the go, coupled with the desire for nostalgia, has led to the creation of impressive offerings like the Steam Deck, ROG Ally, ONEXPLAYER 2 Pro, and more. But alongside these high-end consoles, there has also been a growing interest in low-powered devices designed to cater to the classic gaming experience of the NES era. One such console that has captured the attention of gamers is the Retroid Pocket 2S, launched by the company Retroid.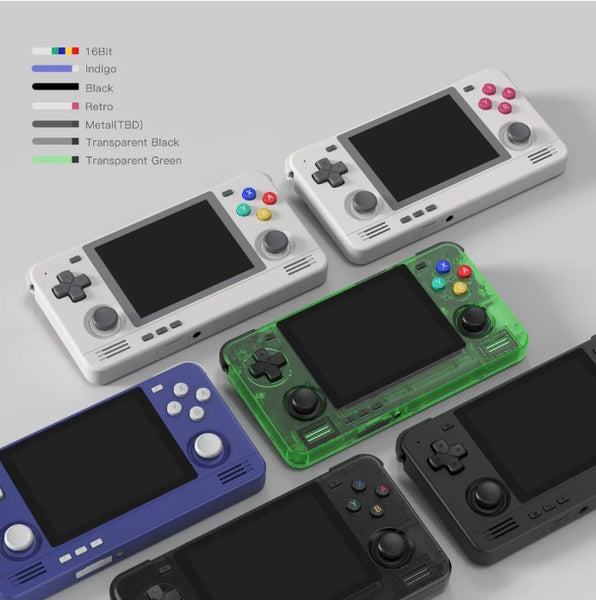 The Pocket 2S may not be as powerful as its high-end counterparts, but it has its unique strengths that set it apart. Right from the moment you lay eyes on it, the console's retro aesthetics evoke a strong sense of nostalgia. It pays homage to the classic gaming devices that many of us fondly remember from our childhoods. However, it's not just about looks; the Pocket 2S boasts 3D hall effect joysticks that enhance the gaming experience significantly. These hall effect joysticks use magnets and sensors to detect movement, ensuring that gamers won't have to worry about dreaded stick drift issues. Moreover, they are more durable and accurate than traditional joysticks, as they lack any moving parts that can wear out over time.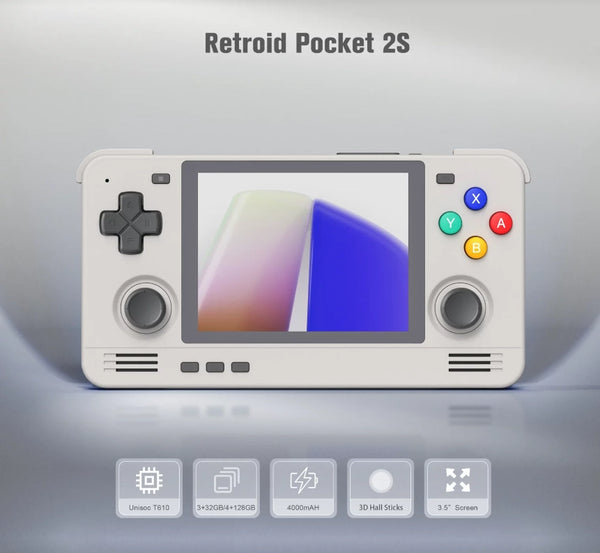 In terms of design, the Retroid Pocket 2S truly lives up to its name. It comes in a compact and portable form, measuring just 155 x 80.6 x 28 mm and weighing a mere 200 grams. This makes it easy to slip into your pocket or bag, allowing you to game wherever and whenever you desire. Powering the Pocket 2S is the Unisoc Tiger T610 SoC, featuring a Mali-G52 MC2 GPU to handle all the graphics processing requirements. While it may not compete with the latest cutting-edge consoles, it delivers a smooth and enjoyable gaming experience for those who cherish the classic titles and retro gameplay.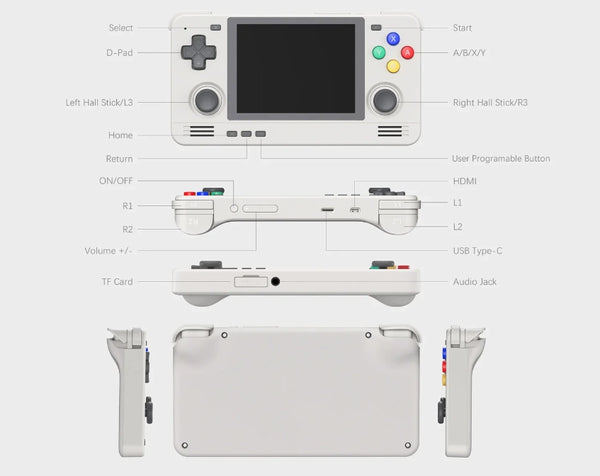 The console features a 3.5-inch touchscreen display with a resolution of 640 x 480 pixels and a classic 4:3 aspect ratio. This display setup perfectly complements the retro gaming experience, allowing you to relive the golden era of gaming. Additionally, the Pocket 2S comes with a 4,000 mAh battery, ensuring sufficient playtime without the need for frequent charging. Retroid offers some customization options for prospective buyers. You can choose between 32 GB or 64 GB of storage and decide on the RAM capacity, with options of either 3 GB or 4 GB. Having ample storage and sufficient RAM ensures a smooth and seamless gaming performance, allowing you to indulge in your favorite retro titles without any lag.
The operating system powering the Pocket 2S is Android 11, giving users access to a wide range of games and apps available on the platform. This makes it even more versatile, as you can not only enjoy classic NES-era games but also explore other titles and applications. One of the standout features of the Retroid Pocket 2S is its affordability. With a price tag of just $99 for the 3 GB/32 GB variant and $119 for the 4 GB/64 GB variant, it offers an affordable option for gamers seeking a portable retro gaming experience without breaking the bank.
If you're excited about the Retroid Pocket 2S, you won't have to wait too long to get your hands on it. Retroid has announced that shipping for pre-orders will commence on August 10, bringing the joy of classic gaming right to your fingertips.
Overall, the resurgence of handheld gaming consoles has given rise to a new wave of interest in retro gaming experiences. The Retroid Pocket 2S, with its affordable price, durable hall effect joysticks, and classic design, has carved a niche for itself among gaming enthusiasts. Whether you're a seasoned gamer looking to relive the past or a newcomer eager to explore the origins of gaming, the Pocket 2S promises an enjoyable journey down memory lane. So, mark your calendars for its release and get ready to embark on a nostalgic gaming adventure with the Retroid Pocket 2S.