Thuderobot G45 Switch Gamepad with Hall Trigger is now on Pre-sale
Gamers, rejoice! The highly anticipated Thuderobot G45 Switch gamepad is now available for pre-sale, and it's here to revolutionize your gaming experience. Packed with cutting-edge features and innovative technology, this gamepad promises to take your gaming to new heights. Whether you're a casual gamer or a seasoned pro, the Thuderobot G45 Switch gamepad is designed to cater to all your gaming needs.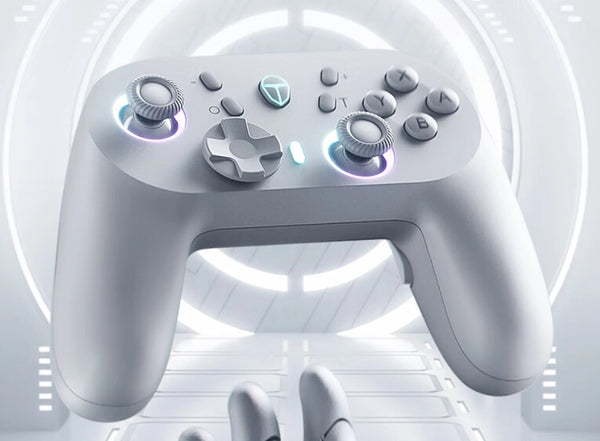 One of the standout features of the Thuderobot G45 Switch gamepad is its versatility. It supports wired, Bluetooth, and 2.4GHz three-mode connections, making it compatible with a wide range of devices and platforms. Whether you want to connect it to your PC, mobile phone, TV, NS (Nintendo Switch), or even your car, the Thuderobot G45 has got you covered. The standard version may not come equipped with a receiver, but fear not, the Pro version has you covered in that department.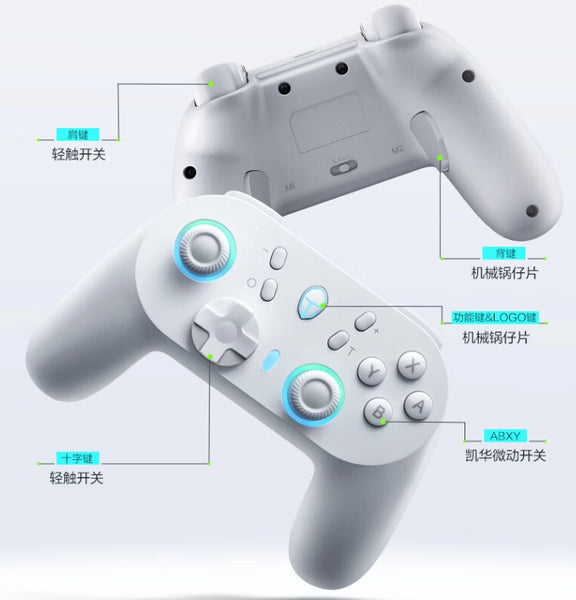 Built with gamers in mind, the Thuderobot G45 features full mechanical buttons, ensuring a satisfying tactile feedback with every press. The fighting cross keys allow for precise and smooth movement, while the atmosphere RGB shake Pole lights add a touch of style to your gaming setup. Moreover, the TURBO macro programming buttons grant you a competitive edge, letting you customize your controls to perfection.
The Thuderobot G45 Switch gamepad is not just about aesthetics and customizability; it's engineered to deliver exceptional performance. One of the most significant differences between the standard and Pro versions is the joystick technology they employ. While the standard version uses a carbon film joystick, the Pro version is equipped with the advanced Konyin JH16 flagship Hall joystick. This upgrade translates to precise tuning in all directions, an extended service life, and most importantly, no joystick drift issues that often plague inferior controllers.
The Pro version goes even further by incorporating NFC (Near Field Communication) functionality. This opens up a world of possibilities, from easy device pairing to quick data transfers. Seamlessly integrating this technology into the gaming experience demonstrates Thuderobot's commitment to staying ahead of the curve.
Both versions of the Thuderobot G45 Switch gamepad boast flagship Hall triggers, which boast an impressive 255-level 0 physical contact support. The integration of Hall magnetic induction technology ensures higher precision feedback and superior sensitivity. These triggers are engineered to provide gamers with the most immersive and responsive gaming experience possible, giving you an edge over your opponents in fast-paced action-packed games 
But that's not all! The Thuderobot G45 Switch gamepad also supports one-button wake-up and native six-axis somatosensory functions, further enhancing the overall gaming experience. It's all about providing you with the tools to succeed and enjoy gaming to the fullest.
When it comes to pricing, the Thuderobot G45 Switch gamepad offers unbeatable value. The standard version is attractively priced at $25, while the Pro version, with its extra features, is still remarkably affordable at $30. Regardless of which version you choose, you can be sure you're getting a gamepad that's worth every penny.
In conclusion, the Thuderobot G45 Switch gamepad sets a new standard for gaming controllers. With its versatile connectivity options, full mechanical buttons, flagship Hall joystick, NFC support (in the Pro version), and precision Hall triggers, it's a must-have accessory for any gaming enthusiast. Whether you're into intense action games, immersive RPGs, or casual mobile gaming, the Thuderobot G45 is the perfect companion to elevate your gaming performance. So, don't wait any longer - pre-order yours now and take your gaming to the next level!