Tianbei MN5X Transparent Mini PC with Ryzen 7-7735HS A Stylish Blend of Performance and Aesthetics
In the world of Mini PCs, the Tianba MN5X has emerged as a unique contender, showcasing a blend of performance and aesthetics that sets it apart from its peers. With a starting price of $369.99, this Mini PC is equipped with an impressive Ryzen 7-7735HS processor, offering a remarkable computing experience. However, what truly distinguishes the Tianbei MN5X is its innovative design, incorporating transparent acrylic panels and dynamic RGB lighting, making it a visual treat for enthusiasts.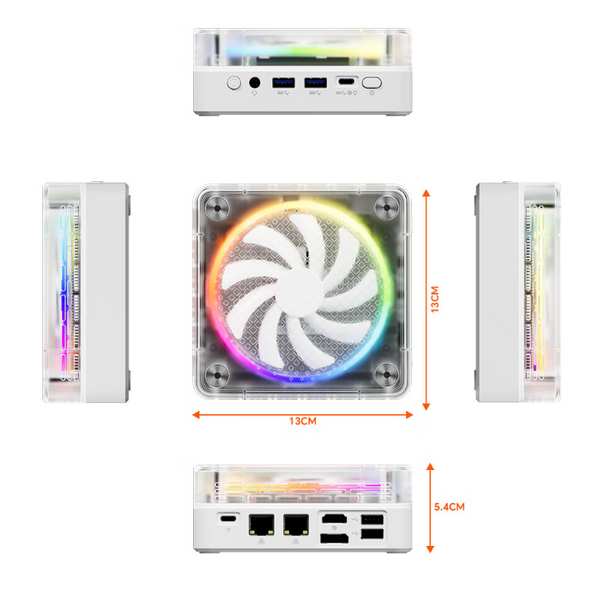 Aesthetics Redefined: Transparent Acrylic and Dynamic RGB Lighting
Unlike conventional Mini PCs that often prioritize functionality over aesthetics, the Tianbei MN5X embraces a new approach. The top portion of the chassis features a clear acrylic panel, providing users with a direct view of the internal components. This design not only showcases the Mini PC's hardware but also adds an element of curiosity and sophistication.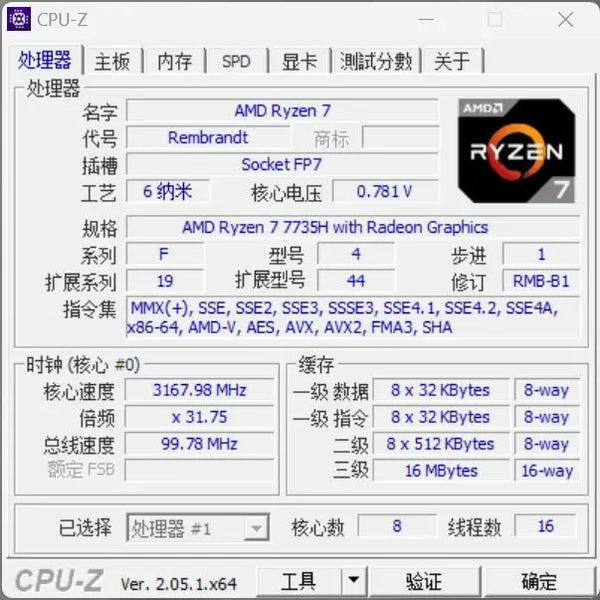 Complementing the transparent panel is an RGB fan, strategically positioned beneath the acrylic surface. This RGB fan is a visual delight, illuminating the internals with an array of colors and patterns. The RGB lighting can be customized and switched with a dedicated button on the front, offering users a wide spectrum of lighting effects to suit their preferences. The result is a Mini PC that not only performs well but also enhances the ambiance of any setup.
Performance and Affordability: The Ryzen 7-7735HS Processor
At the heart of the Tianbei MN5X Mini PC is the Ryzen 7-7735HS processor, a member of AMD's Ryzen 7000 series. The 6nm Zen3 architecture powers this processor, delivering a balance between performance and efficiency. With 8 cores and 16 threads, a base frequency of 3.2GHz, and a maximum boost frequency of 4.75GHz, the Ryzen 7-7735HS ensures smooth multitasking and responsive performance across a range of applications.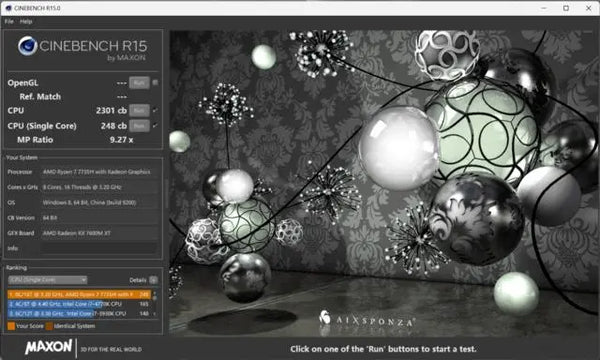 The processor's prowess is evident in benchmark scores as well. In tests using Cinebench R15 and R20, the Ryzen 7-7735HS showcased multi-core scores of 2304 and 5419, respectively. The single-core scores stood at 248 and 604, affirming its competency in handling both multi-threaded and single-threaded tasks. Even in Cinebench R23, the processor's multi-core score of 13692 and single-core score of 1549 demonstrate its consistent performance across various benchmarks.
Value Proposition and Verdict
Priced at $265, the Tianbei MN5X Mini PC offers a compelling value proposition. Not only does it boast the processing power of the Ryzen 7-7735HS, but it also introduces an innovative design that caters to those with a penchant for aesthetics. The transparent acrylic panel and vibrant RGB lighting provide a distinct personality to this Mini PC, making it an excellent addition to gaming setups, creative workstations, and more.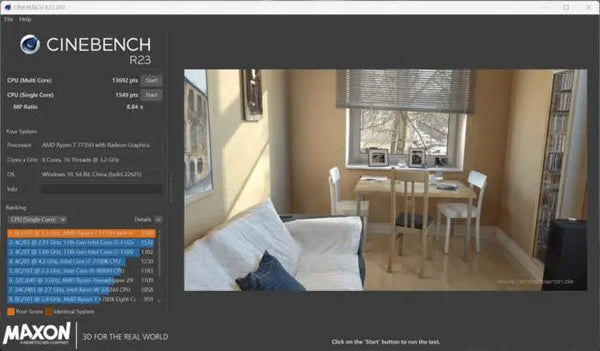 However, it's essential to recognize that the appeal of the Tianbei MN5X primarily rests on its visual elements. Users seeking a Mini PC solely for its performance might find alternatives that provide comparable processing power without the added aesthetic features. Nevertheless, for those who value a harmonious blend of performance and aesthetics, the Tianbei MN5X offers a unique proposition that caters to the demands of modern computing enthusiasts.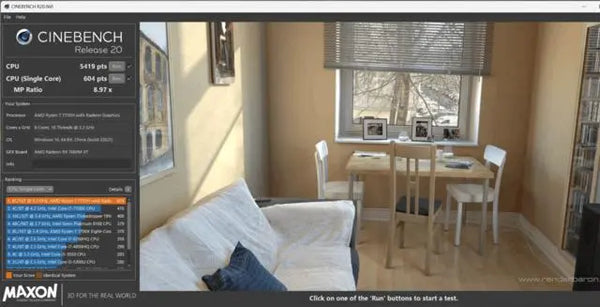 In conclusion, the Tianbei MN5X Transparent Mini PC brings a fresh perspective to the world of compact computing. With its transparent acrylic design, dynamic RGB lighting, and the capable Ryzen 7-7735HS processor, it provides a balance between visual appeal and raw performance. This Mini PC stands as a testament to the evolving landscape of computer design, where aesthetics and functionality coexist to create an immersive computing experience.