AYA NEO 2S and GEEK 1S Pre-Orders Now Available - Powered by AMD Ryzen 7 7840U APUs
AYANEO has recently launched its latest gaming handhelds, the AYA NEO 2S and GEEK 1S, which are powered by the AMD Ryzen 7 7840U processor. These handheld devices are now available for purchase in various memory configurations and colors, catering to different gaming preferences. Customers can expect to receive their orders in less than two months from the time of purchase. AYANEO 2S and GEEK 1S have garnered significant attention due to their powerful AMD R7 7840U processor, which promises enhanced gaming performance. The prices for these handhelds are set to be announced tonight, with a surprising pre-order starting price of $699. Customers who take advantage of this pre-order offer can expect their shipments to arrive by mid-June.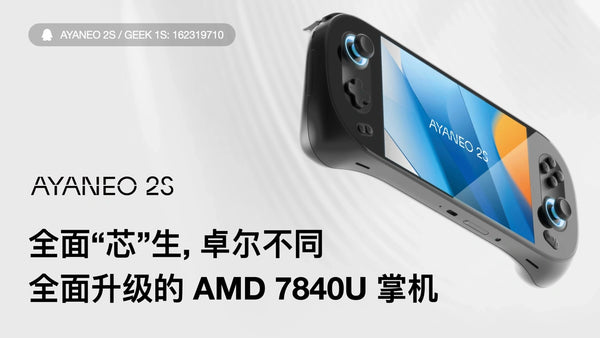 The AYANEO 2S comes packed with the powerful AMD 7840U flagship processor, ensuring exceptional performance. It stands out with its innovative "3+1" three-copper tube heat dissipation module, a first for Windows handheld devices. This cutting-edge design, combined with the large air outlet and newly added graphene heat sink, maximizes heat dissipation, unleashing the device's extraordinary capabilities. Furthermore, the AYANEO 2S features an improved decorative sheet design, allowing for effortless and non-destructive disassembly. The Hall trigger structure has been optimized, resulting in a better and quieter tactile experience. The body mold has also been enhanced, creating a more harmonious aesthetic and providing a more comfortable grip. Overall, the AYANEO 2S promises an exceptional user experience.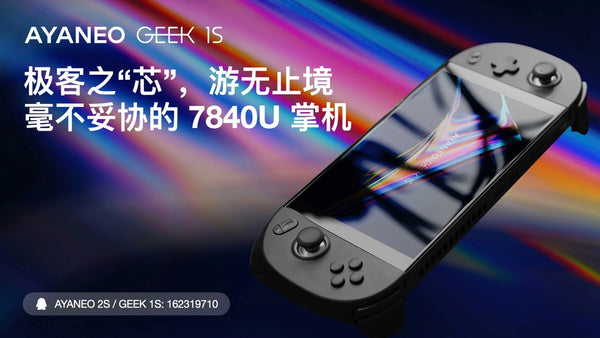 The AYANEO GEEK 1S boasts impressive hardware features, starting with its flagship R7 7840U processor. This powerful processor ensures smooth and efficient performance, capable of handling demanding tasks with ease. To complement its processing power, the laptop comes with a "3+1" three-copper tube powerful cooling module. This advanced cooling system effectively dissipates heat generated during intense usage, preventing overheating and maintaining optimal performance. Furthermore, the AYANEO GEEK 1S is fitted with an 800P screen, which offers a visually stunning display. With vibrant colors and sharp resolution, users can enjoy immersive visuals and an enhanced viewing experience. Overall, the AYANEO GEEK 1S combines robust processing power, efficient cooling, and impressive display capabilities, making it a standout choice for tech enthusiasts and professionals alike.
AYA NEO 2S and GEEK 1S now available for pre-order on Indiegogo. Among the options, the most affordable choice to experience the power of the Ryzen 7 7840U processor is the GEEK 1S model. Priced at just US$699, this version comes with 16 GB of RAM and a generous 512 GB of storage. For those seeking a more advanced option, the AYA NEO 2S is also up for grabs, starting at US$949 with the same memory configuration. As expected from AYA NEO, both devices offer various memory configurations to suit different needs. The AYA NEO 2S can be upgraded to an impressive 64 GB of RAM and a massive 4 TB SSD, while the GEEK 1S offers a choice of 32 GB of RAM and a 2 TB SSD.
Excitingly, AYA NEO plans to commence shipping Indiegogo pre-orders as early as July, making the wait for eager gamers relatively short. Don't miss out on the opportunity to secure one of these cutting-edge gaming handhelds for yourself!
1 comment