Chuwi LarkBox X (2023) Mini PC Released with Intel N100 Processor
The Chuwi LarkBox X 2023 is an impressive Mini PC that offers remarkable features at an affordable price. Powered by the Intel N100 chip, this compact device delivers excellent performance and efficiency. It comes with a standard 12GB LPDR5 memory and a spacious 512GB SSD, ensuring smooth multitasking and ample storage space for your files and applications. One of its notable advantages is its abundance of ports, including two 2.5 GbE Ethernet ports, allowing for high-speed and reliable connectivity options. With a price tag of $199, the LarkBox X 2023 provides exceptional value for its specifications and is expected to be listed in the market soon. In comparison, its predecessor, the LarkBox X 2022, was priced at $399 and featured an AMD Ryzen 7 3750H chip, making the new model an even more affordable and enticing option for users seeking a powerful yet compact computing solution.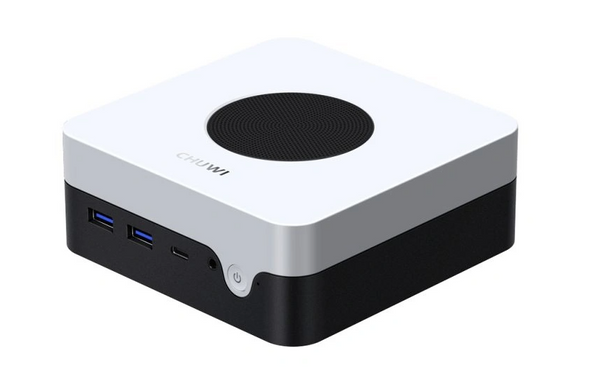 The Intel N100 chip is an affordable and energy-efficient processor built on the Alder Lake N architecture, featuring four cores and four threads. It is specifically designed for low-power systems, making it an ideal choice for budget-conscious users. Although it is rated at a nominal power of 6W, its operating power can peak at 25W. In terms of single-core performance, the Intel N100 chip closely rivals the Ryzen 7 3750H, a notable achievement. However, it falls short in multi-core performance when compared to its competitors. Nonetheless, the Intel N100 chip offers a cost-effective solution for those seeking an entry-level processor with decent single-core capabilities. Additionally, it supports Intel UHD graphics graphics cards, further enhancing its value for budget-oriented systems.
The Intel Processor N100 boasts impressive graphics capabilities with its 750Hz Intel UHD integrated GPU featuring 24 execution units. This powerful GPU is well-suited for handling demanding tasks such as processing 4K video content. Furthermore, the system offers excellent display flexibility, as it can support up to three 4K/60Hz displays simultaneously. This is made possible through the inclusion of HDMI, DisplayPort, and USB-C ports, providing users with a range of options for connecting their displays and enjoying high-resolution content. With the Intel Processor N100, users can expect smooth video playback and a versatile multi-display experience.
The Chuwi LarkBox X (2023) Mini PC is equipped with fans for active cooling, ensuring optimal performance and preventing overheating. Additionally, it comes with a user-replaceable M.2 SSD, allowing users to easily upgrade or replace the storage drive as needed. However, it's worth noting that the memory is soldered directly to the motherboard, making it impossible for users to personally replace or upgrade the RAM modules. This limitation restricts the flexibility of memory upgrades but ensures a stable and reliable system configuration.
The LarkBox X 2023 is equipped with a versatile selection of ports, allowing for seamless connectivity and efficient data transfer. It features Wi-Fi 6 and Bluetooth 5.2, ensuring high-speed wireless connections and compatibility with the latest devices. The device offers 1 x USB Type-C port with DisplayPort Alt Mode support, enabling users to connect external displays and transfer data at impressive speeds. Additionally, it provides 4 x USB 3.2 Type-A ports for connecting various peripherals such as keyboards, mice, and storage devices.
The LarkBox X also includes an HDMI port and a DisplayPort, allowing users to connect multiple monitors or projectors for enhanced productivity. For audio needs, there is a 3.5mm audio jack for headphones or speakers. Moreover, it offers 2 x 2.5GbE Ethernet ports, delivering fast and stable wired network connections. With this wide range of ports, the LarkBox X 2023 ensures users can seamlessly integrate their devices and enjoy efficient connectivity options.
At the same time, Chuwi, a renowned tech company, is still offering the LarkBox X 2022 device to its customers. This compact device comes equipped with a powerful Ryzen 7 3750H processor, delivering exceptional performance. Priced at $339, the LarkBox X 2022 offers a budget-friendly option for users seeking a portable yet capable computing solution. With its compact form factor and impressive processing power, this device caters to individuals who prioritize efficiency and convenience. Chuwi's commitment to providing affordable and innovative technology is evident in the continued availability of the LarkBox X 2022.