AYANEO Pocket AIR A Slim and Sleek OLED Retro Handheld Set to Debut on August 30
Get ready, gaming enthusiasts! AYANEO, the innovative tech company known for its cutting-edge gaming devices, has officially announced the release date of their much-anticipated Pocket AIR conference. Scheduled for August 30th, this event promises to unveil a gaming marvel that's been making waves in the tech world. The AYANEO Pocket AIR is poised to revolutionize handheld gaming, offering a blend of powerful hardware and thoughtful software features that cater to both nostalgia and modern gaming needs.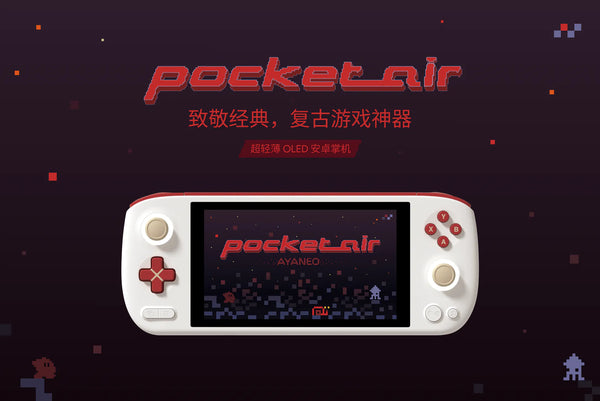 Hardware Prowess
One of the most exciting features of the AYANEO Pocket AIR is its formidable hardware. This handheld gaming device is set to come in two variants - one powered by the Dimensity 1200 chip and the other, a Qualcomm version possibly featuring the Snapdragon 8 Gen2 chip. This choice allows gamers to pick the processing power that suits their preferences.
The device boasts a visually stunning 5.5-inch OLED screen that promises crisp and vibrant visuals, making it perfect for retro gaming experiences. Its retro red and white color scheme adds a nostalgic touch while making it an eye-catching accessory. What's more, its svelte design, with a thickness of just 17mm and weighing in at around 380g, makes it incredibly portable.
Gamers will appreciate the inclusion of a Hall joystick and Hall trigger, ensuring precise and responsive controls. Additionally, the device features the SoundTapMagic sound vibration system, enhancing the audio experience and immersing players further into their gaming worlds. To keep the performance consistently smooth, the Pocket AIR is equipped with an X-axis linear motor and a substantial 7350mAh battery, promising hours of uninterrupted gaming. Moreover, it incorporates an X86-level active cooling system, preventing overheating during intense gaming sessions.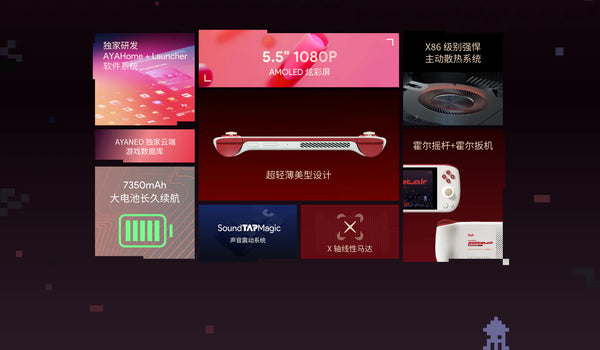 Software Innovation
The AYANEO Pocket AIR doesn't just impress with its hardware; its software offerings are equally remarkable. AYANEO has developed a custom desktop launcher called AYAHome, creating an intuitive and user-friendly interface. Complementing this is the AYASpace App, neatly organized into five sections: "Focus," "Library," "Moment," "Settings," and "Personal Center."
In the "Focus" section, gamers can discover and access their favorite titles effortlessly. The "Library" section provides a comprehensive catalog of games and their details, while the "Moment" section offers a platform to explore the cultural content associated with these games, providing a richer gaming experience.
The "Settings" section ensures that users can tailor their gaming environment to their preferences, while the "Personal Center" provides a hub for managing profiles and social interactions within the gaming community. What truly sets the AYANEO Pocket AIR apart is its vast cloud-based retro game database. Powered by proprietary algorithms, this database rapidly matches game information, including cover art, descriptions, videos, and other details, with local game resources. This feature simplifies game management and enhances the overall gaming experience.
Our Verdict
The AYANEO Pocket AIR is poised to be a game-changer in the world of handheld gaming. With its powerful hardware, intuitive software, and a commitment to providing an exceptional gaming experience, it's sure to capture the hearts of both retro gaming enthusiasts and modern gamers alike. Mark your calendars for August 30th, as AYANEO takes a giant leap forward in delivering handheld gaming excellence with the Pocket AIR.