Beelink Beelink SER5 Mini PC Released - Powered by AMD Ryzen 5 5600H Processor and Support WiFi 6E
Recently, Beelink, a well-known Mini PC manufacturer, launched a new Mini PC Beelink SER5 for overseas markets. It uses a similar mold to the previously released SER series Mini PC, but upgraded the processor to AMD Ryzen5-5600H. Like the previous SER3 and SER4, the Beelink SER5 uses an all-metal body shell with a size of 126*113*42mm, a volume of 0.6L and a weight of 455g. The top, left, right, and rear panels of the fuselage have large-area cooling holes.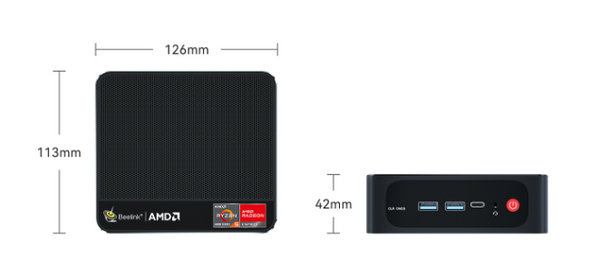 The AMD Ryzen 5-5600H processor on the Beelink SER5 uses TSMC's 7nm FinFET process technology, with 6 ZEN3 CPU cores, 12 threads, a basic operating frequency of 3.3GHz, and a turbo frequency of 4.2GHz. In addition, this processor also integrates a Radeon Vega 7 core graphics card running at 1.8GHz, which should have a good performance in both CPU performance and GPU performance.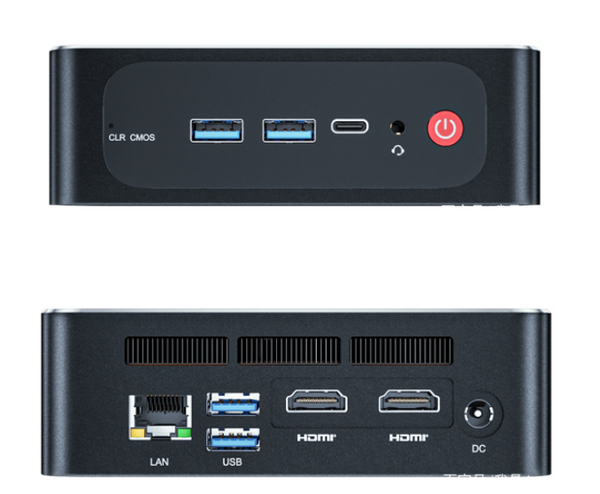 Beelink SER5 provides two DDR4-3200 memory slots, which can support up to 64GB of dual-channel memory. The version sold by Beelink is available in 16GB/32GB memory specifications. In terms of storage, the Beelink SER5 has an M.2 2280 NVMe SSD interface and a 2.5-inch SATA3 interface, which can install two hard drives and support a maximum of 2TB+2TB of built-in storage. However, the officially sold version is only available in one specification of 512GB SSD, and users can add hard disk expansion later by themselves. Beelink SER5 uses a combination of fans and copper tubes to dissipate heat to ensure stable operation.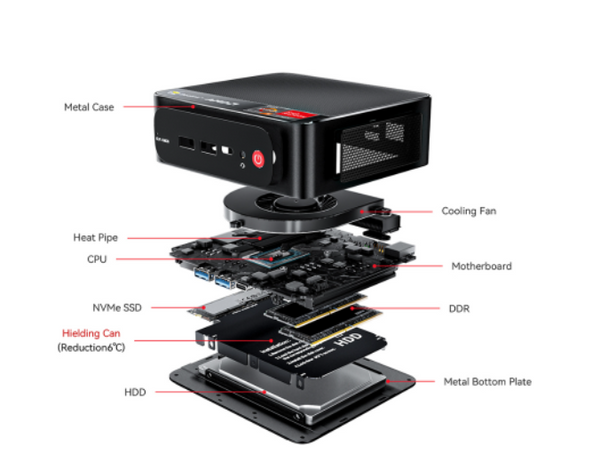 The Mini PC is pre-installed with a genuine authorized Windows 11 Professional operating system, but users can ask the brand to replace the pre-installed system with a genuine Windows 10 Professional when ordering. Of course, in addition to Windows systems, Beelink SER5 can also support Linux-based operating systems such as Ubuntu, Debian, Deepin, and other systems compatible with the X86 architecture.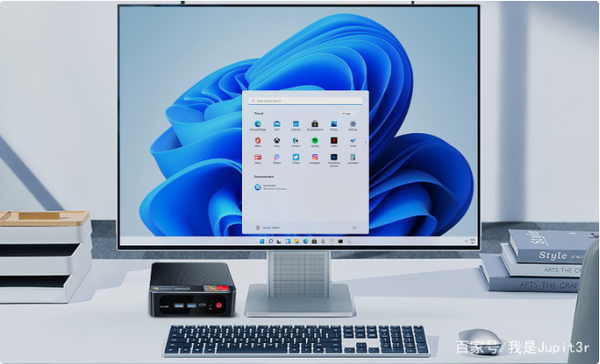 The provided interfaces include: USB 3.0 Type-A*4, multi-function Type-C*1 (compatible with DP output), HDMI 2.0*2, Gigabit Ethernet port*1, 3.5mm audio interface*1 (compatible with microphone input), DC power connector*1. For a Mini PC with performance as its selling point, it is a pity that it is not equipped with a 2.5G network port. However, the Beelink SER5 is very powerful in terms of wireless network configuration, supporting WiFi 6E and Bluetooth 5.2. Moreover, it supports three-screen different display output, which will be useful for productivity task scenarios.
The Beelink SER5 is currently priced at $539 in the US, just $20 more than the SER4, which includes 16GB of RAM and a 500GB SSD. The price of Beelink SER5 is likely not to exceed $450 USD. If you are interested in this product, or all niche digital products, please like and follow our social media channels.