Beelink SER5 Pro Mini PC Powered By AMD Ryzen 5 5600H Now Available on Sale on MiniXPC
A gaming mini PC is a great way to get into PC gaming without spending a lot of money. The Beelink SER5 Pro Mini PC is the most complete proposal in this category, which combines the top technical features with a corresponding price as you will see, while its main feature is full support for connection with up to 3 screens, as well as compatibility with newer version of Windows 11 out of the box. For those who do not know much about Beelink , note that it is an Asian company specializing in mini PCs and other compact systems . The company has been developing and marketing compact format equipment with good performance for many years. Now with the Beelink SER5 Pro they seek to expand their product range with a compact and extremely powerful solution.
The Beelink SER5 Pro Mini PC is available on MiniXPC for $499.00 by using this $40 OFF discount Coupon SER55600.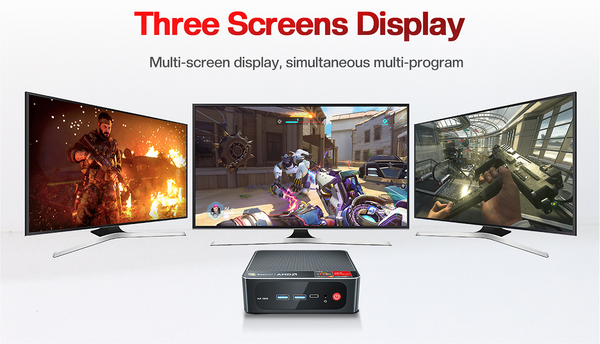 The Beelink SER5 Pro is based on the AMD Ryzen 5 5600H processor that has 6 cores and 12 threads that reaches a Boost frequency of up to 4.2GHz. This processor is characterized because it includes AMD Radeon Vega graphics that offer excellent performance for gaming. This system has support for up to 64GB of DDR4 RAM in Dual Channel configuration. The system can be purchased with 16GB or 32GB of DDR4 RAM made by Crucial. It also has two 2280 format M.2 PCIe 3.0 SSD slots that support up to 2TB per unit. The system natively comes with a 500GB capacity Kingston M.2 PCIe 3.0 SSD. Additionally, space for a 2.5-inch SATA SSD is included.
Connectivity is another of the points that have been taken care of in the Beelink SER5 Pro. The system has 1x RJ45 LAN port, WiFi 6e and Bluetooth 5.2 connectivity, allowing it to be connected to the network without the need for cables. Additionally, it offers support for up to three 4K displays , which is achieved through the 2x HDMI 2.0 port and the 1x USB-C port.
The cooling system has also been very well taken care of. The AMD Ryzen 5 5600H processor is highly powerful and that means that it can get quite hot. To prevent it from overheating, two blower-type fans have been provided . These fans are highly silent, as we want good cooling but with as little disturbance as possible. In addition, the chassis features holes that allow for plenty of airflow, with gaps on the sides, rear, and top.
The chassis highlights that it is made of high-strength aluminum and magnesium alloy. The chassis is intended to be very resistant, since it can be easily transported because it is very compact and light. The equipment developed by Beelink has dimensions of 126 x 113 x 42mm. Additionally, a VESA mounting system is included so that we can install it behind the monitor.
What do you think of the Beelink SER5 Pro mini gaming PC based on the AMD Ryzen 5 5600H processor?