Ayn introduces Loki Zero with AMD Athlon Silver 3050e - Another Inexpensive Handheld Console For Just $199
Just after announcing a new processor within its Loki range , the AYN brand announces an entry-level version around an AMD Athlon 3050E processor, the AYN Loki Zero. Handheld gaming PC makers are in an arms race to see which company can offer the lowest priced model still capable of playing at least a few PC games. But the latest entry is the most affordable so far: the AYN Loki Zero. Big highlight of this offer? A pre-order price of $199 which should go up to a total of $249 once marketed. This price is clearly a call price and it is very interesting if you are neither cautious nor in a hurry. It is possible that the wait for delivery will be long.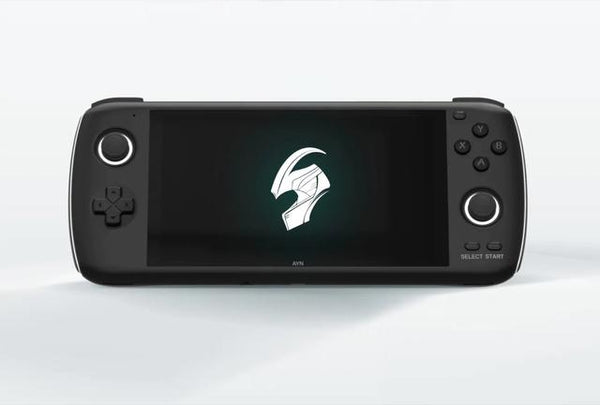 And for these 199/249$ what will we have? An Athlon 3050E to start, not the most powerful chip on the market but a nice surprise within the competing console that is the Anbernic Win600. The first videos of this one show a responsive and relevant processor on this type of format, far from what I remembered from the prototypes that I had been able to handle in the past. The AMD processor is perfectly at ease here with the small definition used. The Loki Zero console will offer a 6-inch diagonal panel in 720P which seems perfectly suited to this type of processor.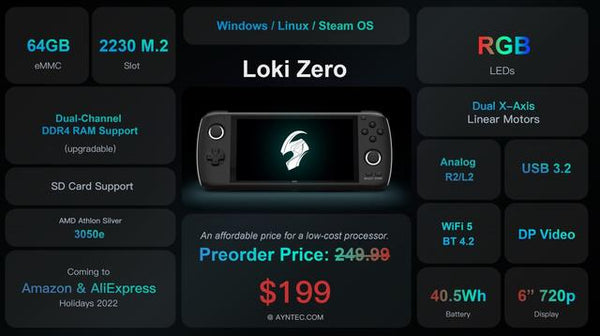 This dual-core, four-thread chip can go up to 2.8 GHz and offers a 1 GHz Radeon Vega 3 circuit. Enough for many old games, many independent programs but also various emulators. Above all, it is an excellent base for enjoying streaming games! GeForce Now type offers in the Cloud or under Steam Link locally, it will be a perfect use on this type of machine. Even if the AYN Loki Zero only offers Wi-Fi5, its speed will be more than enough to enjoy this type of game. A way not to draw too much on the on-board components but to take advantage of excellent graphic services.
For this price, the RAM will only be 4 GB which is the gray point1of this offer. As for the Win600 from Anbernic, the RAM is upgradeable thanks to a SoDIMM slot and it will therefore be possible to switch easily to 8 GB of RAM or more. The basic 4 GB are soldered to the motherboard but they are in my opinion too weak under Windows or SteamOS. This memory is shared in part to power the graphics circuit of the processor, which ultimately leaves little room for the system. It will be possible to enjoy certain games with these 4 GB but anticipating the purchase of an additional 4 GB SoDIMM module does not seem superfluous to me. Especially since this will enable the dual-channel mode and therefore improve the speed of the machine's exchanges. Note that during the month of July the Loki Zero benefits from a 4 GB module offered as an extra,
Basic storage is built-in with 64GB of eMMC memory by default in AYN Loki Zero console. But an M.2 2230 NVMe PCIe port will also be available to add higher performance secondary storage! This opens up many prospects for use. We can probably keep an OS dedicated to emulation on the eMMC and switch to a Windows system or Steam OS on the SSD. Better yet, a MicroSDXC card reader will also be present to add more storage flexibility. Again, betting on M.2 2230 storage seems relevant. The AYN site offers one of 128 GB at $22 as an option. Note that shipping costs are not offered with $27 requested for delivery in France.
For the rest it is very classic with an interface close to its big sisters at AYN : The battery is 40.5 Wh with power supply via USB 3.2 Type-C with data and DisplayPort. A 3.5 mmm combo audio jack port is also present for playing in silence. We find a set of controllers typical of a Microsoft XBox controller with two mini joysticks, a directional cross and ABXY buttons in addition to triggers on the top of the machine. Vibration motors are integrated for in-game feedback and a gyroscope is also present. Finally, the sound is distributed by a pair of stereo speakers.
The path taken by AYN for this model is interesting. The brand has focused on the essentials with a 6″ 1280 x 720p IKPS screen well suited to this type of use, a good battery and a processor that makes concessions compared to high-end offers but more than sufficient for a host of existing titles. The key point of this offer is to leave the opportunity to the buyer to then manage to make it evolve. If you have an SSD in a drawer, or if the $22 for the 128GB model doesn't scare you. If you have a 4 GB DDR4 SoDIMM module lying around, the console can turn into an 8 GB ram / 128 GB NVMe / 64 GB eMMC solution easily.
And if you add to this equation a possible subscription to an already existing Cloud Gaming offer, then the solution is perfectly calibrated for your use.