Geekom Launched AS5 and AS6 Mini PCs under ASUS Collaboration - Powered By AMD Ryzen 6000 Series CPU
The partnership between GEEKOM and Asus has brought about a great revolution for the mini PC manufacturer. The latest models, the GEEKOM AS6 and AS5, now come equipped with powerful AMD APUs that have transformed these compact devices into highly versatile and efficient machines. Mini PCs are already known for their portability and functionality, but with the added power of these new APUs, they can now handle more demanding tasks such as gaming and video editing. In the past, these activities were reserved for larger and more expensive machines, but the GEEKOM AS6 and AS5 have made them accessible to anyone with a need for powerful computing on-the-go.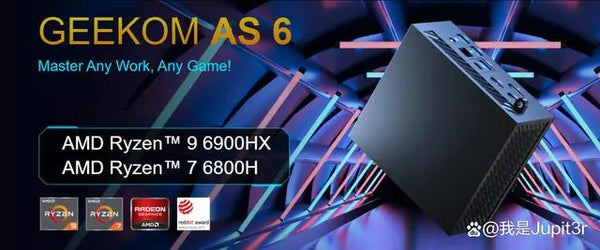 The compact size of these mini PCs allows them to be easily transported in a backpack or even a jacket pocket, making them ideal for people who are always on the move. With the new GEEKOM AS6 and AS5, users can now enjoy the benefits of high-performance computing in a compact and affordable package.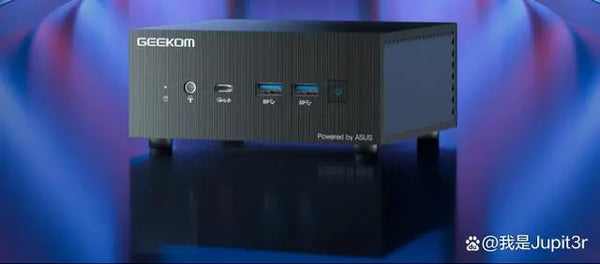 The latest line of mini PCs from GEEKMON stays true to the brand's tradition of compact designs, although they are slightly heavier than previous models. The dimensions of the mini PCs are 120 x 130 x 58 mm, which is still quite small, measuring less than a litre in volume. Despite their small size, the construction of these mini PCs is top-notch, featuring a sturdy metal chassis that ensures durability and longevity. With these new mini PCs, GEEKMON has once again delivered on its promise to provide high-quality and reliable computing solutions for its customers.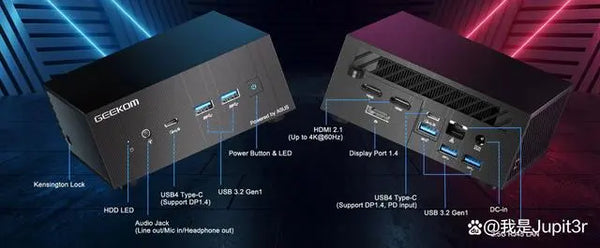 The GEEKOM AS6 and AS5 models may look similar from the outside, but their internal configurations differ greatly. The AS6 is the top-of-the-line model, equipped with either a Ryzen 9 6900HX or Ryzen 7 6800H processor and a Radeon Graphics 680M integrated GPU based on the RDNA2 architecture. This powerful iGPU can match the Playstation 4 in terms of performance and run high-end games such as God of War, Horizon Zero Dawn, and Final Fantasy XV at 1080p30. It is currently one of the most potent APUs available in the market. It is worth noting that the Playstation 5 also uses an AMD APU. Additionally, the AS6 can support up to 64 GB of RAM and up to 2TB of SSD storage.
On the other hand, the AS5 model comes with an AMD Ryzen 9 5900HX processor and Vega 8 integrated GPU, which belongs to the previous generation of APUs but is still a potent hardware configuration. The AS5 can also accommodate up to 64 GB of RAM and up to 1TB of SSD storage, with the option to add a second hard drive.
The latest technology advancements have brought us a complete connectivity system that matches the modern times. Following the traditional trend, we have the Wi-Fi 6E and Bluetooth 5.2 wireless options. Additionally, we have an impressive range of wired connectivity options, including 2x USB-C 4 ports, 3x USB-A 3.2 Gen 1 ports, 2x HDMI 2.1, DisplayPort, and 2.5G LAN. These options are comparable to those found on high-end PCs, making it an excellent choice for gamers or video editors who require a reliable and fast system. In short, this system can handle anything thrown its way, and users can enjoy uninterrupted and smooth connectivity regardless of the task at hand.
The GEEKOM AS6 and AS5 mini PCs present a direct challenge to the Intel NUC 13 Arena Canyon, which is considered the top of the line product with its Intel i7-1360P processor and Iris Xe graphics. However, the powerful configuration of the Intel NUC may not be enough to keep it ahead of the competition, as GEEKOM's new mini PCs offer superior graphics and other features such as connectivity, memory, and customization. While field tests will ultimately determine which product comes out on top, the combination of GEEKOM, AMD, and Asus is expected to produce impressive results. The battle between these powerful contenders is heating up, and it will be interesting to see how they compare in real-world use.