MACHENIKE Launched Palm-Sized Creator Mini PC with Intel i7-12650H For Just $480.00
For those seeking a compact and high-performance PC for their office or home use, the mini PC is an excellent option due to its small size, low profile, and efficient overall performance. One such mini PC is the MACHENIKE Palm-Sized Creator Mini PC, which boasts exceptional performance and aesthetics, making it a perfect choice for business and home users alike. With a strong base configuration, this mini desktop offers excellent value for money, and its compact and flexible design allows for easy placement on workstations or computer desks, creating a clean and streamlined workspace. Overall, the MACHENIKE Palm-Sized Creator Mini PC provides an ideal combination of power, affordability, and design for those in need of a high-quality mini PC.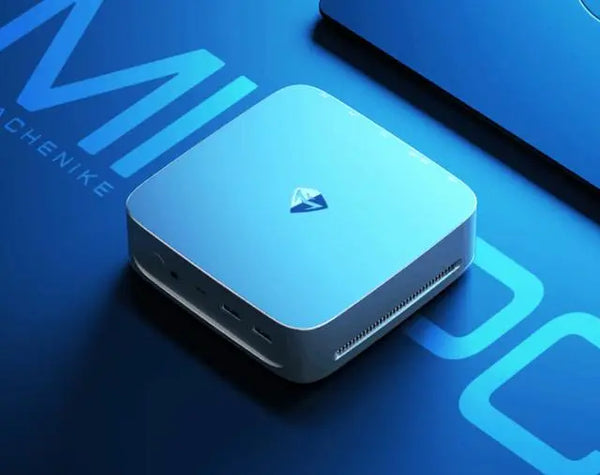 This Mini PC is impressively compact with a total volume of 131mm×131mm×43mm, making it easy to handle with just one hand. Its sleek and elegant design features a simple silver color scheme with a MACHENIKE logo printed in the center of the top. The edges are designed with large arc rounded corners, creating a smooth and harmonious appearance. Its overall look is very refined and exudes a high-quality feel.
The MACHENIKE Palm-Sized Creator Mini PC is a compact and powerful device that packs a punch with its Intel i7-12650H high-performance processor. This mini PC is perfect for those who need a powerful machine in a small form factor. With up to 32GB of 3200Mhz DDR4 RAM, this mini PC can handle multiple applications and tasks with ease. It also comes with a massive 1TB PCIe 4.0 M.2 SSD, providing ample storage space for all your files, documents, and media. Whether you're a creative professional, a gamer, or just need a high-performance computer that won't take up too much space, the MACHENIKE Palm-Sized Creator Mini PC is an excellent choice.
TheMACHENIKE Palm-Sized Creator Mini PC is a device that offers excellent performance alongside a rich interface configuration. On the front of the device, users will find a 3.5mm headset jack, 1 Type-C, and 2 Type-A ports. Meanwhile, the back of the device boasts 2 Type-A ports, a DP interface, HDMI interface, and 2 RJ45 network ports, allowing for soft routing. The device's use of top-level technology is particularly noteworthy, featuring an Intel 12th generation Core processor and high-speed solid-state hard drive, which provides ultra-high performance.
Overall, the MACHENIKE Palm-Sized Creator Mini PC offers a powerful and versatile option for those seeking high-quality computing capabilities.