MINISFORUM Unveils the Powerful UN305 Mini PC with Intel i3-N3050 and Dual-Network Ports
MINISFORUM, a renowned brand in the computer industry, has launched its latest series of Mini PCs, known as the Venus series UN100 / UN305. These Mini PCs come with a new generation of Intel N series processors, namely the N100 and Core i3-N305. With the incorporation of these powerful processors, the Venus series Mini PCs are designed to deliver an exceptional computing experience, including faster processing speed, enhanced graphics performance, and improved multitasking capabilities. The launch of these Mini PCs is expected to be a significant step forward in the field of computing technology, catering to the ever-increasing demands of consumers who seek high-performance computing solutions.
The MINISFORUM UN100/305 mini PC comes with Intel N100 and Core i3-305 processors, both of which are energy-efficient core configurations. They are manufactured using the Intel 7 process and have 4 cores and 4 threads and 8 cores and 8 threads, respectively. The corresponding TDPs are 6W and 15W, respectively. The maximum turbo frequency for these processors is 3.4 GHz and 3.8 GHz, respectively. Additionally, they come with nuclear display equipped with 24 and 32 EUs, respectively, and a frequency of 750 MHz. The device has 16GB of LPDDR5-4800 memory on board, an M.2 2280 SATA SSD slot, a 2.5-inch SATA hard drive (SATA 3.0 6.0Gb/s, with a thickness limit of 7mm), and a TF memory card slot on the side.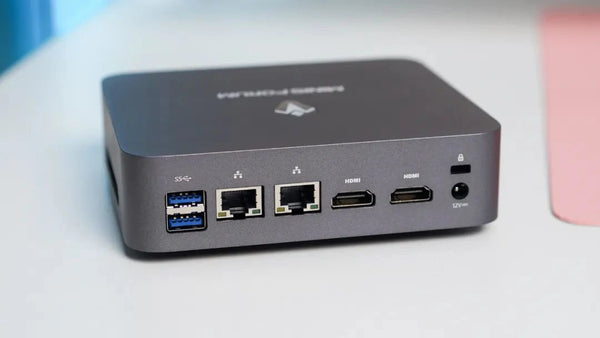 The UN100/305 mini PC boasts an impressively compact design, measuring just 136 x 121 x 34.3 mm in size and weighing a mere 0.44kg. Its CNC all-metal body and flat shape make it extremely portable and easy to carry around. The mini PC is also well-equipped with a range of ports, including two HDMI 2.0 ports that support 4K@60Hz, one USB 3.2 Gen2 Type-C port that supports DP 1.4 and 4K@60Hz, two USB 3.2 Gen1 Type-A ports, two USB 3.2 Gen2 Type-A ports, two RJ45 Gigabit Ethernet ports, and a 3.5mm audio jack. Furthermore, the device comes pre-installed with the Windows 11 Pro operating system, although those purchasing the barebone system will receive a U disk for installation purposes.
Overall, the UN100/305 mini PC packs a lot of power into a small and convenient package.