GMK Launched M2 Mini PC With Intel Core i7-11390H Processor, Starting at Just $187
GMK recently introduced its latest innovation, the M2 Mini PC, designed to meet the demands of modern computing. The M2 Mini PC is powered by an impressive i7-11390H processor, ensuring exceptional performance and seamless multitasking capabilities. With a barebone price of just $187, the M2 Mini PC offers an affordable yet powerful solution for various computing needs. Tech enthusiasts and professionals alike eagerly anticipate its release, as it is scheduled to hit the market on May 16th, providing an exciting opportunity to upgrade their computing setups.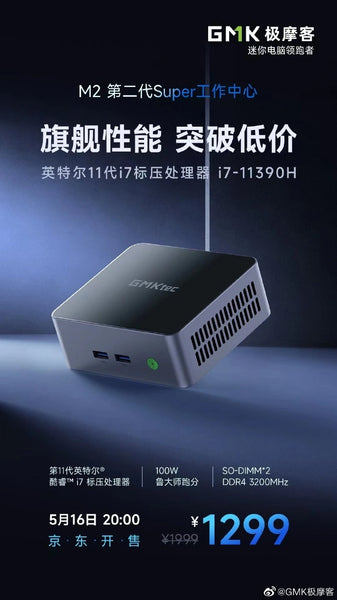 The GMK M2 mini PC boasts impressive specifications, including a turbo frequency of up to 5GHz and a generous 12 MB L3 cache memory. Additionally, its core display of 96EU 1.4GHz promises commendable graphics performance. However, what truly sets this mini PC apart is its remarkably compact size. As per GMK's official statement, the mini PC occupies a volume that is a mere 40 times smaller than a traditional desktop. This outstanding feature makes it an ideal option for individuals seeking a high-performance computing solution while minimizing the amount of valuable desk space consumed.
However, as previously stated, there remain crucial aspects that have not been disclosed in the official announcement. One of these significant gaps in information pertains to the software architecture of the GMK M2 mini PC. Without knowing the details of its operating system and software framework, it is difficult to gauge the device's capabilities and potential limitations. Additionally, the connectivity options of the GMK M2 mini PC have not been elucidated, leaving us uncertain about the range of devices and networks it can seamlessly integrate with. 
Furthermore, other key performance metrics, such as processing power, memory capacity, and storage options, have not been provided, making it challenging to assess the device's overall performance and suitability for various tasks. These undisclosed details are crucial as they can greatly impact the user experience and determine the GMK M2 mini PC's compatibility with different applications and peripherals.
The availability of GMK's M2 mini PC in international markets remains uncertain at this point. It is unclear whether GMK intends to release the product worldwide or restrict its availability to China. As enthusiasts eagerly await further details, it is hoped that GMK will provide more information in the near future.