GPD WIN MAX 2 Handheld Comes With AMD Ryzen™ 7 7840U and Supports OcuLink Graphics Dock
In recent news, YouTube reviewer ETA PRIME has unveiled some exciting information about the new GPD Win Max 2 handheld notebook. According to his review, the device comes equipped with AMD's latest R7 7840U processor, which promises to provide fast and smooth performance for users. Additionally, the Win Max 2 also features an OcuLink graphics dock interface, which allows users to connect to an external graphics card for even better graphics capabilities.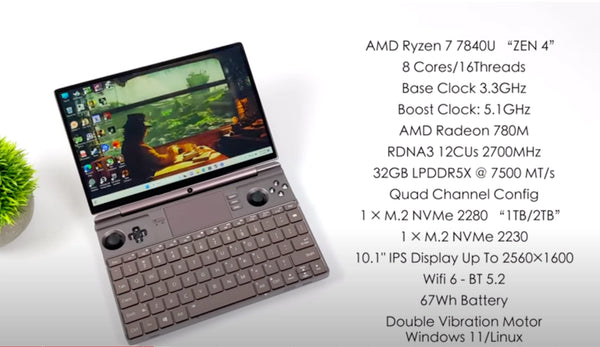 The GPD WIN Max 2 is a highly portable notebook that boasts a 10.1-inch ultra-narrow bezel screen, providing a more immersive visual experience. With a maximum resolution of 2560×1600, the screen delivers sharp, vibrant visuals that are sure to impress. This latest version of the WIN Max 2 features an upgraded R7 7840U processor and 32GB LPDDR5X-7500 memory solution, delivering powerful performance for everyday computing tasks. The device is also equipped with a built-in 67Wh battery, allowing users to work, play, and browse the web for extended periods without needing to recharge. Whether you're working remotely, gaming on the go, or simply need a reliable device for everyday use, the GPD WIN Max 2 is an excellent choice for anyone seeking a powerful, portable notebook.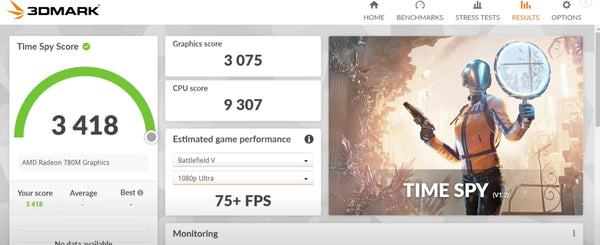 When it comes to performance, the GPD's new Win Max 2 handheld equipped with the R7 7840U processor has certainly raised the bar. Scoring an impressive 3075 points in 3DMark TimeSpy under the release of 35W performance, this device has surpassed the previous generation R7 6800U, which typically scored around 2500.
But that's not all, as the reviewer also tested the gaming performance of the Win Max 2 at 1200p resolution. The results were equally impressive, with the device demonstrating smooth and consistent gameplay, making it an ideal choice for avid gamers on the go.
The Oculink interface is a versatile connection option that can be used for a variety of external devices, including storage devices and graphics cards. This interface is becoming increasingly popular, and many Oculink graphics docks can now be found on various e-commerce platforms. One of the major advantages of these docks is that they are often much more affordable than Thunderbolt graphics docks, making them a great choice for those who want high-performance graphics without breaking the bank.
The Win Max 2 handheld notebook is a unique device that boasts an impressive array of features. In addition to its standard keyboard layout, this notebook introduces the Hall rocker, a new type of input device that allows for precise and responsive control. The shoulder key also uses a linear trigger key, which is known for its accuracy and sensitivity. Other features of the Win Max 2 include dual vibration motors, a three-axis gravity sensor, and a three-axis gyroscope, all of which help to provide a more immersive gaming experience. With its six-axis design, the Win Max 2 is a powerful and versatile gaming device that is sure to impress even the most demanding gamers.
The highly anticipated Win Max 2 handheld notebook from GPD has been generating a lot of buzz among tech enthusiasts. However, the company has not yet made any official announcement regarding its release date. Despite several rumors and speculations, there has been no concrete information about when the Win Max 2 will hit the market. As a result, fans and followers of the brand are eagerly waiting for any updates or news from GPD. The company's silence on the matter has only increased the anticipation and excitement surrounding the upcoming device. Until an official announcement is made, the release date of the Win Max 2 remains a mystery.