Introducing the Chatreey AM08 Mini PC: Featuring Ryzen 9 5900HX and Performance Adjustment Knob
The Chatreey AM08 Mini PC has been released, providing a compact yet powerful computing solution for those who require a portable and versatile device. With its sleek design and impressive hardware specifications, the AM08 Mini PC is perfect for home entertainment, office productivity, and gaming. The Chatreey AM08 Mini PC is a powerful mini host designed with a trapezoidal design and equipped with an AMD Ryzen 9 5900HX processor. With its performance adjustment knob, the mini PC can easily switch between mute, balance, and performance modes, and its RGB light bar changes colors accordingly, making it perfect for gaming and multimedia applications. The power button is located on the top for easy access, making it a convenient and efficient option for those looking for a high-performance mini PC.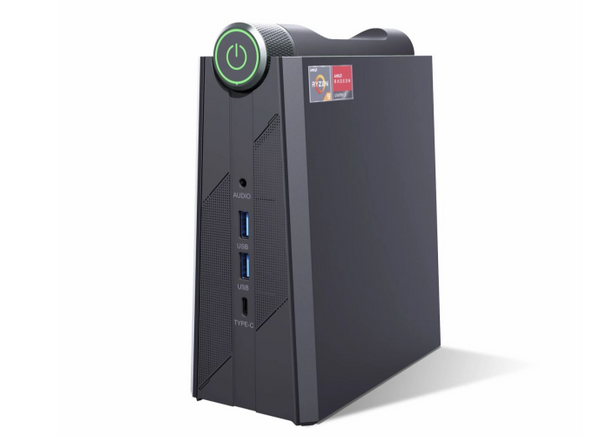 The Chatreey AM08 Mini PC is a powerful and compact computing solution that comes with impressive hardware specifications. The device is built with the latest AMD Ryzen 9 5900HX processor, which features 8 cores and 16 threads, delivering superior performance and fast processing speeds. The processor is built on the Zen 3 architecture and comes with an acceleration frequency of up to 4.6GHz.
The Mini PC is also equipped with a Radeon Vega 8-core display with a frequency of 2100MHz, which provides excellent graphics performance for gaming and other applications. This powerful combination of CPU and GPU provides a smooth and lag-free computing experience, making it perfect for a variety of tasks, including office work, multimedia playback, and gaming.
The Chatreey AM08 Mini PC is designed to handle large amounts of data and comes with two SODIMM slots that support up to 64GB of DDR4-3200 RAM, providing ample memory for multitasking and running demanding applications. Additionally, it has one M.2 2280 PCIe 3.0 and one 2.5-inch SATA hard drive, allowing you to store and access large files quickly and efficiently.
One of the standout features of the Chatreey AM08 is its modular design. The side panels of the device are installed magnetically, allowing users to easily access and upgrade the memory and hard disk without needing to rely on screws. This makes it easy for users to customize the device to their specific needs.
In terms of connectivity, the Chatreey AM08 has a comprehensive range of ports. The device features two HDMI 2.0 ports, which can support up to 4K resolution at 60Hz, and a USB Type-C port, which supports data transfer and power delivery. There are also four USB 3.2 Type-A ports, an Ethernet port for wired internet connectivity, and a 3.5mm audio port for connecting speakers or headphones.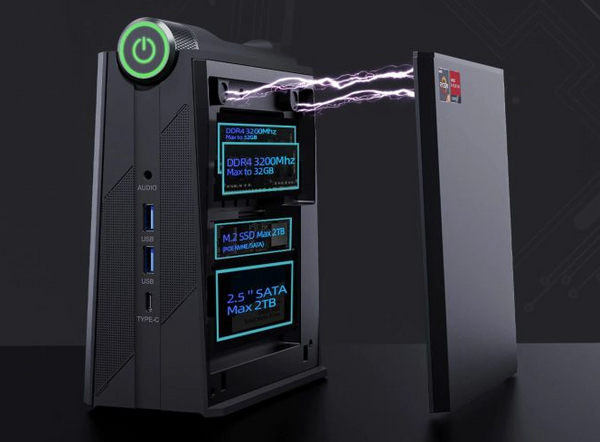 Overall, the Chatreey AM08 Mini PC is a highly capable device that offers a range of features and flexibility in a compact and stylish design. Its powerful hardware and modular design make it a great choice for users who need a device that can handle a variety of tasks and be easily customized to meet their needs.
The price of Chatreey AM08 is $490 US Dollars, and it is currently on sale.