Minisforum unveils MC560 Conference Mini PC with 2.5K HDR Webcam
The Minisforum MC560 is a compact and powerful mini PC that offers exceptional performance and versatility. It is part of the Mars series of mini PCs, which is known for its innovation and cutting-edge technology. One of the key features of the MC560 is its 2.5K camera, which sets it apart from other mini PCs in the market. This camera is specifically designed to meet the needs of conference calls and video meetings, allowing users to communicate and collaborate seamlessly from any location. The MC560 also boasts a range of other impressive features, including high-speed connectivity, powerful processing capabilities, and a sleek and stylish design. Whether you are a professional, a student, or a home user, the Minisforum MC560 is the perfect mini PC for all your computing needs.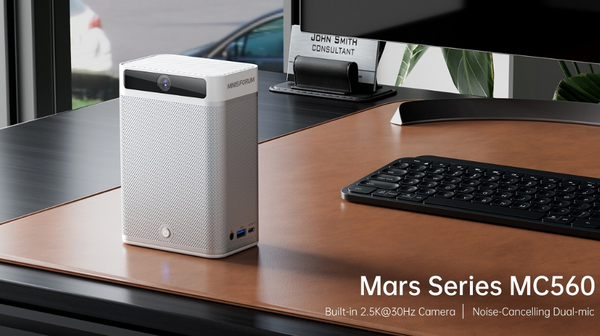 The Minisforum Mars MC560 is a revolutionary device that boasts an innovative built-in webcam design that features a 2.5K@30Hz camera with HDR optimization. This powerful camera can capture visuals with exceptional clarity and features a super wide field of view, making it ideal for video calls and medium-sized conferences. The tilt stand included with the device provides a 10-degree tilting angle, improving eye contact and interaction on both sides of the meeting. The HDR optimization of the camera can adjust light and shadow in video calls, resulting in more apparent and authentic pictures on the monitor.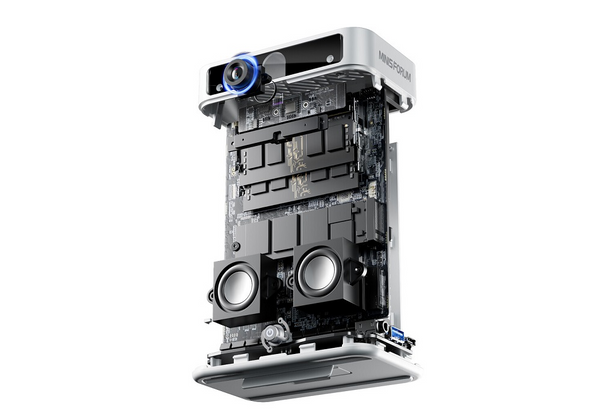 Additionally, the device has a dual-mic array optimized with an AI algorithm to pick up clear human voices, which is useful in noisy environments. The beamforming technology can reduce noise and feedback and avoid echoes, and the range of the dual-mic array is up to 180 degrees. The dual speakers are clear and provide easy note-taking during online courses or video meetings, making this device a must-have for remote work and online communication.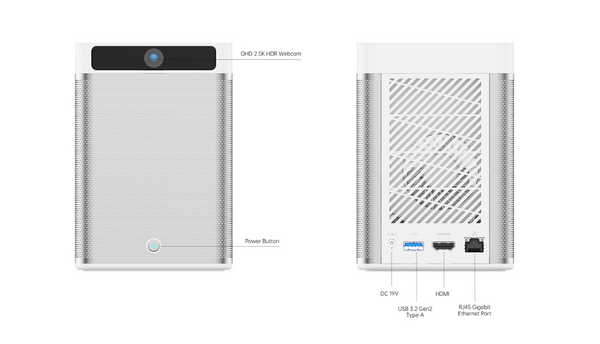 The Minisforum Mars MC560 is a compact and powerful mini PC that offers impressive processing power and connectivity options. It is equipped with an AMD Ryzen 5 5600U Hexa-core APU with integrated Radeon RX Vega 7 GPU, making it a great choice for demanding applications and multitasking. Users can choose to couple it with up to 64 GB of DDR4-3200 RAM and a PCIe 3.0 NVMe SSD storage solution.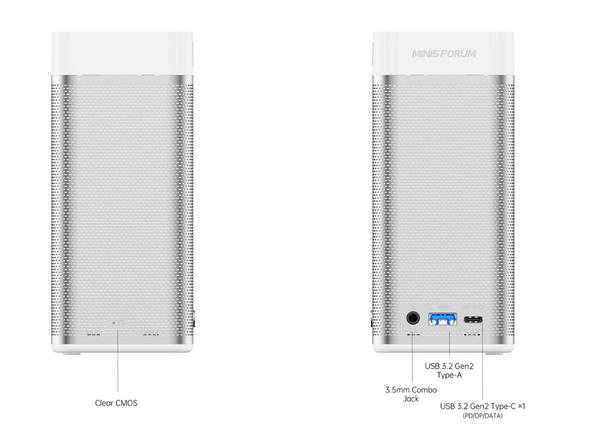 The port selection is comprehensive, featuring a full option USB-C 3.2 Gen 1, 2x USB-A 3.2 Gen 2 connectors, an HDMI 2.0 video out, and audio and GbE jacks. The system is further enhanced with a GbE NIC and a Wi-Fi 6E card with Bluetooth 5.2 connectivity. The processor is the AMD Ryzen 5 5625U, Zen 3 architecture core, with 6 cores and 12 threads, L3 cache of 16MB, and a basic frequency of 2.3GHz. The display is also impressive, featuring Radeon RX Vega 7 core display with a frequency of 1800MHz and a TDP of 15W. Overall, the Minisforum Mars MC560 is an excellent choice for those who need a compact and powerful system for demanding tasks.
The Minisforum Mars MC560 is a versatile and compact mini PC that offers high-end performance and reliability. With its sleek design and premium specifications, this mini PC is an ideal choice for users looking for a powerful and affordable computer. It comes in two configurations, the 16GB RAM+512GB SSD and 32GB RAM+512GB SSD, which are priced at $399 and $458, respectively. Overall, the Minisforum Mars MC560 is a great choice for anyone looking for a powerful and reliable mini PC at an affordable price.