Lenovo Legion Go Handheld Released: Equipped with Ryzen Z1 Extreme Processor
In the ever-evolving world of gaming, innovation never ceases to amaze us. Lenovo, a prominent player in the tech industry, continues to push boundaries with its latest creation – the Lenovo Legion Go handheld console. Unveiled at the IFA 2023 exhibition, this portable gaming device is set to redefine the gaming experience for enthusiasts worldwide. Priced at a competitive 799 euros (approximately 6,312 yuan), the Lenovo Legion Go is scheduled for a November release, promising gaming aficionados a truly immersive and versatile experience on the go.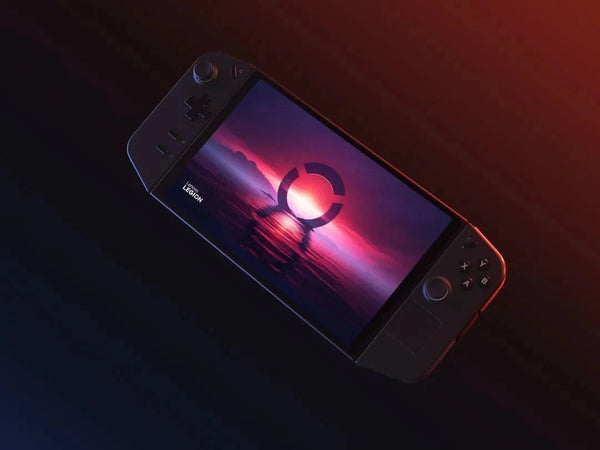 A Powerhouse in Your Hands: Ryzen Z1 Extreme Processor
One of the standout features of the Lenovo Legion Go handheld console is its powerful heart, the AMD Ryzen Z1 Extreme processor. This cutting-edge chipset ensures that gamers can enjoy their favorite titles without compromising on performance. It brings the essence of Windows PC gaming to the palm of your hand, making it easier than ever to immerse yourself in virtual worlds.
A Visual Treat: 8.8-Inch Lenovo PureSight Gaming Display
The Lenovo Legion Go boasts an impressive 8.8-inch QHD+ 16:10 PureSight gaming display. With a remarkable 500 nits of brightness, a wide 97% DCI-P3 color gamut, a silky smooth 144Hz variable refresh rate, and a responsive 10-point touch screen, this device promises the ultimate in display quality and functionality. Gamers will revel in the stunning visuals and crisp graphics that make every gaming moment unforgettable.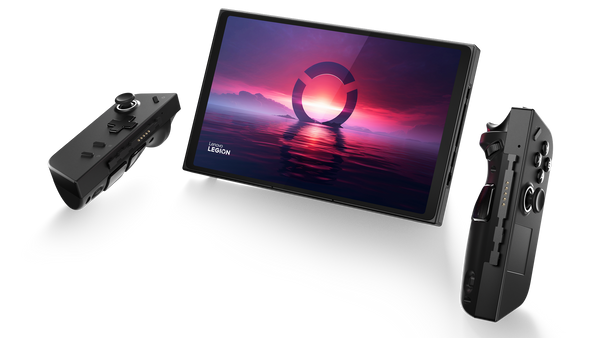 Gaming Controls Reimagined: The Detachable TrueStrike Controller
Lenovo understands that controls are key to an exceptional gaming experience. The Lenovo Legion Go comes with a detachable TrueStrike controller that redefines precision. Equipped with Hall-effect joysticks to eliminate joystick drift, it also boasts an integrated trackpad, a spacious D-pad, a tilt mouse wheel, and an impressive 10 mappable shoulder buttons, triggers, and grip buttons. This controller ensures that you stay in control, no matter how intense the gaming session gets.
Game Longer with a Robust Battery
Gaming enthusiasts can now indulge in extended gaming sessions thanks to the Lenovo Legion Go's 49.2Wh battery. This substantial power source ensures that you can lose yourself in your favorite titles for hours on end without worrying about running out of juice.
Expandable Storage for All Your Games
With up to 1TB PCIe Gen4 SSD onboard, the Lenovo Legion Go provides ample storage for your games. However, Lenovo goes the extra mile by including a micro-SD slot that supports up to 2TB of additional storage. This means you can carry your entire gaming library with you, ensuring you're always ready for a new adventure.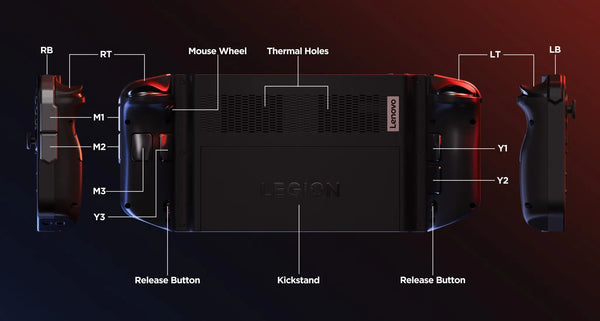 Overall, the Lenovo Legion Go handheld console promises to be a game-changer in the world of portable gaming. With its powerful Ryzen Z1 Extreme processor, stunning display, innovative controls, long-lasting battery, and expandable storage, it caters to the needs of gamers who demand top-tier performance and flexibility. As the release date draws closer, gaming enthusiasts around the world eagerly anticipate the opportunity to experience the future of mobile gaming firsthand. Lenovo has once again proven that they are at the forefront of innovation, setting a new standard for gaming on the go.