Minisforum UM560 AMD Ryzen™ 5 5625U Mini PC Priced at $280
In early June this year, Minisforum announced to bring the new UM560 mini PC, equipped with the Ryzen platform and supports ALT mode via USB - C port. After several months of waiting, the Venus Series UM560 mini PC now available for pre-order on JD.com. Among them, the barebones version The starting price is 1,888 yuan ($280 USD), and the version with 16GB of memory and 512GB hard drive is 2,888 yuan ($430 USD). Minisforum UM560 is the world's first mini PC that comes with GaN power supply which is safer, faster and more portable.
The overall size of the UM560 mini PC is 12.8x12.66x4.65cm, it is not big, the exterior is painted black, and it supports wall hanging. Inside AMDRyzen 5 5625U processor, 7nm process, 6 cores/12 threads, silent frequency 2.3GHz/can be accelerated to 4.3GHz, 16MB L3 cache, integrated Radeon RX Vega 7 integrated display, with 7 CUs, frequency up to 1800MHz, 15W TDP .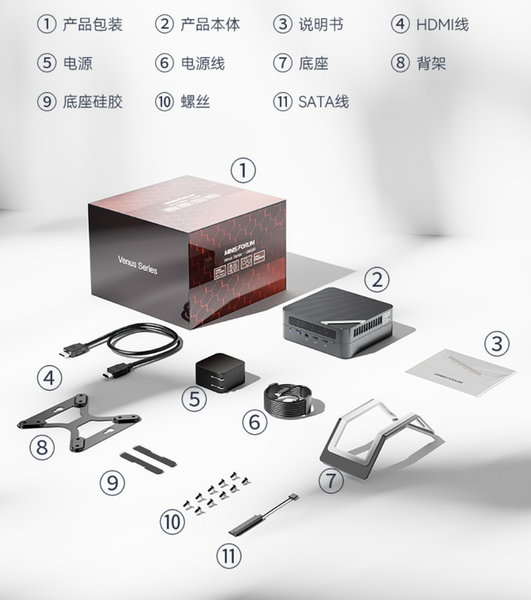 With six cores, the UM560 is perfect for the demanding workload needs of enterprises and offers superior performance, manageability and reliability. This powerful, thin and light PC lets you do more, faster and easier. The equipped AMD Radeon™ graphics card (graphics frequency 1800 MHz) offers a number of unique technologies for modern workflows, eg With features such as AMD Eyefinity Multi-Display technology, which allows you to use multiple applications and projects on three monitors, it greatly improves your multitasking skills.
With 2 SODIMM slots, you can upgrade up to 32GB each and expand to 64GB in total. An M.2 2280 PCIe 3.0 SSD and a 2.5-inch SATA HDD slots are available for storage for even more capacity. The back has a multi-function USB-C interface, which supports the display to power the mini computer and transmits the adaptation signal to the display at the same time. With dual HDMI interfaces, it also supports the simultaneous connection of 4 4K displays. The standard 65W charger can automatically detect the device. And compatible with active charging protocols. Not only that, the fuselage also has dual USB2.0, 2.5G network ports, and dual USB 3.2 Gen2 light interfaces.
Venus Series UM560 drives up to four independent displays with incredible clarity and maximum productivity in your workflow with excellent triple display solutions via two HDMI and two USB-C outputs. One of the USB-C ports on the back of the computer supports ALT mode. Alt mode allows the USB-C ports to transmit data/videos through multiple interfaces, even power the computer at the same time if your display supports USB PD (USB Power Delivery), which makes the whole setup cleaner.