Minisforum UN1245 / UN1265 Mini PCs Released: Power and Efficiency in a Compact Package
Today, Minisforum proudly announces the release of their latest marvels - the UN1245 and UN1265 Mini PCs. These sleek machines are equipped with cutting-edge processors, boasting exceptional performance and versatility to cater to the needs of modern computing enthusiasts. The UN1265 model, in particular, is now available on shelves, starting at an attractive barebone price of just $300.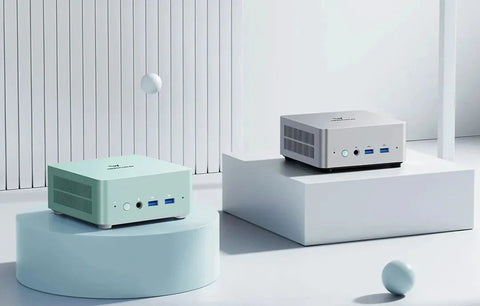 One of the standout features of the UN1265 Mini PC is its dual usability - it can be positioned either flat or rear-mounted. When placed flat, it offers unrivaled freedom to position it anywhere in your workspace. However, for those looking to save precious desk space and maintain an organized environment, the UN1265 can be conveniently mounted on the back of your monitor. Its compact size of a mere 0.9L makes it a true space-saver, occupying just 1/40th the space of a standard desktop computer.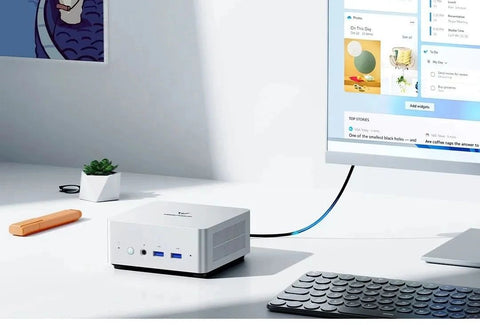 At the heart of the UN1265 Mini PC lies the powerful Intel Core™ i7-12650H processor. With an impressive configuration of 10 cores and 16 threads, capable of reaching clock speeds of up to 4.7 GHz, this processing unit delivers exceptional performance for even the most demanding computing tasks. The processor also features two Ethernet ports, facilitating direct connections to displays, and a 100W PD power supply, streamlining cable management and enhancing overall efficiency.
To complement the robust processing capabilities, Minisforum has incorporated DDR4-3200+ PCle 4.0SSD, ensuring swift data access and smooth multitasking, making it ideal for both professional workloads and entertainment purposes.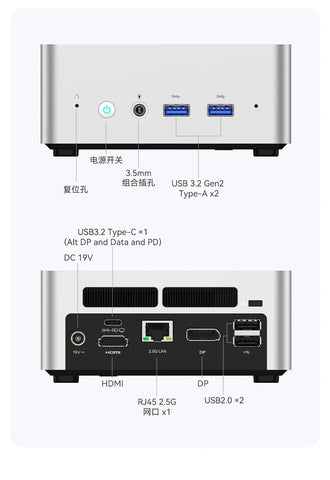 In the pursuit of excellence, Minisforum has developed a state-of-the-art active solid-state cooling system with strategically placed side vents. This innovative cooling solution effectively addresses the issue of heat build-up on storage drives, while a single heat pipe outlet efficiently dissipates heat, ensuring optimal processor performance and reliability. Furthermore, the quiet fan's design ensures minimal noise pollution, providing users with a pleasant and uninterrupted computing experience.
A noteworthy addition to the UN1265 Mini PC is its liquid gold heat dissipation technology, enhancing thermal conductivity and maximizing heat dissipation, further boosting its overall performance and longevity.
In terms of connectivity, the UN1265 boasts numerous interfaces to cater to diverse requirements. Equipped with HDMI, DisplayPort, and USB-C, the Mini PC supports up to three displays simultaneously, opening up a world of multitasking possibilities for professionals and gamers alike. Additionally, the UN1265 supports PD power delivery, enabling seamless plug-and-play functionality, whether you are at home, the office, or on the go.
In summary, the Minisforum UN1245 / UN1265 Mini PCs are a testament to the company's commitment to providing powerful, versatile, and compact computing solutions. With their Intel Core™ i7-12650H processors, efficient cooling systems, and a wide array of interfaces, these Mini PCs offer a superior computing experience that fits right in the palm of your hand. Whether you're a professional seeking high-performance computing or a casual user looking to optimize your workspace, the UN1245 and UN1265 Mini PCs have got you covered. Embrace the future of computing with Minisforum's latest offerings and experience the possibilities they bring to your fingertips.