OneXplayer Mini (AMD Version) - Pocket Console Alternative to Steam Deck Available For Pre-Sale
Steam Deck has become a hot topic in PC games thanks to its portable design similar to the Nintendo Switch. But he wasn't the first to try his hand at the console for PC games. The last wave of such computers began in 2016 with the first GPD WIN, and since then at least two Chinese brands have dominated the niche market. With the release of Steam Deck and limited availability, the mobile computer market has been rekindled with new models and designs trying to take advantage of the newly discovered interest of gamers. Now comes the OneXPlayer Mini, which beats laptops with its features.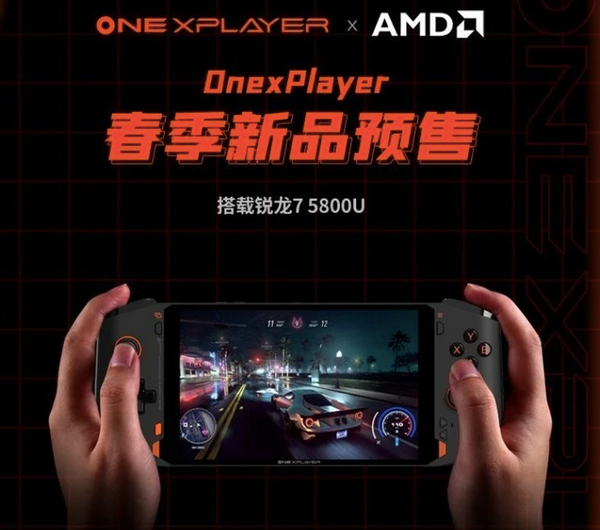 Steam Deck has launched new versions of older models that carry AMD processors instead of Intel. This is what One Netbook is trying to deliver with a new version of OneXPlayer Mini. Potentially, the popularity of Steam Deck fascinates gamers with a handheld device powered by AMD. This game console is now available for pre-sale, The price of the OneXPlayer Mini will be $ 999 during the launch period, after which it will increase to $ 1,259, according to the manufacturer.
OneXPlayer mini is supposed to be something new, offering really strong components. The specification is as follows:
Processor : AMD Ryzen 7 5800U
Graphics chip : AMD Radeon RX Vega 8
RAM : 16 GB LPDDR4
Built-in memory : 512 GB SSD NVMe
Screen : Full HD with a diagonal of 7 inches and a resolution of 1920 x 1200 pixels
Battery : 12600mAh with 65W charging
Connectivity : 2x USB-C, 1x USB-A, WiFi 6, Bleutooth 5, 3.5mm Jack headphone jack
System : Windows 11
Additional : vibrations, touch screen, stereo speakers, gyroscope
Dimensions : 25.98 x 10.41 x 2.27 cm
Weight : 619 g
This is actually a slightly smaller model than the original model released in 2021 to compete with Valve's Steam Deck. Although it has the same 7-inch screen, the OneXPlayer Mini supports a higher 1920 × 1200 image size. The handheld device also comes with faster PCIe NVMe memory instead of slower eMMC technology. With 16 GB of RAM and different ports, the OneXPlayer Mini looks more like a mini laptop than a computer.
Like many of its peers and competitors in this space, OneXPlayer was initially released only with Intel processors. However, since Steam Deck, there has been a steady stream of AMD options that could give Intel a chance to make money. Note that this new OneXPlayerMini Radeon Vega 8 comes with graphics, as well as eight-core and 16-core AMD Ryzen 7 5800U. For some, this model alone is a more valuable gaming computer.
But where does the Steam Deck compare ? The truth is that the Valve console does not fall short in terms of performance, competing in the size of the hard drive —at least in the superior model—, the dimensions of the screen or in RAM memory, the main difference is found in the processor . Steam Deck mounts an AMD Zen 2 APU, while the Ryzen 5800U considerably outperforms this processor. This means that this OneXPlayer model outperforms Steam Deck.
However, Valve's console does not compete on performance but on a completely different battlefield: price. This OneXPlayer Mini has hit the market at a price of $1,259 , far surpassing the most expensive Steam Deck model. This is something decisive to get one of these consoles since, although the performance of OneXPlayer Mini promises to be outstanding, the cheapest model of Steam Deck -less than twice the price of OneXPlayer Mini- does not cut its performance , only the storage , although this one seems to be just as fast .
Mind you, the Chinese company is offering a 21% discount thanks to a discount on launch day , which leaves the OneX console at $999 . We can get hold of it on their website and, at least for now, the stock seems to be stable , something that could tip the scales in their favor given the difficulty of obtaining a Steam Deck today.