Qualcomm Expands Snapdragon G Series Handheld SoC Lineup: G1 Gen 1, G2 Gen 1, and G3x Gen 2 are Now Available
In the ever-evolving landscape of mobile gaming and portable computing, Qualcomm has been a trailblazer, consistently pushing the boundaries of what is possible in handheld devices. Following the release of the Snapdragon G3x Gen 1 handheld processor, a powerful collaboration with Razer Edge, Qualcomm is back with a bang. The Snapdragon G series has expanded, introducing the Snapdragon G1 Gen 1, G2 Gen 1, and G3x Gen 2 processors, each designed to cater to distinct gaming and performance needs.
The newly unveiled Snapdragon G1 Gen 1, G2 Gen 1, and G3x Gen 2 processors demonstrate Qualcomm's commitment to providing tailored solutions for gamers across the spectrum.
The Snapdragon G1 Gen 1 series is designed with cloud gaming in mind, ensuring smooth and lag-free gameplay, even when streaming resource-intensive titles. Equipped with an 8-core Kryo CPU and the Adreno A11 GPU, it provides a solid gaming experience with support for a 60Hz refresh rate.
Moving up the ladder, the Snapdragon G2 Gen 1 series targets mainstream mobile gamers. It boasts the same 8-core Kryo CPU but elevates the gaming experience with the Adreno A21 GPU. This GPU supports a higher 144Hz refresh rate, offering more fluid graphics. However, it doesn't support ray tracing, making it ideal for gamers looking for excellent performance without the bells and whistles of the highest-end hardware.
Finally, the flagship Snapdragon G3x Gen 2 series sets the bar even higher. This powerhouse features an 8-core Kryo CPU paired with the formidable Adreno A32 GPU. Qualcomm proudly claims that this GPU offers a staggering 30 percent increase in performance compared to its predecessor. What's more, it delivers twice the graphics performance, supporting not only a 144Hz refresh rate but also hardware-based ray tracing. This makes the Snapdragon G3x Gen 2 a true marvel for those seeking the ultimate handheld gaming experience.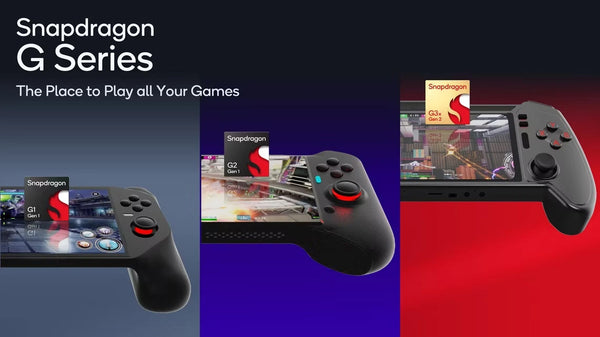 Collaborations and the Road Ahead
Qualcomm's vision for its Snapdragon G series extends beyond just creating powerful processors; it's about partnering with manufacturers to bring these technologies to the hands of consumers. The company is collaborating with notable partners, including AYANEO, Huaqin, Inventec, and Thundercomm, to produce consumer devices that will incorporate these new chips.
AYANEO, in particular, has made waves by announcing the first Pocket S Android handheld, powered by the Snapdragon G3x Gen 2 processor. This device is set to make its official debut in December, promising an unrivaled gaming experience for enthusiasts.
Qualcomm's dedication to innovation in the mobile gaming sphere is evident with the expansion of its Snapdragon G series. As gaming on portable devices continues to surge in popularity, Qualcomm's commitment to delivering high-performance processors ensures that gamers of all types will have access to the tools they need for an exceptional gaming experience.
In a world where gaming knows no bounds, Qualcomm's Snapdragon G series is set to empower gamers to conquer new frontiers of performance and enjoyment. The Snapdragon G1 Gen 1, G2 Gen 1, and G3x Gen 2 processors are poised to redefine the handheld gaming experience, bringing unprecedented power and capabilities to your fingertips. With these advancements, it's an exciting time to be a mobile gamer, and we can't wait to see how these new chips shape the future of handheld gaming.