Shuttle Announces Compact DH670 Barebone MINI PC for Intel 12th-Gen Processors
Shuttle introduces an XPC Slim DH670 barebone with an Intel H670 chip dry and space for a twelfth generation Intel Alder Lake processor. The mini PC will also have four connections for monitors. The company is not yet reporting a suggested retail price.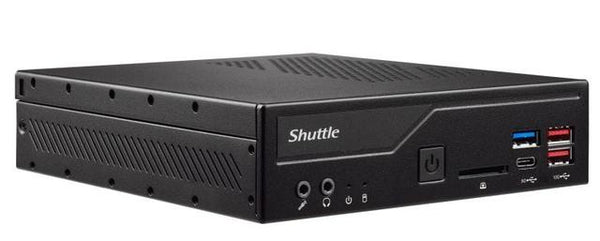 The Shuttle DH670 is aimed at the pros, its connectivity is quite clear on this. But it is no less interesting for an individual because of the possibilities it offers. This Barebone will allow you to build a custom-made Mini PC in a minimal footprint. The chassis has the usual dimensions of the range with 19 cm wide by 16.5 cm deep and 4.3 cm thick. Inside it concentrates on a motherboard signed by the manufacturer, everything you need to build an Intel Alder Lake PC.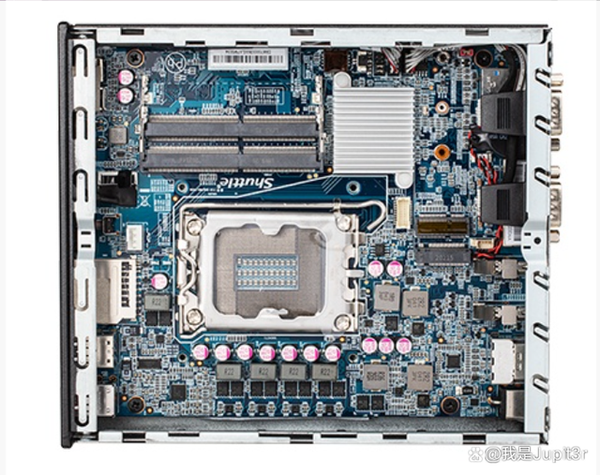 Starting with an LGA1700 socket and an Intel H670 Express chipset. Enough to accept the entire Alder Lake range from the entry-level Celeron to the latest Core i9s with 16 cores and 24 Threads… Within the limit of processors with a TDP limited to 65 watts. Two SoDIMM memory slots are available with maximum support of 64 GB of DDR4-3200. Storage is entrusted to a solution comprising an M.2 2280 slot compatible NVMe PCIe 4.0 X4 and SATA as well as a more classic 2.5″ SATA slot.
This set will make it possible to build very different PCs with entry-level solutions under Celeron and Pentium which can be used for digital signage for example. But also PCs capable of driving demanding applications as long as you dig into Intel's Core chips. With enough memory and storage, this Shuttle DH670 can handle the majority of tasks. The absence of an external graphics circuit will exclude the machine from the most specialized solutions, but on the latest generations of Intel Xe graphics circuits, the overall capacities have nevertheless greatly evolved.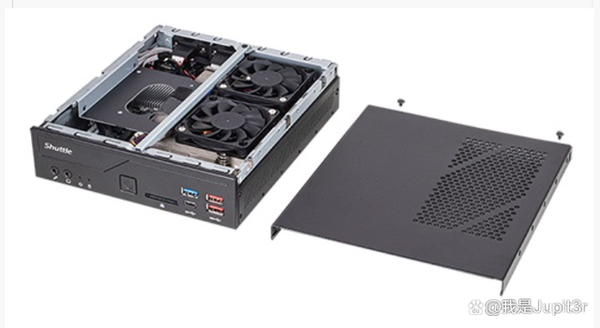 The dissipation is a classic of the brand with a system of heat pipes and ventilation allowing the heat produced by the system to be evacuated. All in a noise envelope contained according to the manufacturer. Enough to drive, for example, four displays in UltraHD. This is also what this Barebone offers with a fairly rich connection. The machine offers two HDMI 2.0 ports and two DisplayPort. This possibility of deploying four screens is above all aimed at digital signage professionals but can also appeal to other trades or even individuals for triple or quadruple displays.

The rest of the connections are excellent for a PC with a volume of 1.3 liters. There is thus a USB 3.2 Gen 2 Type-C port, three USB 3.2 Gen 2 Type-A, four USB 3.2 Gen 1, two Gigabit Ethernet, separate headphone and microphone audio jacks in 3.5 mm stereo format, an SDXC card reader and more specialized connectors. The machine thus offers an RS-232 port and an RS-232/RS-422/RS-485 which will be used to control digital machines. A Kensington Lock anti-theft port is present and two holes are pre-drilled to add external antennas for wireless links. An element also left to your discretion, the Shuttle DH670 offers an M.2 2230 port to add a Wifi card if necessary.
The set is compatible with Windows 10 and 11 but also Linux. The choice of certain components being free, it will be possible to optimize elements ensuring good compatibility with various distributions. Finally, the MiniPC is designed to run 24 hours a day, 7 days a week by the manufacturer. The marketing should begin fairly quickly but the brand has not communicated a price or a precise date .
Shuttle XPC Slim DH670 Specification

Cpu

Intel Alder Lake, LGA1700-socket, max. 65W-tdp

Memory

2x so-dimm, max. 64GB DDR4-3200

Chipset

Intel H670

Storage options

1x M.2 2280 (PCIe 4.0), 1x 2,5"

Front connections

1x USB 3.2 Gen 1 (type C)
1x USB 3.2 Gen 1 (type A)
2x USB 3.2 Gen 2 (type A)
1x 3,5mm (audio)
1x 3,5mm (microfoon)

Rear connections

2x USB 3.2 Gen 1 (type A)
2x USB 3.2 Gen 2 (type A)
2x HDMI 2.0
2x DisplayPort
2x RJ45 (gigabitethernet)
1x RS232
1x RS232/RS422/RS485
1x DC-in (voeding)

Dimensions

190x165x43mm