TerransForce Unveils Handle 5 Gaming Handheld Console: Powered by Ryzen™ 7 7840U Processor
In a year that has seen a proliferation of handheld gaming consoles, renowned laptop brand TerransForce has joined the fray, introducing its inaugural gaming handheld - the Handle 5. This cutting-edge device is driven by the formidable AMD Ryzen™ 7 7840U Processor and boasts a 7-inch display, all starting at an enticing price point of 690 USD.
TerransForce is offering two configurations of the Handle 5, differing solely in memory capacity:
AMD Ryzen™ 7 7840U - 16GB LPDDR5 - 1TB PCIe SSD - Price: 650 USD
AMD Ryzen™ 7 7840U - 32GB LPDDR5 - 1TB PCIe SSD - Price: 750 USD
At the core of this formidable handheld gaming device lies the AMD R7-7840U 28W processor, a technological marvel equipped with 8 cores and 16 threads. What sets this processor apart is its remarkable turbo frequency, reaching an impressive 5.1GHz. This computational powerhouse ensures that the device can handle the most demanding gaming environments and resource-intensive tasks with remarkable efficiency.
Complementing the robust processor is the AMD Radeon 780M graphics card, a true powerhouse in its own right. Boasting a frequency scaling capability that reaches up to 2700MHz, this graphics card ensures stunning visual experiences and smooth rendering of graphics-intensive games. The synergy between the processor and graphics card creates a gaming ecosystem that not only meets but exceeds the expectations of avid gamers.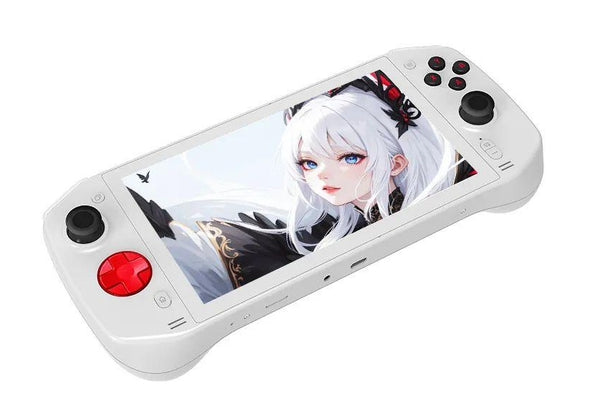 To enhance the overall performance and responsiveness of the device, it is equipped with LPDDR5X-6400 memory. This cutting-edge memory technology not only ensures swift data access but also contributes to seamless multitasking capabilities. The performance output tests conducted officially place this handheld gaming device on par with dedicated graphics solutions like the RTX 2050 and GTX 1650, underlining its capacity to deliver a premium gaming experience.
The Handle 5's visual experience is enhanced by its 7-inch 16:9 touch screen, offering a crisp 1080p resolution, a 120Hz refresh rate, and displaying the full sRGB color gamut at 100%. With a brightness of 450nit, gamers can expect vibrant and immersive visuals on the go.
Powering the Handle 5 is a 50Wh lithium-ion battery, claiming a remarkable 25% increase in power compared to conventional handheld devices. The inclusion of a 100W PD fast charge ensures that even in the off state, users can replenish 40% of the battery in just 20 minutes.
Despite the buzz surrounding its announcement, the Handle 5 is not yet available for purchase. Enthusiasts and gamers alike are eagerly awaiting its release, and industry insiders suggest that this handheld console could potentially shake up the gaming market.
TerransForce's foray into the handheld gaming arena is a testament to the evolving landscape of gaming technology. As anticipation builds, gaming aficionados can rest assured that MinixPC will continue to closely monitor and report on any developments regarding the release of the Handle 5.