AYANEO SLIDE Unveils "Final Design" and Prepares for Surprise Pre-order Event
After more than a year of anticipation, the founder of the AYANEO brand has finally lifted the curtain on the "final design" of the AYANEO SLIDE, a sliding handheld console that has captured the attention of gaming enthusiasts. The founder also announced that trial production has commenced, leading up to an upcoming "surprise pre-order" event.
The handheld device, showcased in black and white color variants, features a unique horizontal screen slide-up design. The color scheme alternates between orange-white and orange-black, creating a visually striking appearance. The key layout mirrors a Windows full keyboard setup, providing users with a familiar interface for gaming and other applications.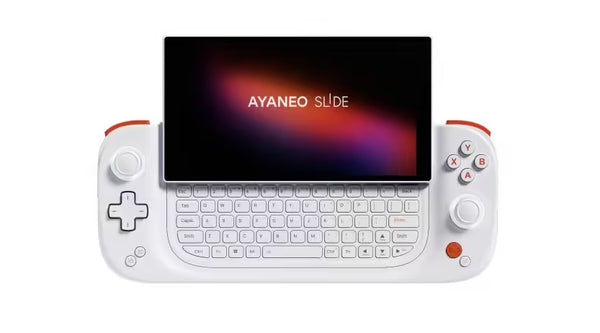 One of the key highlights of the AYANEO Slide is its anticipated use of the AMD R7 7840U processor, promising a powerful performance for gaming and multitasking. The console's disruptive retro slide design allows for an adjustable screen angle, delivering a versatile and customizable user experience. The full keyboard is expected to offer a typing experience akin to traditional keyboards.
The 6-inch Windows handheld device is poised to feature what is being touted as "the best screen among 6-inch Windows handheld devices." The screen has undergone meticulous polishing to enhance the holding experience, incorporating advanced UV technology and a streamlined ergonomic grip for a superior hand feel. The result is a slide handheld console that not only performs exceptionally but also provides a comfortable and immersive gaming experience.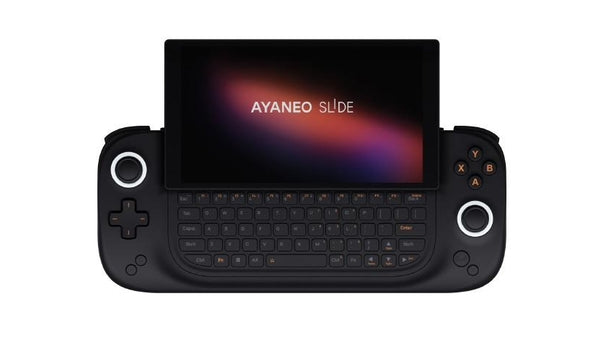 AYANEO Slide comes equipped with special features typical of AYANEO handheld consoles, including the Hall rocker, Hall trigger, and Master all-round handle. These features contribute to the device's overall appeal, catering to gamers who seek a unique and advanced gaming console.
Gaming enthusiasts and tech enthusiasts alike are eagerly awaiting the surprise pre-order event, where they will have the opportunity to secure the AYANEO SLIDE and experience the culmination of innovative design and cutting-edge technology in the world of handheld gaming consoles. As the final design is unveiled, excitement continues to build around the prospect of AYANEO redefining the gaming experience with its latest creation.