TianBei Launches Cyberpunk GOD78 Mini PC: Powered by AMD Ryzen 7 7840HS
TianBei has made a striking entry with its flagship mini PC, the Cyberpunk GOD78. As the name implies, this cutting-edge device combines stunning aesthetics with formidable performance, offering users an opportunity to immerse themselves in a sci-fi cybernetic world. Priced at an attractive $355 during the pre-sale period, the Cyberpunk GOD78 brings high-end computing within reach at approximately $330, making it one of the most competitive products in the mini PC market.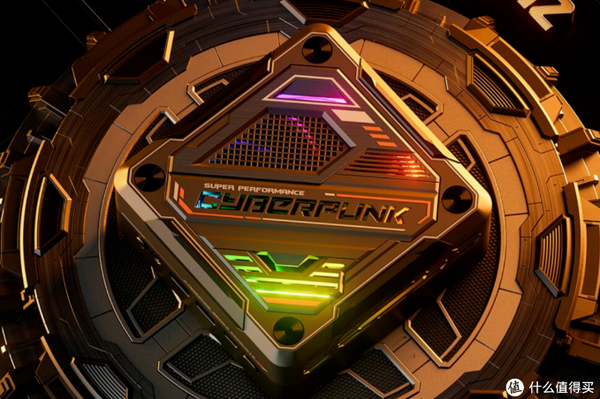 Aesthetics and Design
TianBei's Cyberpunk GOD78 represents an evolutionary leap from the Bingpo MX5X, showcasing significant improvements and enhancements. One of the most noticeable changes is the availability of two striking colors: Cool Black and Haoyue White. The top cover of the mini PC has been replaced with a futuristic Cyber-style armor, adding a unique touch to its design. When powered on, the Cyberpunk GOD78 reveals an enchanting backlight that supports customizable RGB light effects, making it an eye-catching addition to any computer desk.
Measuring at 131.5mm × 131.5mm × 55mm, or roughly 0.95 liters in volume, the Cyberpunk GOD78 strikes a balance between compactness and performance, making it suitable for various computing needs.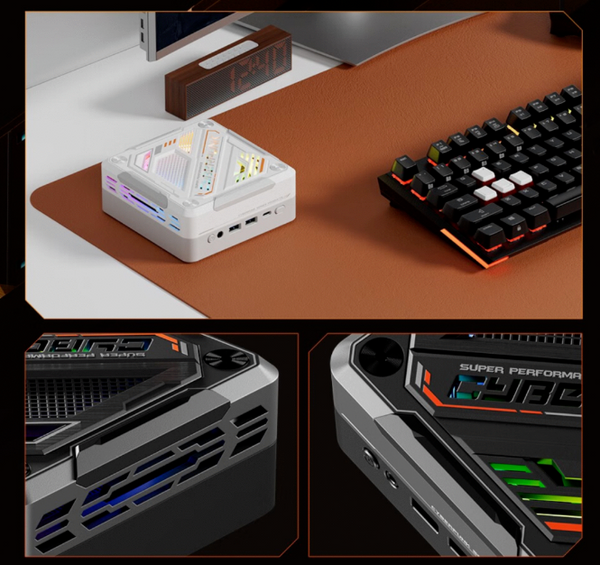 Cooling Innovation
What sets the Cyberpunk GOD78 apart from other mini PCs with similar configurations is its innovative cooling system. Equipped with a 9cm super-sized fan, vertical air ducts, large-area cooling fins, and dual heat pipes, this mini PC delivers exceptional cooling performance with minimal noise. Even at high speeds, it surpasses the air volume and heat dissipation capabilities of typical small-sized turbofans found in notebooks and mini PCs, significantly reducing noise interference and ensuring a cooler working environment.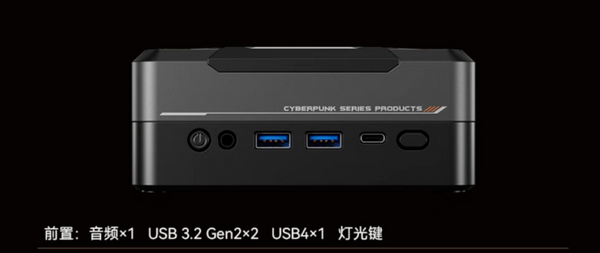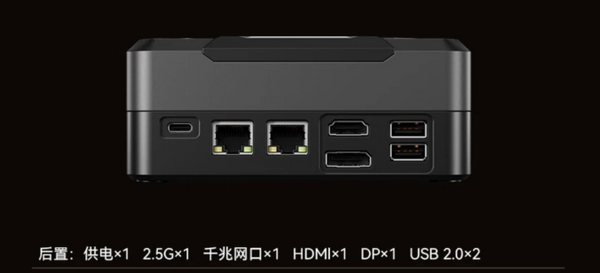 Connectivity and Expandability
The Cyberpunk GOD78 offers a robust selection of interfaces on both the front and rear panels. On the front, users will find 2 USB-A 3.2 Gen2 ports and a full-featured USB4 port, while the rear panel includes a USB-C charging port, a 2.5G network port, a Gigabit network port, HDMI 2.1, DP 1.4, and 2 USB 2.0 interfaces. This wide array of connectivity options ensures that users can easily connect their peripherals and accessories.
Inside the Cyberpunk GOD78, users will discover two built-in DDR5 memory slots and one 2280 M.2 hard drive slot. In comparison to its predecessor, the Bingpo MX5X, this model sacrifices the second 2.5-inch hard drive bay in favor of a mini fan designed to assist in cooling the memory and hard drive. While this does limit expandability, it contributes to a cooler operating environment and more efficient performance.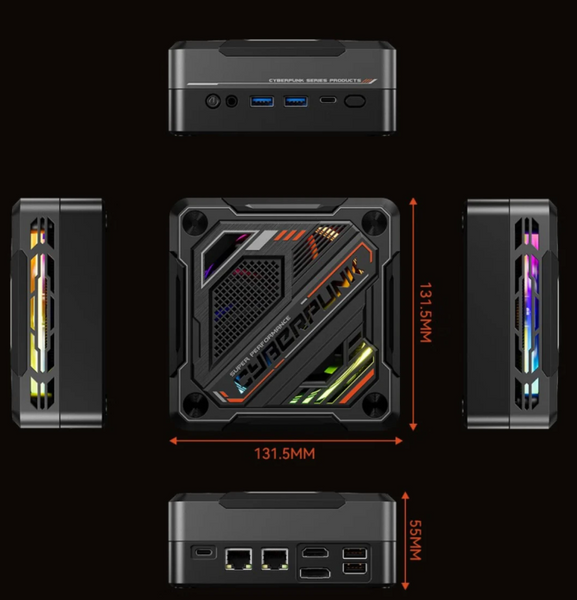 Overall
In summary, the TianBei Cyberpunk GOD78 is a high-performance mini PC that captivates users with its striking appearance and futuristic design. With a pre-sale price of approximately $330, it offers an affordable yet powerful computing solution. If you prioritize aesthetics, are sensitive to noise levels, and don't require extensive storage expansion, the Cyberpunk GOD78 is a compelling choice. It allows you to hold the power of a cyber world in the palm of your hand, fulfilling the dreams of every tech enthusiast.