Introducing the abxylute Android Handheld Console Your Gateway to Portable Gaming
Are you ready to take your gaming experience to the next level? The abxylute Android handheld console has just hit the market and is available for sale on their official website. Packed with cutting-edge features, powerful hardware, and an attractive price tag, it's an enticing prospect for gamers of all ages and skill levels.
Hardware Specifications
One of the standout features of the abxylute Android handheld console is its powerful MediaTek MT8365 processor, purposefully designed for AIoT (Artificial Intelligence of Things) applications. This processor boasts a quad-core Arm Cortex-A53 architecture, ensuring robust and efficient performance. To handle graphics-intensive tasks, it's equipped with a Mali-G52 MC1 GPU.
The device comes with 4GB of LPDDR4 RAM, ensuring smooth multitasking and swift loading times. Users can choose between two storage options, 32GB and 64GB, allowing them to store a wide range of games, apps, and media.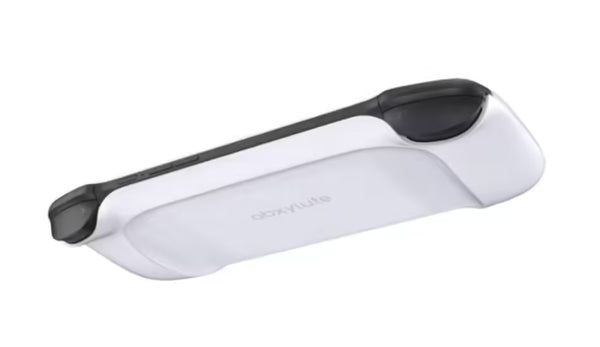 Immersive Visuals
The abxylute Android handheld console sports a 7-inch LTPS screen with a crisp 1080p resolution. The 60Hz refresh rate ensures that games run smoothly, and the 450 nits of brightness make the display vivid even in well-lit environments. With support for 10-point touch, this console provides a responsive and immersive gaming experience.
Enhanced Gaming Experience 
Gamers will appreciate the inclusion of a 6-axis gyroscope, which opens up new possibilities for gameplay, especially in genres like racing and motion-based games. Dual Z-axis linear motors add haptic feedback, enhancing the overall gaming experience by providing tactile feedback that immerses you deeper into the action.
Long-Lasting Battery
With a robust 5200mAh battery, the abxylute Android handheld console ensures that you can game for hours without worrying about running out of power. Whether you're on the go or playing at home, you won't be interrupted by frequent recharging.
Android 12 Operating System
Running on the Android 12 operating system, this handheld console offers access to a vast library of games and applications from the Google Play Store. Android's user-friendly interface and customization options make it easy to tailor the device to your preferences.
Pricing
The abxylute Android handheld console offers two variants to cater to different storage needs. The 4GB RAM + 32GB storage version is priced at $209, while the 4GB RAM + 64GB storage version comes in at $219.00. These competitive price points make it a budget-friendly option for gamers.
Conclusion
The abxylute Android handheld console is a remarkable addition to the world of portable gaming. With its powerful hardware, immersive display, enhanced gaming features, and long-lasting battery, it's a strong contender in the handheld gaming market. And with the competitive pricing of $209 for the 32GB version and $219 for the 64GB version, it offers great value for money.
If you're a gaming enthusiast looking for a versatile handheld device that can handle both classic and modern games with ease, the abxylute Android handheld console is certainly worth considering. Head over to their official website to get your hands on one and take your gaming adventures to the next level.